A political decision to solve Japan's horrid fiscal mess by fueling inflation, and forget that 2% target.
The outgoing boss of the Bank of Japan, Haruhiko Kuroda, and the incoming boss, Kazuo Ueda, sang from the same hymn as the worst inflation figures since 1981 came to light on Friday: This inflation will go away on its own, and we're going to keep the reckless negative interest-rate and money-printing policies.
Kuroda stakes his entire tenure at the BOJ on these policies and cannot now back off, no matter what inflation does, and inflation is doing it; and Ueda cannot contradict Kuroda. He will become boss in April, and until then, he will sing from the same hymn. Then eventually, there will be a monetary policy review, which will find that these policies worked great but maybe it's time to adjust them a little. All this will take till the second half of this year, and until then, the BOJ will fuel this inflation with all its might.
Japan's "core" Consumer Price Index for all items less fresh food, which the BOJ uses for its 2% inflation targeting, jumped by 4.2% in January from a year ago, the worst rate since 1981, according to data from Japan's Statistics Bureau today. The index is now more than double the BOJ's target, having blown past all the prior four spikes, three of which had powered by consumption-tax-hikes. Inflation blew through the BOJ's inflation target (purple line) in April 2022.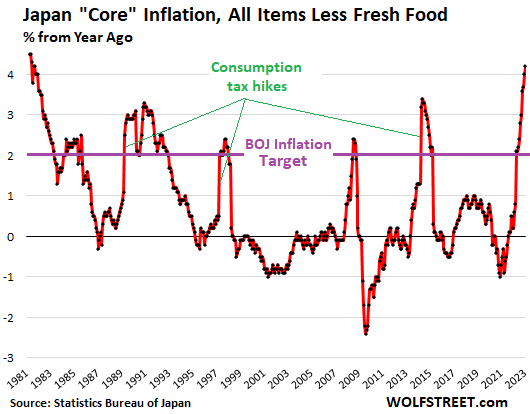 This time, there was no consumption tax hike, but widespread and worsening price increases across a broad range of goods and services as inflation pushes deeper into the economy.
The CPI for all items jumped by 4.3% from a year ago, also the worst inflation since 1981.
On a month-to-month basis, the CPI jumped by 0.5%, the biggest jump since October. In this whole episode of inflation, there are only three month-to-month jumps of 0.5% or more (January 2023, October 2022, and July 2022). There is nothing slowing down about this inflation.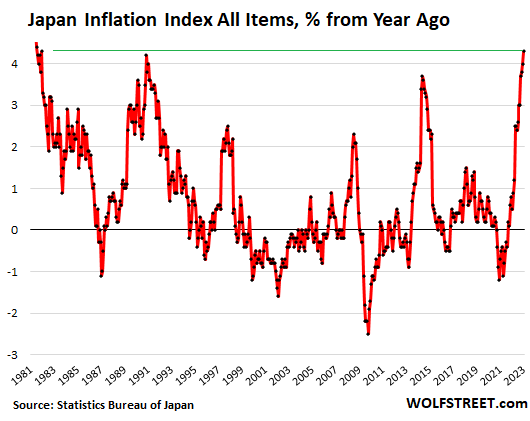 This comes despite the government's energy assistant program that holds down inflation; and despite large parts of the economy where nearly all aspects of consumer-facing prices are either set or controlled by the government, including the large universal healthcare system, the public transportation system, and education.
Major categories of inflation.
Food: +7.3%, the worst since 1980. Includes: fresh fish and seafood +17.2%; meats +7.6%; dairy products and eggs +9.5%; vegetables & seaweeds (+3.4%); fruits (+2.7%); beverages (+6.3%).
Meals outside the home: +5.9%.
Housing less imputed rent: +4.7%
Repairs and maintenance: +8.2%
Household electricity, gas, water, sewage: +14.9%
Household durable goods: +11.1%
Communication: +7.1%
Clothing and footwear: +3.1%
Services related to clothing: 5.0%.
Governments hold down inflation where they control prices.
Healthcare inflation: In Japan's system of universal healthcare, the government largely decides what consumers have to pay:

Medical care: +0.5%
Medicines: +1.6%
Medical supplies and appliances: +1.2%
Medical services: -0.3%

Public transportation: +0.6%
Education: +0.7%
Bye-bye price stability.
Between about 1993 and 2021, the all-items Consumer Price Index has remained in the same narrow range, with some fluctuations in between, with the brief one-off jumps provided by the consumption tax hikes. This was an era where mild inflation and mild deflation followed each other, the era of more or less true price stability, a rare occurrence in modern world. And it's over.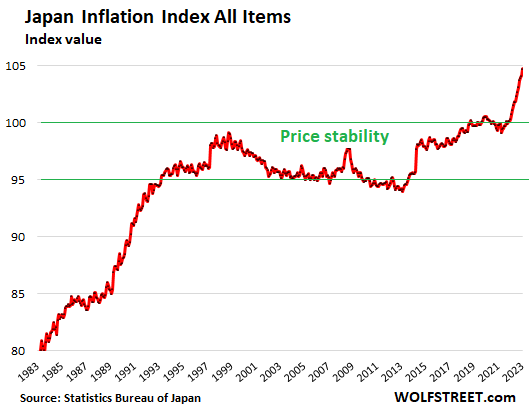 A political decision to fuel inflation to solve the fiscal mess.
Kuroda, speaking at the G20 event in India, said that he expected inflation to be below 2% for the fiscal year 2023, which starts April 1, and in fiscal 2024. He will be out at the beginning of fiscal 2023, so it's not his job anymore to bring inflation down to 2% in fiscal 2023 and 2024. He's ostensibly clinging to the fiction that this inflation is "transitory," but he can say whatever he wants. It'll be his successor's job to deal with it.
His successor will be Kazuo Ueda. But he's still not in that job, and his confirmation is still pending, so he's not going to rock the boat before he even gets into it with both feet. He said today that the BOJ's negative interest rate policy and money-printing is appropriate. And like Kuroda, he still blamed this inflation on supply issues, which is a strategy that even the Fed abandoned a year ago after it got broadsided by it.
One thing is for sure, even under the new leadership, the BOJ will take months to do anything, even just a monetary policy review, and inflation will be fuel further so that it can rage in all its glory.
While inflation is sacking Japanese households, it is also a way to whittle away at Japan's gigantic and unsustainable fiscal debt.
It is now clear that a political decision has been made to deal with this fiscal mess by letting inflation rage and by in fact fueling this raging inflation – and forget that 2% target.
In all reality, what else could they do? That's always how this type of crazy fiscal profligacy and money-printing ends: in raging inflation, which solves that fiscal problem in an insidious way, at the expense of households – but it does solve that problem.
Enjoy reading WOLF STREET and want to support it? You can donate. I appreciate it immensely. Click on the beer and iced-tea mug to find out how:

Would you like to be notified via email when WOLF STREET publishes a new article? Sign up here.