Oh no, coffee! Commodities are not moving in lockstep.
We're going to look at a few spectacular wild rides in commodities – but not including crude oil, gasoline, and natural gas which I discuss here separately quite a bit and in greater detail.
Lithium. Remember, just last year, the world was going to have a shortage of lithium carbonate, one of the key raw materials for EV batteries. With all the hype about supply shortages, and booming demand from manufacturers of EV batteries, the price of lithium carbonate spiked. The China lithium carbonate index, a benchmark price, exploded by a factor of 15 in two years, from CNY 40,000 per tonne in November 2020 to CNY 600,000 per tonne by November 2022. And then that was it.
New supply was being put on the map, including in Australia – makes sense at these crazy prices – and demand was strong but not that strong, and all that became clear late last year, and when the hype fizzled as it always does, the price began to plunge. At the moment at CNY 405,500, the price has plunged by 32% in two months, and is now below where it had been a year ago (all charts here via Trading Economics):
Lumber. The price of Chicago lumber futures went through epic gyrations during the pandemic, spiking by 350%, then plunging, then spiking all over again, the plunging all over again, and now it's back where it used to be, currently at $374 per thousand board feet: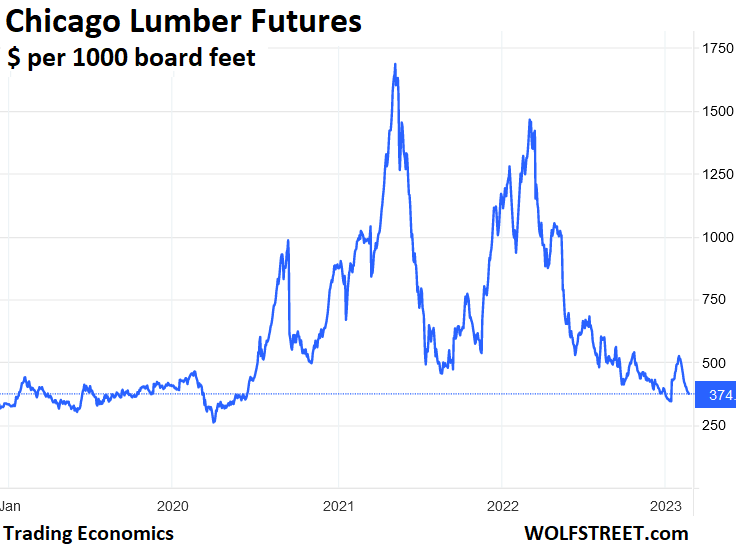 Coal spiked when global natural gas prices began to spike starting in 2021. "Spiked" isn't really the right word, because the price of coal multiplied by a factor of nine. Here are the ICE Newcastle Coal Futures, a benchmark for the Asian market, shooting from roughly $50 per tonne in September 2020 to $450 in August 2022, and then the big plunge, currently to $209, which takes the price back to September 2021: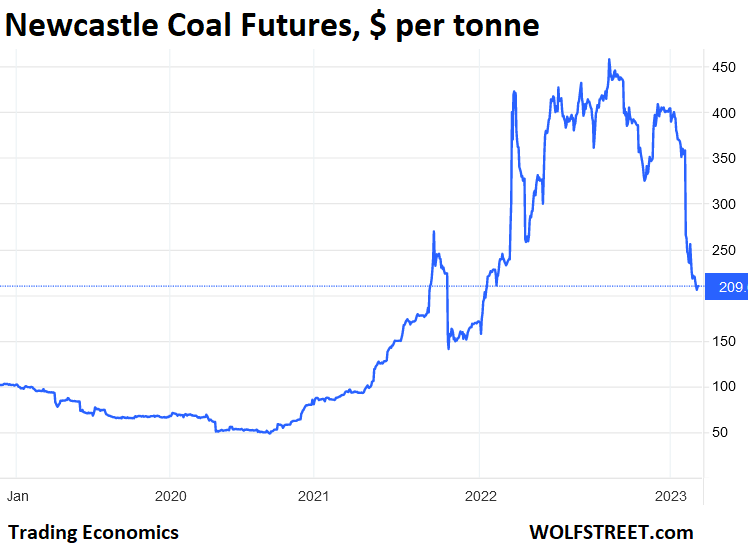 US Wheat futures have worked off their entire double-spike that started in February 2022 with Russia's invasion of Ukraine, and now at $ 7.37 per bushel are back where they'd been in May 2021: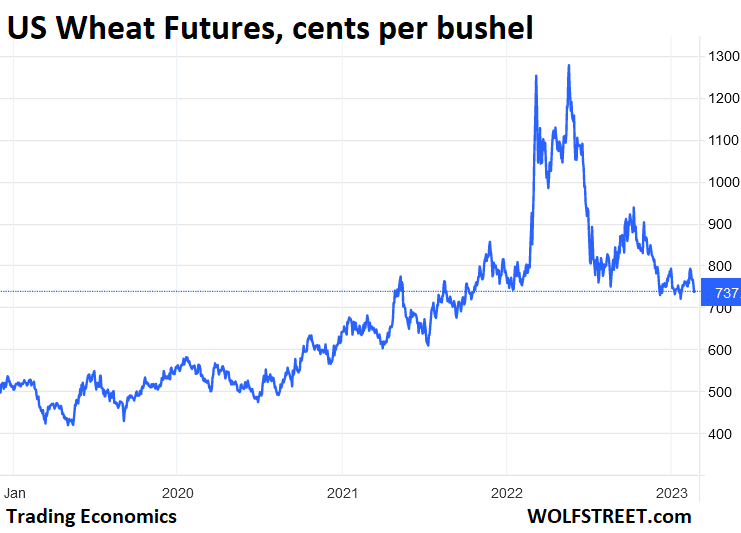 But some commodities re-spiked.
Commodity prices are volatile, and they jump and plunge, but not in lockstep. There's always something that is spiking or re-spiking.
Copper futures soared by 115% in 14 months, from $2.10 per pound in March 2020 to $4.50 in May 2021, then wobbled to a new high of $4.80 in March 2022, and then the bottom fell out. And then the price bounced, and currently it's at $4.16 per pound, still about double where it had been in March 2020: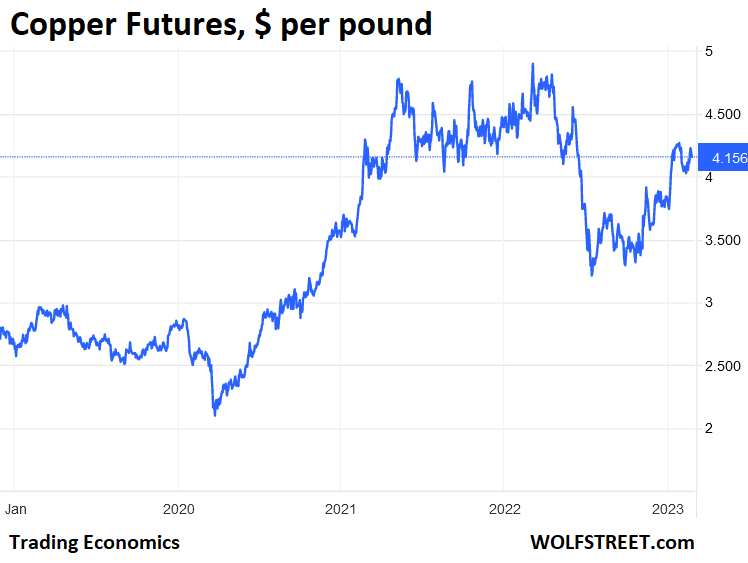 China steel rebar futures – after having nearly doubled – plunged, bounced, plunged, and now bounced off again by 22% since October 2022 to CNY 4,257 per tonne, possibly on a trend of lower lows and lower highs, to be confirmed at the next turnaround: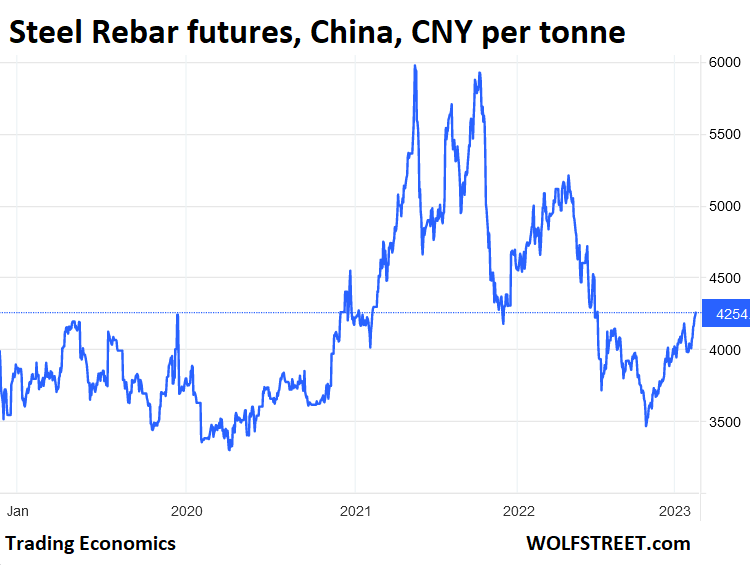 US Hot-Rolled Steel (HRC) has re-spiked by 66% since December, after a monstrous rollercoaster ride: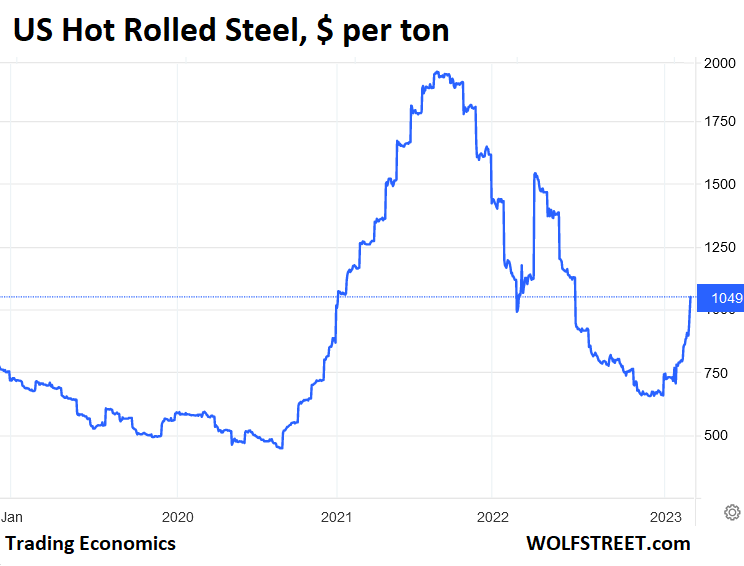 Iron ore. The price of cargoes with 63.5% iron ore content into Tianjin, after some major gyrations, bounced off the recent low in November 2022 and has since then re-spiked by over 60% to CNY $131.50 per tonne: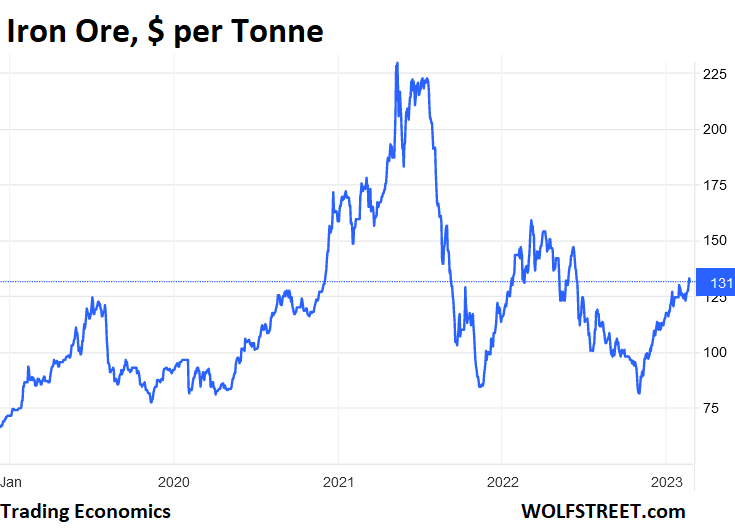 Soybean futures, at $15.37 per bushel, have jumped by 17% since July 2022, and by 85% since May 2020, and are not that far off the recent high of $17.26 in May 2022: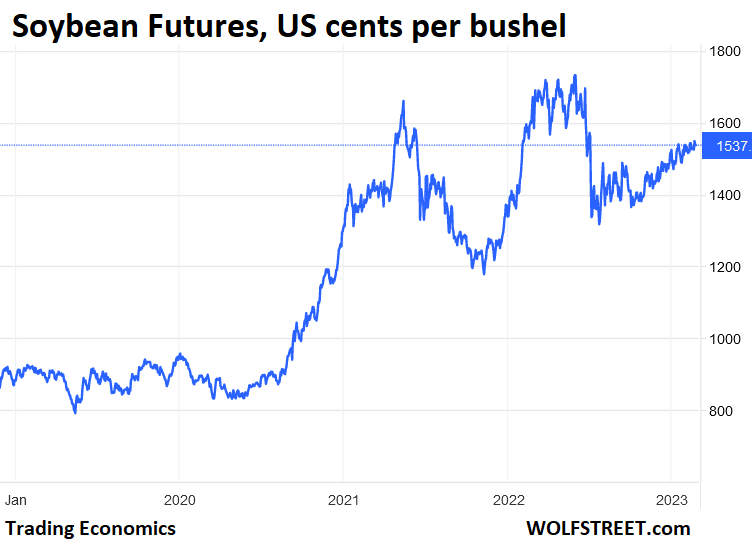 Oh no, coffee! Coffee futures in the US re-spiked, now at $1.93 per pound, double of where they'd been in May 2019: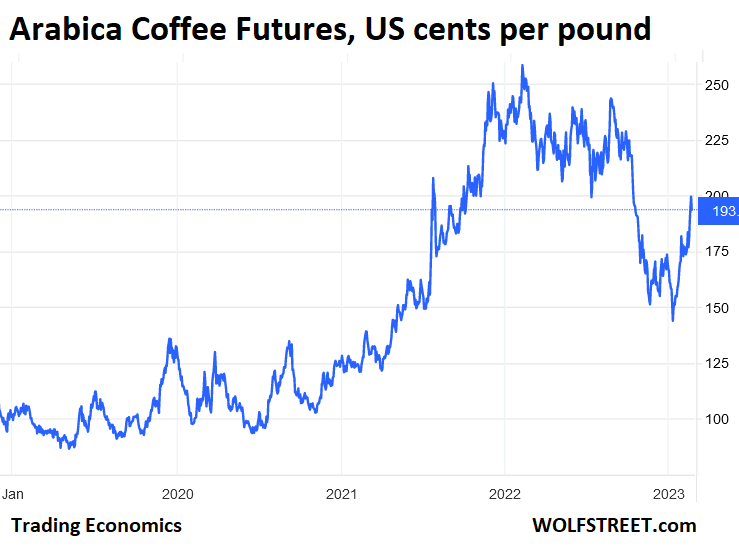 Corn futures, after a majestic spike, have wobbled along at around $6.75 per bushel, more than double the price in the spring and summer of 2020: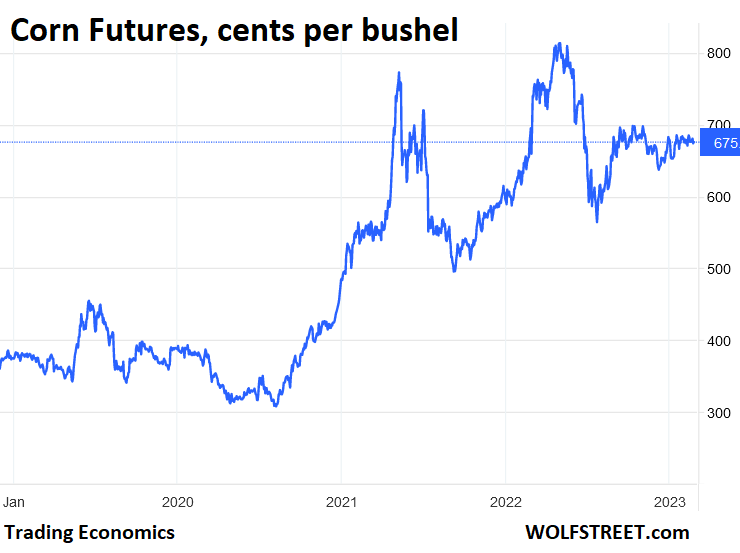 Enjoy reading WOLF STREET and want to support it? You can donate. I appreciate it immensely. Click on the beer and iced-tea mug to find out how:

Would you like to be notified via email when WOLF STREET publishes a new article? Sign up here.