It has $3.6 billion in real-world debt. The bonds crashed, the stock imploded, reality keeps biting the crypto world.
Crypto exchange Coinbase, which was once upon a time headquartered in San Francisco but is now "a remote-first company" without a headquarters, and which lost $2.1 billion in the first nine months of 2022 as trading activity on the exchange collapsed, and as therefore its revenues collapsed by 75%, announced today another big round of layoffs, 950 people globally, or about 25% of its remaining workforce, after it had already laid off 1,100 employees in June, or 18% of its then-workforce.
"We also reduced headcount last year as the market started to correct, and in hindsight, we could have cut further at that time," CEO Brian Armstrong told Coinbase employees in a message this morning.
He spelled out the severance package for the workers in the US, said that workers in other countries would receive a similar package dependent on local laws, and that the company would provide "extra transition support" for those who are in the US on "a work visa," such as H-1B visa holders.
The crypto market "trended downwards" in 2022, he told his employees, winning therewith the award for the most glorious corporate understatement of the year. And he added, "We also saw the fallout from unscrupulous actors in the industry, and there could still be further contagion."
Meaning "contagion" within the crypto space, this mostly self-contained videogame where rules and laws didn't apply because it's just a videogame, and where every entity is interconnected with other entities in it. So far, that's where contagion has been, including hitting a couple of crypto-focused small banks, such as Silvergate, which recently released the details of its own implosion.
"As part of a headcount reduction like this, we will be shutting down several projects where we have a lower probability of success," Armstrong said. "Our other projects will continue to operate as normal, just with fewer people on the team."
Ironically, on May 10, just eight months ago, in its Q1 2022 earnings report, the company said that its headcount had tripled in the year through December 2021, to 3,730 employees, and added: "We expect such growth to continue for the foreseeable future."
But this "foreseeable future" extended only a few days: On May 17, after the shares collapsed 83% from the high and were inducted into my pantheon of Imploded Stocks, the company imposed a hiring freeze for two weeks. And then in June 2022, the large-scale layoffs started.
Today, Armstrong said: "Over the past ten years, we, along with most tech companies, became too focused on growing headcount as a metric for success. Especially in this economic environment, it's important to shift our focus to operational efficiency."
The Fed's easy-money policies, which started in 2008, have turned investors' brains to mush and have given rise to what I call consensual hallucination, leading to all kinds of crazy stuff, including cryptos. But now, asset prices that were whipped up during Easy Money are coming unglued as The Price of Easy Money Is Now Coming Due. Armstrong has been formed by Easy Money, and he became a "crypto billionaire" during Easy Money. But Easy Money is now over.
"Despite everything we've been through as a company and an industry, I'm still optimistic about our future and the future of crypto," he said, bravely projecting optimism to his employees.
"Dark times also weed out bad companies, as we're seeing right now," he said. "But those of us who believe in crypto will keep building great products and increasing economic freedom in the world" – this being straight out of the videogame that is the entire crypto space, where the official religion is crypto itself that people have to "believe in."
But Coinbase is generating real-word losses denominated in real-world dollars: Through the first nine months, it already booked losses of $2.1 billion.
And today it announced in an SEC filing of preliminary financial and operating tidbits for Q4 that it will add a whole bunch more to these losses: Including the $149-163 million in restructuring expenses associated with this round of layoffs and cost cuts, its "adjusted EBITDA" will likely be "within the negative $500 million loss guardrail that the Company provided in the Shareholder Letter."
"Adjusted EBITDA" is Coinbase's homemade metric. The actual net loss for Q4 when it appears on its financial statement, to be added to the $2.1 billion in net losses for the prior three quarters, will be a sight to behold.
Coinbase had $3.7 billion in debt at the end of Q3. And its bonds have gotten hammered. For example, its $1.0 billion in 10-year 3.625% unsecured notes, issued in September 2021, are now trading at 51.75 cents on the dollar (chart via Finra/Morningstar):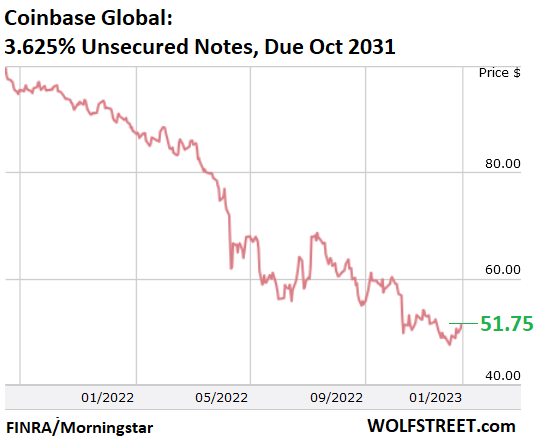 Its shares [COIN], in the time-honored tradition after big layoffs are announced, jumped 8% today at the moment, to $41.44, and are now down "only" 90.4% from their high on their mesmerizing hype-and-hoopla day when it went public in April 2021 (data via YCharts):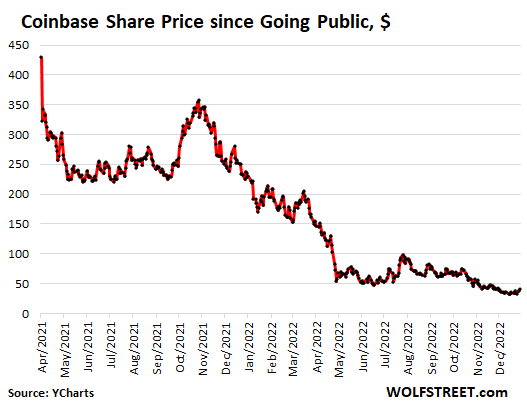 Enjoy reading WOLF STREET and want to support it? You can donate. I appreciate it immensely. Click on the beer and iced-tea mug to find out how:

Would you like to be notified via email when WOLF STREET publishes a new article? Sign up here.