BART was already "facing a fiscal cliff" after working from home and driving to work caused revenues to collapse.
One thing that has not recovered to anywhere near pre-pandemic levels is ridership on mass-transit systems. Ridership has crept up from the total collapse in the spring of 2020, but has remained far below pre-pandemic levels. This has been the case also at Bay Area Rapid Transit (BART), a sprawling rail system that connects the East Bay via the Transbay Tube to San Francisco and further south to the San Francisco Airport and the northern part of Silicon Valley.
Ridership on BART has gotten crushed by working from home, for which the Bay Area has become the epicenter, and by people driving instead of taking the BART, as highway traffic was initially a lot less onerous than before the pandemic. But ridership began to recover gradually, from very low levels. Average ridership per month as measured by exits:
In 2021, 2.05 million per month, -79% from 2019.
In 2022, 3.45 million per month, -65% from 2019.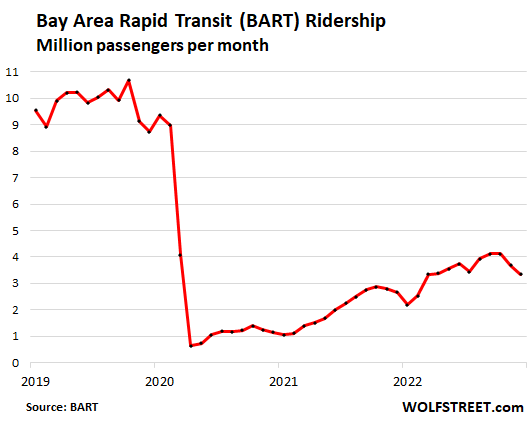 But the progress stalled in mid-2022.
In December 2022, the 3.34 million rides were down by 61.8% from December 2019, and there has been zero progress in ridership since June 2022, when ridership was down 61.9% from June 2019. The June drop was still a huge decline, still a collapse in ridership, but it was the smallest collapse, if you will, since the lockdowns, amid hopes of further frustratingly slow recovery.
But then the layoff announcements at tech and social media companies in San Francisco and Silicon Valley started to ricochet around, and progress halted entirely.
This chart shows the change in ridership each month in 2020 through 2022 compared to the same month in 2019, thereby eliminating the issues of the seasonal drops over the holidays in November and December.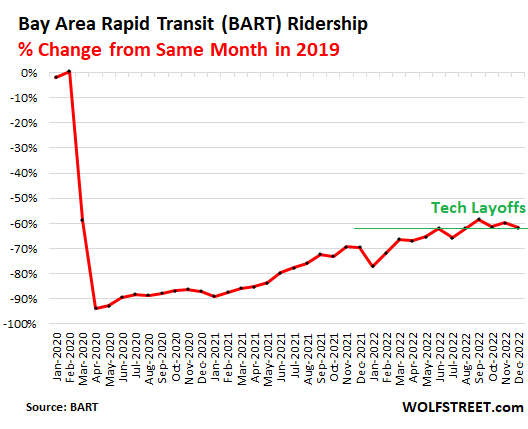 This drop in ridership comes as the brand-spanking new trains that had been ordered years ago, have entered service, and they're nice, but they weren't free (and the epic "BART screech" in curves persists somehow).
Facing a "fiscal cliff." 
According to BART estimates released in October 2022 (PDF), due to the collapse in operating revenues (from fares), BART will have massive operating losses – $287 million in fiscal 2022; $335 million in fiscal 2023, $316 million in fiscal 2024, etc.), which will deplete the $1.6 billion in pandemic federal assistance it received by fiscal 2026. And then what?
Turns out, a rail system cannot just cut services to get out of trouble because the biggest portion of the expenses is high fixed costs and interest; and only about 36% of BART's total operating expenses "scale proportionally with service," according to BART Director Rebecca Saltzman.
But cutting services – reducing the number of trains, cutting weekend services, etc. — "means fewer riders (and less revenue) without proportional savings," she said, citing a study by BART staff that sought to determine how much service would have to be cut to balance the budgets.
"BART is facing a fiscal cliff. Cutting service won't balance our budgets – It would make our fiscal situation worse as ridership would drop," she said, services would have to be cut further, and BART would "enter a death spiral."
Get people to go back to the office (by BART)?
So BART does not plan to cut service, she said. "We cannot balance budgets by cutting service. We must identify new revenues in the coming years to close big future budget gaps."
That's going to be tough if workers keep working from home and don't go to the office, and if workers that did go to the office by BART are now getting laid off.
There are now all kinds of discussions about what to do with the empty office towers, including converting some of them — where this is economically even feasible — into residential buildings. And if that pans out over the years, it would be another blow to BART because even more people could live near where they work, and wouldn't have to commute.
Foot-traffic in San Francisco's Financial District is still very thin, compared to how it used to be, and the ghost-town comparisons are still being made, but it has come up some from the levels in August 2020, which I documented: Haunting Photos of San Francisco's Desolate Financial District During Morning "Rush Hour": Visual Effects of Work-from-Home
Enjoy reading WOLF STREET and want to support it? You can donate. I appreciate it immensely. Click on the beer and iced-tea mug to find out how:

Would you like to be notified via email when WOLF STREET publishes a new article? Sign up here.