And if it doesn't last after the stimmies are gone, dealers will sit on massively overpriced collateral, which could get messy.

This has been going on for months: Used-vehicle prices spiking from jaw-dropper to jaw-dropper, and just when I thought prices couldn't possibly spike further, they do.
Prices of used vehicles that were sold at auctions around the US in April spiked by 8.3% from March, by 20% year-to-date, by 54% from April 2020, and by 40% from April 2019, according to the Used Vehicle Value Index released today by Manheim, the largest auto auction operator in the US and a unit of Cox Automotive. All heck has broken loose in the used vehicle market: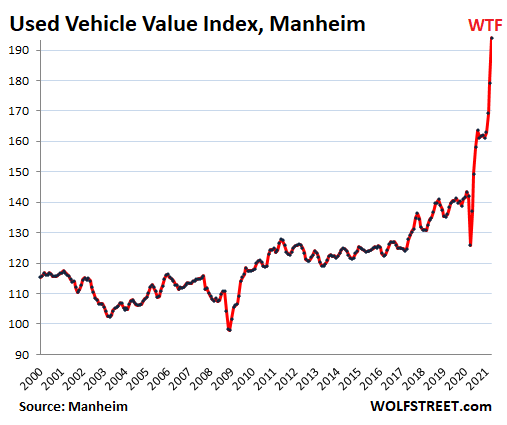 The price spike has now completely blown by the prior record spike over the 13-month period through September 2009, which included the cash-for-clunkers program that removed a whole generation of serviceable older vehicles from the market.
Dealers that purchase vehicles at auction to restock their inventory face tight supply and lots of other dealers bidding on the same vehicles. So they curse under their breath and bid up the prices to get some inventory, hoping they can pass on those ludicrous prices, plus a hefty profit, to consumers. Retail prices tend to lag wholesale prices by about six-weeks.
Consumers have been willing to pay those ludicrous prices, rather than go on buyers' strike: Used vehicle retail sales in April rose to a seasonally adjusted annual rate of 22.4 million vehicles, according to estimates by Cox Automotive. Stimmies made perfect down-payments.
My gut says, a spike like this cannot last. If consumers balk at those prices and go on a buyers' strike, after the stimmies are gone, and these insane prices unwind, dealers are going to sit on some massively overpriced inventory – collateral for their floorplan financing – and this could get messy if it goes awry.
But if these price spikes don't unwind soon, they will turn into scary-crazy inflation.
Tangled up supply woes.
Wholesale inventory at the end of April was down to just 17 days of sales, when 23 days is about normal supply, according to Cox Automotive. Retail used-vehicle inventory stood at 33 days, when 44 days is about normal.
The seeds of the used-vehicle supply woes were sown last year, when the rental car business collapsed, and rental car companies cut their fleets by selling units they had, and by slashing orders for new vehicles. The latter strangled the flow of new vehicles into rental fleets last year and this year.
But now, the rental business is picking, as people start traveling again, and rental cars are in short supply.
The supply shortage is now difficult to remedy as the semiconductor shortage has hit automakers starting early this year. They shut plants and canceled shifts; they have prioritized production of their high-end vehicles to make up in price what they will lose in volume. Ford announced that its global production in Q2 will likely be down by 50%. In this environment, the low-margin sales to rental fleets are put on the back burner. And rental fleets have been struggling to get new vehicles.
Avis warned on May 4  in its quarterly 10-Q filing with the SEC about not being able to get enough vehicles for its fleet:
"We face risks associated with our suppliers of vehicles, including as a result of a global semiconductor supply shortage."

"We have faced, and may face additional delays in receiving delivery of new vehicles from vehicle manufacturers for a variety of reasons, including due to closures at manufacturing facilities or otherwise.

"In particular, a global semiconductor supply shortage is having wide-ranging effects across multiple industries, particularly the automotive industry, and it has impacted multiple vehicle manufacturers that supply vehicles to us.

"For example, some automobile plants in North America and elsewhere have halted or reduced vehicle production due to the shortage of semiconductors used in the production of their vehicles.

"As a result, the semiconductor supply shortage has had, and is expected to continue to have, an impact on new car deliveries, which may make it challenging to meet consumer demand."
Other rental fleets are facing the same issues – they're being put on the back burner by manufacturers that are having large-scale problems assembling vehicles due to the semiconductor shortage.
During the first four months of 2021, compared to the same period in 2019, sales by automakers to fleets plunged by 48% from 693,000 units in 2019 to just 360,000 units this year, according to Auto Rental News.
Rental fleets are now keeping the vehicles they do have longer, and they're sending them to auction with a lot more miles. According to Cox, the average mileage on "rental risk" vehicles (these are vehicles that are not under a repurchase program with the manufacturer) sold at auction in recent years ranged mostly between 40,000 miles and 50,000 miles. But in March, average miles jumped by 12,000 miles from the already high mileage in February, to 67,000 miles. And in April, average mileage spiked to 82,800 miles!
Even as the mileage has spiked, the average price of these rental risk units – and that's how crazy the market is – has jumped by 32% year-over-year.
Rental fleets have now turned into major buyers at the auctions, thereby increasing the price pressures. They have always bought some vehicles at auction periodically to meet demand locally; that is not new. But this is now happening on a larger scale.
Enterprise told Bloomberg: "Our fleet acquisition team is working hard to secure additional vehicles – both new and low-mileage used vehicles – through all channels to meet the ongoing increase in demand."
A Hertz spokesperson told Bloomberg that the company is "purchasing low-mileage, preowned vehicles from a variety of channels including auctions, online auctions, dealerships and cars coming off lease programs."
On the customer-facing side of their business, rental fleets have been making hay while the sun shines and have jacked up their rental rates in markets where they can – which, you guessed it, is adding more fuel to the inflation fire.
Enjoy reading WOLF STREET and want to support it? You can donate. I appreciate it immensely. Click on the beer and iced-tea mug to find out how:

Would you like to be notified via email when WOLF STREET publishes a new article? Sign up here.