No one knows what's going to happen.
Vehicle manufacturing in the UK slumped by 19.6% in November compared to the same month of 2017, amidst rising fears about a no-deal Brexit as well as slowing sales in the world's largest automotive market, China. With around 30,000 fewer cars produced, it was the biggest year-on-year fall of any November since the financial crisis of 2008, when output shrank by more than 32%.
The industry has now racked up six consecutive months of falling production, according to the industry group, the Society of Motor Manufacturers and Traders (SMMT). Year-to-date, total car production in the UK is more than 8% lower than it was in the first 11 months of 2017. If anything, the trend appears to be accelerating, with November's 19.6% year-on-year drop in production roughly double the 10% drop registered in October. The chart (courtesy of SMMT) shows rolling-year car production totals — the total amount produced over the twelve-month period: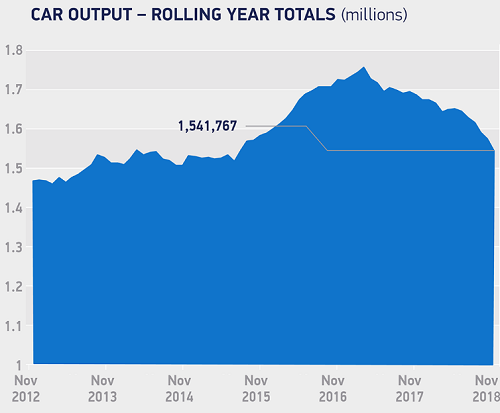 Rolling-year total production reached a post-crisis peak of around 1.75 million in mid-2016, just after the Brexit referendum. Since then, rolling year totals have fallen 12% to 1.54 million last month, down by over 200,000 units from the 2016 high.
Around one out of five of the cars manufactured in the UK are bought by UK consumers. And those consumers are consuming less. Production for the UK market was down 1.9% year-on-year in November and 16.8% in the year to date. That's a total of 55,000 fewer cars being built for British consumers. Also in November UK new-car sales fell by 3%, with diesel models particularly hard hit. Two months earlier, the industry suffered its worst fall in sales of any September since the crisis. As long as sales continue to fall, so too will production for the internal market.
But it's in the export market, accounting for just over four out of five cars produced in the UK, where the most pain is being felt. Exports dropped 22.8% in November, the fifth monthly fall in a row. So far this year, 75,000 fewer cars have been built for overseas markets than between January and November 2018.
Much of the blame is being placed on the uncertainty around Brexit, which is scheduled to happen in just over three months' time — though it may not happen at all.
Brexit not happening would be the perfect outcome for car manufacturers in Europe which, as just about everywhere, rely on "just-in-time" and "just-in-sequence" delivery and production systems. For example, Toyota claims that it keeps no more than four hours' worth of parts on-site at its Burnaston plant. By triggering lengthy delays and other obstacles at the UK-EU border, a no-deal Brexit has the potential to throw sand into the finely tuned gears of those fragile logistics systems.
"Every day 1,100 EU trucks cross the Channel to deliver to car and engine plants in the United Kingdom alone," said the Brussels-based European Car Manufacturers Association, known by its French acronym ACEA. "After Brexit, even short hold-ups at customs will cause massive logistical problems, disrupting the production process and generating significant costs."
On the other side of the English Channel SMMT is even more concerned about the threat a crash-out Brexit could pose to the car industry. "Thousands of jobs in British car factories and supply chains depend on free and frictionless trade with the EU – if the country falls off a cliff-edge next March the consequences would be devastating," said Mike Hawes, SMMT Chief Executive. "With fewer than 100 days until the UK leaves the European Union, the automotive industry needs certainty and a 'no-deal' Brexit must be ruled out."
For the moment that isn't happening.
This comes in addition to the collapsing demand in Europe for cars with diesel engines and the effects of the introduction in the EU of tough new emissions and fuel efficiency procedures.
As the likelihood of a crash-out Brexit rises, companies are frantically drawing up contingency plans. The five biggest car makers operating in the UK are:
Jaguar Land Rover, which built 544,400 cars in the country in 2017, 80% of which were exported overseas.
Nissan, which reached total UK production of 495,200 vehicles in 2017, down slightly from 2016.
BMW, which churned out 218,800 minis from its Oxford plant last year.
Honda (164,160 units in 2017)
Toyota (144,070 vehicles in 2017)
With EU markets accounting for 53% of all UK car exports, these (and many other) car makers are concerned about what could happen in the event of an unruly Brexit. Tariffs alone could add at least £4.5 billion to industry costs, says SMMT. Toyota said no-deal Brexit could disrupt their UK-based production for weeks, if not months. German manufacturer BMW has announced that it is planning to close its Mini plant in Cowley for a whole month after the UK's official departure from the EU, to minimize the impact of a no-deal Brexit.
A hard Brexit could set back Jaguar Land Rover — which is owned by the Indian company Tata — more than £1.2 billion ($1.5 billion) a year, says the group's CEO Ralph Speth. "It's horrifying, wiping out our profit, destroying investment in the autonomous, zero-emissions (world) we share," Speth said.
Following months of losses, Jaguar Land Rover introduced a three-day week for its 2,000 staff at its Castle Bromwich plant in the lead-up to Christmas, citing Brexit uncertainty and sliding sales of diesel-powered cars. The company has already cut 1,000 jobs this year and is rumored to be planning to slash up to 5,000 more in the new year as part of a £2.5 billion savings plan.
Pre-Brexit angst is not the only thing hurting Jaguar Land Rover's bottom line, which this summer slipped from pretax profit into pretax loss for the first time since 2015. The company, like many others, is also reeling from the impact of falling car sales in China, its biggest export market that accounted for nearly a quarter of the firm's global sales in 2017. By Don Quijones.
China's Auto industry panics, overcapacity spreads, but government brushes off the wailing and gnashing of teeth, looks to EVs. Read…  China Auto Sales Plunge, Face First Annual Decline in 30 Years
Enjoy reading WOLF STREET and want to support it? You can donate. I appreciate it immensely. Click on the beer and iced-tea mug to find out how:

Would you like to be notified via email when WOLF STREET publishes a new article? Sign up here.