It gets costly when the entire market depends on a handful of over-hyped mega-caps.
For the beginning of Thanksgiving week, it was a little messy today in the stock market, with the Nasdaq dropping 3% to 7,028. It's down 13.6% from its peak at the end of August. But it's still up 1.8% year-to-date, so nothing serious has happened yet, just some of the gains this year have turned out to be head-fakes.
Folks who went through the wholesale Nasdaq destruction of 2000-2002 will just smile mildly because that's when the Nasdaq, as the dotcom bubble imploded, lost 78%. Given our Everything Bubble is even bigger and crazier, the Nasdaq's current sell-off barely registers on my own Richter scale, so to speak.
The Dow fell 1.6%, is down just 7.2% from its peak, and for the year is clinging to a 1.2% gain.
And the S&P 500 dropped 1.7% today and is down 8.5% from the peak. It too remains, if by the thinnest margin, in the green for the year.
Nevertheless, real sums have started to evaporate. And much of it happened with the biggest stocks in so-called tech. The seven FANGMAN stocks – Facebook, Amazon, Netflix, Google's parent Alphabet, Microsoft, Apple, and NVIDIA – got hosed today. Again.
Their combined market cap dropped 4.4% today, giving up $170 billion without breaking into a sweat. Since their combined market-cap peak of $4.63 trillion at the end of August, $905 billion have dissolved into ambient air. Down 19.6% in ca. 11 weeks.
Despite the sell-off, the FANGMAN as a whole are still green for the year, and are back where they'd first been on January 11. So, from that perspective, this $905 billion that disappeared isn't any kind of big deal unless it's your money that disappeared along with it: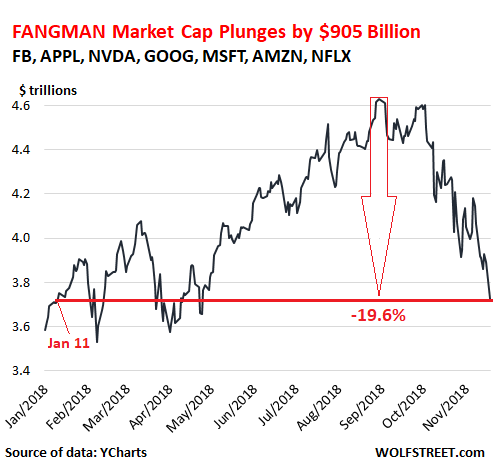 Let's start by blaming Apple [AAPL] due to its number 1 mega-cap status. Its shares dropped nearly 4% today and are down 20.4% from their peak at the beginning of October. Once upon a time, the company was worth $1.12 trillion. It ended the day at $882 billion. $238 billion gone in ca. eight weeks.
Not a day goes by when we don't hear from an Apple supplier blaming an unnamed huge customer that can only be Apple for having to slash their revenue forecasts – apparently because three iPhone models are not selling very well.
Apple's principle that it can always make up for falling sales of devices by raising prices even further on the fewer devices it sells can only succeed for so long. At some point, consumers switch to something else or just refuse to "upgrade" at an ever faster rate, as Apple has to raise prices at an ever faster rate…. You know where this is going.
Now I'm waiting for the day when Apple has to cut prices to get device sales going again. The fireworks should be pretty. The thing is Apple cannot be the only company in the universe that is able to forever increase its revenues by raising prices even as its unit sales are falling.
If Apple shares keep dropping like this, and Microsoft shares keep falling at their own pace, Apple may soon be less valuable than Microsoft. That would be too much to bear.
Microsoft [MSFT], the second most valuable company in the S&P 500, dropped 3.4% today to $104.62 and is down 10% from its peak at the beginning of October.
Facebook [FB] dropped 5.7% today, to $131.55, a new 52-week low. Shares are down 40% from their peak in July. And $249 billion in market cap have gone up in smoke.
Facebook, its CEO Mark Zuckerberg, and its COO Sheryl Sandberg had been media darlings for years, giving empowering and inspiring speeches, despite all the scandals over the way Facebook handles and monetizes the data it collects on everyone. But that goodwill has blown up, and now there's nothing but revelations about the inner gears of its greasy machinery.  I have no idea why anyone is still on Facebook or is still using its other apps, and other people are coming to the same conclusion.
On my list of things to watch in terms of real estate: Facebook, which had no presence in San Francisco until mid-2017, signed San Francisco's largest-ever office lease in May – 755,900 square feet in the 43-story Park Tower – about two months before its stock began to collapse. Shares are now down 40%. My gut feeling is that once shares are down 60% or so, the music will change, and instead of filling this tower with its employees, it'll embark on a cost-cutting drive, and this office space will appear on the sublease market. This is how real estate in San Francisco falls apart when stocks fall apart.
Amazon [AMZN] dropped 5.1% today to $1,512.29 and is down 26% from the peak on September 5, when shares almost kissed for the briefest moment $1 trillion. Up by escalator, down by elevator. $254 billion have gone up in smoke. No one on Wall Street griped when market cap jumped by $254 billion in 12 months for no reason, but now the wailing and gnashing of teeth is deafening.
Alphabet [GOOG] dropped 3.9% today to $1,020.00 and is down 20% from the peak in July.
NVIDIA [NVDA] has been in the plunge business recently. This was one of the most over-hyped stocks driven even higher by the crypto-scam that is now bleeding out (it sold chips to crypto-miners). On Friday, the company reported earnings, and shares plunged another 19%. Today shares plunged another 12%. Now at $144.70, shares are down 50.5% since the beginning of October and are back where they'd been in June 2017. Dip buyers were taken out the back and shot every time.
Netflix [NFLX] dropped 5.5% today to $270.6 and has plunged 35% from its high in early July. But it is still green for the year and has a very long way to go.
In other words, it gets costly in a hurry when the entire market depends on a handful of mega-caps that have been over-hyper for years.
Enjoy reading WOLF STREET and want to support it? You can donate. I appreciate it immensely. Click on the beer and iced-tea mug to find out how:

Would you like to be notified via email when WOLF STREET publishes a new article? Sign up here.