But e-commerce is piping hot.
Total retail sales growth – not adjusted for inflation – has been fairly strong, rising 4.6% in the third quarter compared to a year ago, powered by booming e-commerce sales, which the Commerce Department reported this morning, and by rising inflation. But "real" retail sales (adjusted for inflation) are not so hot, rising only 2.0% in October, and this was at the lower end of the post-Financial Crisis range: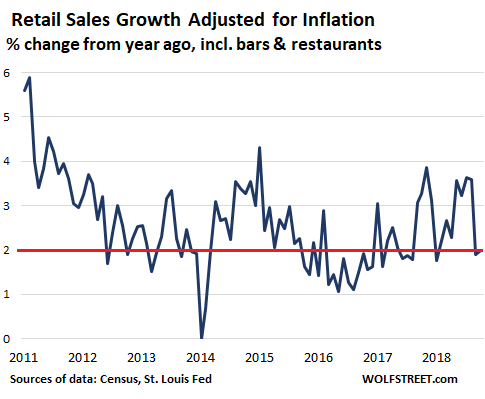 E-commerce sales in the third quarter, not adjusted for inflation, soared 14.5% from a year ago to a new record of $131 billion (seasonally adjusted), the Commerce Department reported this morning. E-commerce sales are on track to blow through the $500-billion level in 2018.
E-commerce includes sales by the online operations of brick-and-mortar retailers, such as Macy's, Walmart, and Best Buy, along with the sales of online-focused retailers, from Amazon down to small operations. Over the past five years, e-commerce sales have doubled.
I separate these retail sales — $1.34 trillion in Q3 — in three categories:
Online sales: +14.5% year-over-year.
Sales at online-resistant retailers (gas stations, new and used auto dealers, and grocery and beverage stores), accounting for 52% of all brick-and-mortar sales: +5.7% year-over-year
Sales at retailers that are under attack from online, accounting for 48% of all brick-and-mortar sales: +3.1% year-over-year, not even enough to make up for inflation (2.6% in Q3) and population growth (0.9%).
This chart shows how e-commerce has been eating into the share of the brick-and-mortar retailers that are under attack: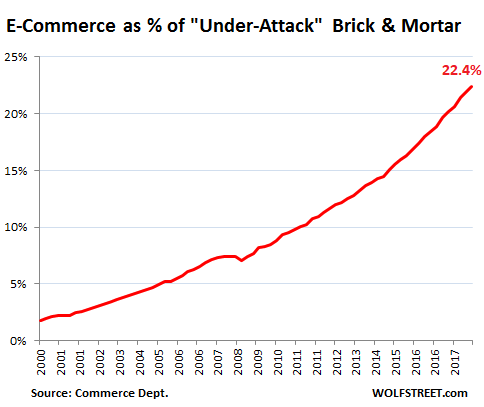 But the chart above averages out the two-decade meltdown in specific sectors. Some sectors, like record and video stores have largely been wiped out by e-commerce. Others have been decimated by e-commerce, such as book stores and toy stores.
Department store sales have plunged 36% (not adjusted for inflation!) since their peak in 2001, to just $37.4 billion in Q3, a new record low in the data going back to 1992. These are the stores that anchor malls; it's the sector populated by the brick-and-mortar stores of Macy's, bankrupt Sears, soon-to-be bankrupt J.C. Penney, liquidated Bon-Ton Stores, Nordstrom, and others. Store-closings by retail chains and malls losing their anchor stores are the two visible signs.
Nothing is going to help brick-and-mortar department stores. That concept has been obviated by e-commerce, and the department stores that want to stay relevant – such as Macy's and Nordstrom – are furiously and successfully building out their e-commerce operations. Others will be liquidated.
Sales at electronics and appliance stores, despite a booming business in electronics and appliances, have dropped 9% over the past 10 years to $24.9 billion, as much of it has migrated to online operations, including the successful online operations of brick-and-mortar retailers such as Best Buy.
The chart below shows e-commerce sales (red line) versus some of the other major categories of brick-and-mortar stores that populate the shopping malls of America:
And here's how these stores in the chart above — department stores; sporting goods, hobby, book, music, toy, and game stores; electronics and appliance stores, clothing, clothing accessory, and shoe stores — all combined stack up against e-commerce: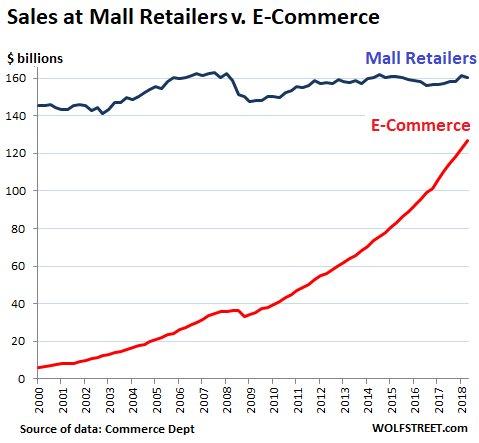 These are the stores that dominate the shopping malls of America. Year-after-year they're losing out to e-commerce. Their combined sales have been flat for a dozen years, despite inflation and population growth. While a few of the retailers have done well, many have gotten totally crushed. Some have disappeared from the scene, and others, such as Sears, have gone bankrupt and will soon disappear; while others still, like J.C. Penney, will eventually follow in their footsteps.
The demise of the classic mall stores isn't happening overnight; it took two decades to get this far, and the torture will continue methodically for many more years, and mall landlords and increasingly mall creditors, when they end up with the collateral, are having to figure out what to do with their malls.
Enjoy reading WOLF STREET and want to support it? Using ad blockers – I totally get why – but want to support the site? You can donate. I appreciate it immensely. Click on the beer and iced-tea mug to find out how:

Would you like to be notified via email when WOLF STREET publishes a new article? Sign up here.

Many experts agree that metal roofs are a great defense against wildfires. Click here or call 1-800-543-8938 for details from our sponsor, the Classic Metal Roofing folks.
Classic Metal Roofing Systems, the leader in fire safe roofing for residential applications, manufactures products that are 1/20 the weight of most tile products and eligible for Class A, B, or C fire ratings as determined by roof preparation.