Plunging bank stocks got the Court's attention, or something.
That was fast: Spain's Supreme Court on Friday flip-flopped on its own ruling announced on Thursday that had sent bank stocks plunging.
It started like this: Thursday morning, Spain's Supreme Court did something nobody was expecting. It ruled that the country's banks must pay stamp duty on mortgage loans, which would set them back billions of euros in legal fees and compensation while heaping further pressure on their lending business. News of the ruling sent many of the banks' shares tumbling to new lows for the year while also heaping pressure on Spain's ten-year bonds.
"The Supreme Court states that the person who must pay the stamp duty in the public deeds of loans with mortgage guarantees is the lender, not the one who receives the loan," the court said in a document. The court ruling on Thursday, which overturned a previous ruling in the banks' favor earlier this year, was final, the Supreme Court said on Thursday.
But by lunchtime Friday, the court had decided to suspend the ruling in light of the acute "economic and social impact" it was having — meaning the banks were in trouble!
The chart shows the shares of Bankia, which is 90% state-owned. Following the Thursday announcement, the already beaten down shares plunged 10% at one point. The Friday flip-flop repaired some but not all of the damage: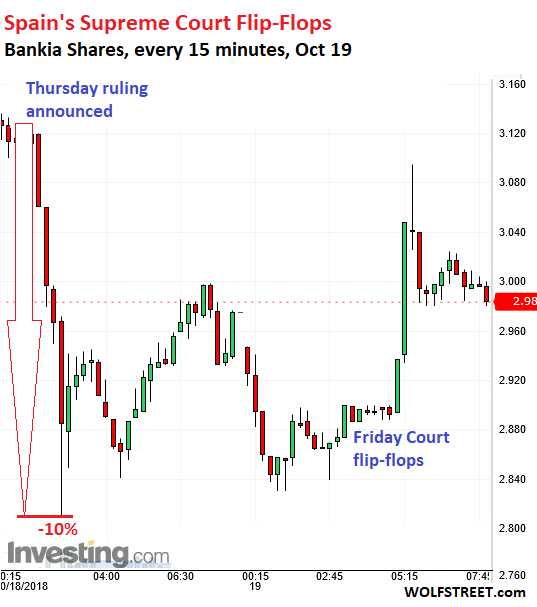 It's impossible to tell just how much the total compensation bill would have come to, since stamp duty varies across Spain's regions. As many as 8 million mortgage customers would have been affected by the court ruling, said the Spanish consumer association Adicae.
The question everyone — in particular the banks' lawyers — were asking on Thursday is whether or not the law would be applied retroactively, as happened in the floor clause scandal of 2016, and if so, from when. Thursday's ruling did not stipulate from what point clients would be entitled to be compensated, but Spain's legal system allows customers to reclaim compensation from tax authorities for cases going back four years.
In March, the rating agency Moody's forecast that the total cost will probably exceed the amount the sector has shelled out in compensation to victims of the floor clause scandal, which at the time of Moody's report was between €3.5 billion and €4 billion. According to analysts consulted by Reuters, Spanish banks could have ended up paying anything between €1.7 billion and €10 billion in compensation.
Judging by the immediate response of Spanish bank shares to the news, investors were expecting the worst. Shares of mostly-state-owned Bankia fell more than 7% in early morning trading and ended the day at 5%, while Banco Sabadell and Caixabank fell 6.3% percent and 4.6% respectively. Smaller regional savings banks were also hit hard, with Liberbank and Unicaja down 7.2% and 5.5% respectively. The bloodbath continued into Friday morning, with some lenders down 3 or 4%.
The fallout was more muted for Spain's two largest lenders, Banco Santander and BBVA, whose balance sheets are less dependent on the vagaries of the domestic market. Their shares ended Thursday down by 2.1% and 2.7% respectively.
The ruling would also have had a massive impact on Spain's creaking court system, which is already struggling to cope with the avalanche of lawsuits sparked by the floor clause ruling in late 2016. Fifty-four special courts were expressly created to adjudicate those cases, but even those courts are complaining of being overwhelmed by the caseload.
Under Thursday's ruling, Spain's overloaded court system would have had to brace itself for a fresh deluge of lawsuits from bank customers seeking compensation for stamp duty. Instead, now everything is up in the air. BBVA and Banco Santander have even suspended their online mortgage services since it's not clear who will have to pay the stamp tax: the banks or their mortgage customers?
To decide the issue once and for all, the Supreme Court has convened a plenary session of 31 senior judges. But even if their verdict comes down in the banks' favor, that won't necessarily mean the banks are out of the woods, since consumer groups could opt to appeal the decision at the European Court of Justice (ECJ), as they did with the floor clauses. The Spanish Supreme Court's flip-flopping will almost certainly help their case.
There's already a major ruling pending from the ECJ over the legality of foreclosure clauses contained in almost all Spanish mortgage contracts. Said clauses allow banks to initiate foreclosure proceedings on the basis of just one missed payment. Though banks rarely apply the clauses, their mere existence flies in the face of EU consumer protection laws.
The EU Advocate General, Maciej Szpunar, has already ruled that the clauses in question are abusive. If the ECJ draws the same conclusion in the coming weeks, it will mean that many Spanish mortgage contracts will have to be annulled, potentially paralyzing thousands of foreclosures. Spain's Supreme Court — henceforth known for flip-flopping — recently warned the ECJ that "the Spanish banking system could suffer serious and systemic disruption if banks are impeded from carrying out foreclosures."
In December 2017, we warned that 2018 could prove to be a "stressful year" for Spanish banks, but even we could not have imagined that it would be this stressful. The list includes the damage from the heavy exposure of Spain's two largest banks, Santander and BBVA, to Turkey, Argentina, and Brazil; Banco Sabadell mind-boggling and costly IT blunder at its UK subsidiary TSB; and Spanish banks exposure to roughed-up Italian government debt. By Don Quijones.
Outside Italy, euro credit markets are sanguine, and no one says, "whatever it takes," and as long as it stays that way, there may be no rescue of Italy. Read… Italy's Debt Crisis Thickens
Enjoy reading WOLF STREET and want to support it? Using ad blockers – I totally get why – but want to support the site? You can donate. I appreciate it immensely. Click on the beer and iced-tea mug to find out how:

Would you like to be notified via email when WOLF STREET publishes a new article? Sign up here.

Classic Metal Roofing Systems, our sponsor, manufactures beautiful metal shingles:
A variety of resin-based finishes
Deep grooves for a high-end natural look
Maintenance free – will not rust, crack, or rot
Resists streaking and staining
Click here or call 1-800-543-8938 for details from the Classic Metal Roofing folks.