Who will blink first?
A serious showdown is brewing in the Eurozone as Italy's anti-establishment coalition government takes on the EU establishment in a struggle that could have major ramifications for Europe's monetary union. The cause of the discord is the Italian government's plan to expand Italy's budget for 2019, in contravention of previous budget agreements with Brussels.
The government has set a public deficit target for next year of 2.4% of GDP, three times higher than the previous government's pledge. It's a big ask for a country that already boasts a debt-to-GDP ratio of 131%, the second highest in Europe behind Greece. To justify its ambitious "anti-poverty" spending plans, proposed tax cuts, and pension reforms, the government claims that Italy's economic growth will outperform EU forecasts.
Brussels is having none of it. EU Commission President Jean Claude Juncker urged Italy's Economy Minister Giovanni Tria to desist. "After having really been able to cope with the Greek crisis, we'll end up in the same crisis in Italy," he said. "One such crisis has been enough… If Italy wants further special treatment, that would mean the end of the euro. So you have to be very strict."
On Wednesday ECB President Mario Draghi held a private meeting with Italian President Sergio Mattarella in Rome, at which he reportedly raised concerns about Italy's public finances, the upcoming budget bill, and related stock-exchange and bond-market turbulence.
The meeting evoked memories of the backroom machinations that Draghi, together with his predecessor, Jean Claude Trichet, undertook to engineer the downfall of Italian premier Silvio Berlusconi in 2011 and his replacement with technocrat Mario Monte, after Berlusconi had posited pulling Italy out of the euro during Europe's sovereign debt crisis.
But such a drastic ploy is unlikely to work this time, since it would mean having to replace an entire democratically elected government. And Italian voters, already disenchanted with the EU, are unlikely to accept having a new technocratic government thrust upon them. But that doesn't mean the EU doesn't have aces up its sleeves.
Brussels knows that Italy's banking sector, despite receiving hundreds of billions of euros of monetary support and virtually free loans from Draghi's ECB, is extremely fragile. The longer the feud with Rome goes on, the more fragile it will grow. The Achilles' heel for Italy's populists is the chronically weak banking sector, whose massive holdings of Italian sovereign bonds make them particularly vulnerable to an economic downturn.
As tensions between Rome and Brussels escalate, and uncertainty grows about Italy's economic future, investors are dumping Italian debt, causing bond values to fall and yields to rise. That, in turn, is hitting banks' funding costs and their capital cushions. On average, banks are estimated to already have lost 40 basis points of their core capital in the second quarter and another 8 bps in the third.
As their capital base shrinks, banks are less able to write down bad loans — of which there are still frighteningly many — or issue new loans. According to analysts at Morgan Stanley, Banco BPM SpA, Banca Monte dei Paschi di Siena (MPS) SpA and UBI Banca SpA are the most vulnerable of Italy's largest lenders due to the size of their holdings of government debt.
It is this outsized exposure of Italian banks to Italian debt that makes any sudden deterioration in the value of Italian bonds so dangerous. The banking sector hold around 18% of all of the nation's public debt. It's the reason why, as investors abandon Italian bonds en masse, the shares of Italy's banks are also nose-diving, with the stock of recently rescued Monte dei Paschi di Siena leading the way down having lost more than half its value year-to-date.
The chart below shows how the FTSE Italy Banks Index has plunged 29% since early May (black line), while the Italian government 10-year yield (red line) has nearly doubled from 1.8% to 3.4%, practically in tandem: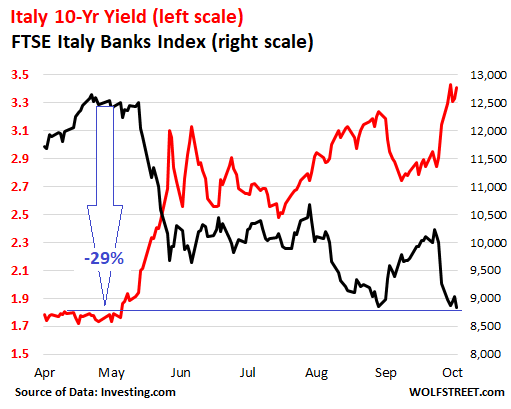 In other words, the dreaded "Doom Loop"– the vicious cycle between over-indebted governments in the Eurozone and the weak banks that funded them, which the ECB's QE program was supposed to put an end to — is back in full flow.
It's not just the banks' shares that are feeling the impact. So, too, is the banks' ability to raise funds.
Despite the ECB's NIRP, which still reigns in the Eurozone, yields on Italian bank bonds have soared over the past week. On Thursday, a bond maturing in January 2023 from UniCredit, Italy's largest bank by assets, yielded 2.67%, over two-and-a-half times the 1% it yielded when issued early this year. But smaller banks are frozen out of the market altogether, unable to issue new unsecured debt at rates they can afford. And that is putting renewed pressure on their liquidity, which, in turn, is restricting the amount of fresh credit reaching the broader economy. In August, total loans to companies and consumers slumped to their lowest level in two years, according to data from the Italian Banking Association.
The biggest fear is a return of the credit crunch that throttled Italy's recovery after the euro debt crisis seven years ago, says Nicola Nobile, a Milan-based economist. Before that happens, Brussels hopes that Rome will do the decent thing and back down. The Italian government did offer a compromise of sorts on Wednesday by promising slightly smaller deficits in the medium term. But both coalition partners — the anti-establishment Five Star Movement and the nativist League — have dug in their heels on the 2019 budget.
Sooner or later, one side is going to have to blink, for the longer this uncertainty lasts, the greater the risk that Italy's systemically vital banking system slips over the edge, taking Italy's economy with it and potentially doing serious damage to the Eurozone economy. By Don Quijones.
Turkey's "economic miracle" was fueled by foreign-currency debt. Now there's a price to pay. Read… Loans Sour in Turkey, Inflation Hits 25%, Interest Rates Spike, Fears of Contagion Rise
Enjoy reading WOLF STREET and want to support it? You can donate. I appreciate it immensely. Click on the beer and iced-tea mug to find out how:

Would you like to be notified via email when WOLF STREET publishes a new article? Sign up here.