The economic miracle fueled by foreign-currency debt. 
The Bank of Turkey's decision mid-September to hike its policy rate from 17.75% to 24% may have temporarily stemmed the rout in the Turkish lira, but the hiatus is now over. This week, the pressure is back on the nation's currency, which is down almost 40% against the US dollar year to date, as well on its beleaguered banks, 20 of which were slapped with another downgrade by Fitch Ratings.
The lenders, Fitch said, are "more likely to come under pressure as a result of the further depreciation of the Turkish lira (by about 20% against the US dollar since the last rating review), the spike in interest rates (driven by the increase in the policy rate to 24% from 17.75% on 13 September) and the weaker growth outlook."
The banks affected include foreign-owned subsidiaries such as Turkiye Garanti Bankasi A.S. (half-owned by Spain's BBVA), Yapi ve Kredi Bankasi A.S. (part owned by Italy's Unicredit), ING Bank A.S. and HSBC Bank A.S., which were downgraded to BB- from BB, as well as large state-owned banks (B+ from BB-), all with negative outlooks. As Fitch warns, the recent interest rate hike is likely to hurt lira borrowers' debt service capacity, while exposures to the construction and energy sectors and high borrower concentrations are also "significant sources of risks at many banks."
As long as the current climate of economic and financial instability continues, these problems are not going to go away. According to data recently published by the Turkish Statistical Institute, economic confidence in Turkey has sunk to a decade-low. Last week the country's Finance Minister (and President Erdogan's son-in-law) desperately tried to assure investors that he would, in classic Draghi fashion, do "whatever it takes" to support local banks, but few seem to believe that he has such means at his disposal.
Indications are piling up that the 4.25 percentage-point hike in interest rates last month was too little, too late. By the end of September inflation in Turkey, instead of slowing, had surged to nearly 25% from a year earlier, its highest level in 15 years. The increase on a month-by-month basis, clocking in at an eye-watering 6.3%, was even more alarming.
Soaring prices will heap further pressure on the Bank of Turkey to deliver another hefty rate rise at its next policy meeting, in mid-October. And that is unlikely to go down well with Turkey's president, Recep Tayyip Erdoğan, a self-professed "enemy of interest rates," who fears that further rate hikes will bring his foreign-debt-fueled economic "miracle" to a grinding halt, plunging Turkey into a deep recession, if not depression.
By most indications, the slowdown has already begun. Fitch expects Turkey's economy to grow by 3.8% in 2018 — down from expectations of over 7% earlier this year — and by a meager 1.2% next year.
A fresh rise in rates will also make it more difficult for struggling Turkish firms to roll over their existing debts. And that, in turn, will increase the likelihood of lenders facing a fresh wave of defaults. To avoid that happening, banks across Turkey have been restructuring the debts of some large corporate customers. They are also being forced to buttress their capital bases in response to the lira's rapid depreciation against the dollar this year.
The scale of the task is huge given that many of the banks have spent the last few years borrowing heavily in foreign currencies despite earning most of their money in the plunging lira, with the result that they are now saddled with a severe debt mismatch. According to Nafez Zouk of Oxford Economics, the country's lenders face a growing pile of short-term external debt and inadequate funds to pay for it.
The strains are beginning to show. In the last month or so, commercial lenders in Turkey have sold billions of dollars of gold in a desperate bid to avert a liquidity crisis. And according to allegations from Bloomberg, the Erdogan government recently raided the public unemployment fund to buy 10.9 billion lira ($1.9 billion) of bonds issued by a gaggle of state-owned banks, in contravention of its own regulations. Since the bonds were sold through a private placement, the banks didn't need to reveal the identity of the investor(s).
But it's not just domestic lenders that have reason to worry about Turkey's unfolding crisis. So, too, do a number of large foreign banks that have invested heavily in the country, including Spain's BBVA, the foreign lender most exposed to Turkey, France's BNP Paribas, Holland's ING, London-based HSBC and Italy's Unicredit.
In its latest quarterly review, the Bank of International Settlements dissected just how vulnerable foreign banks are to Turkey's fragile economic and financial situation. According to the data, which the report's authors concede is "imperfect", as of March this year Turkey owed roughly $223 billion to foreign banks, only a third of which was denominated in Turkish lira. The rest was due in foreign currencies, meaning every time the lira slides against the dollar, euro or other currencies, the debt burden for Turkish borrowers increases.
This chart by the BIS shows the extent to which banks in Switzerland (CH), Germany (DE), Spain (ES), France (FR), Great Britain (GB), Italy (IT), Japan (JP), Netherlands (NL) and the US are exposed to Turkey, expressed in US dollars: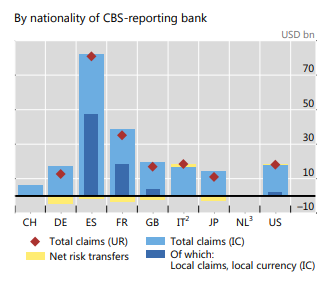 Spanish banks did much of the lending, and now have total claims in Turkey of over €80 billion. Spain, more than any other foreign country, needs Turkey's banks — in particular, Turkiye Garanti Bankasi A.S. — to stay solvent even if, as reassuringly promised, their Turkish operations are siloed from the rest of the company. By Don Quijones.
Why are Bank of Mexico executives and employees resigning in droves? Read…  President-Elect of Mexico's Bombshell: Economy in "Situation of Bankruptcy"
Enjoy reading WOLF STREET and want to support it? You can donate. I appreciate it immensely. Click on the beer and iced-tea mug to find out how:

Would you like to be notified via email when WOLF STREET publishes a new article? Sign up here.