Sales volume drops to lowest for any Sept going back to 2005. Condo prices drop to Oct 2016 level. House prices drop 11% from Peak Trump Bump. It's not fun anymore.
This is a phenomenon that is real and has cropped up in various aspects of the economy, including in asset prices, but also other data: The Trump Bump. After the election in November 2016, lofty prices that had hit a ceiling and had stalled or were declining suddenly took off again. There are many reasons, from being inspired by a Speculator-in-Chief to looking forward to big tax cuts and tax credits. The Trump Bump is a phenomenon of mass-psychology. It started before President Trump was even sworn in. But there are now the first data points suggesting that it has run its course.
San Francisco is a particular gem in the study of the Trump Bump because the city – in fact, the entire Bay Area – isn't exactly a boiling hotbed of Trump love. Au contraire.
But vilifying someone out of one side of the mouth while adding up out of the other side of the mouth one's suddenly inflating wealth is a fundamental part of the human existence, in a similar category as walking upright.
This theme became clear in the housing market in San Francisco.
Sales of units in condo buildings, "Tenancy in Common" (TIC) buildings, and co-op buildings – we're going to lump them all together into "condos" – in the city of San Francisco accounted for 58% of total sales over the past 12 months. Sales of single-family houses accounted for 42% of total sales. Almost all new homes built over the past many years in San Francisco are condos or rental apartments, and practically no single-family houses have been built. So condos matter. They're the majority of the market.
In September, the median price of condos fell $90,000 from August, to $1.15 million. The median prices and volume data here are from MLS (Multiple Listing Service), provided by Patrick Carlisle, Chief Market Analyst at Compass. "Median price" means half of the condos sold for more and half sold for less.
For example, Zillow, in its last email, pitched me 18 homes. The condos among them ranged from $549,000 for a 525 square-foot studio to something nicer and bigger, a three-bedroom two-bath unit for nearly $3 million. So yes, prices are crazy, but there is a fairly big range within that craziness.
And a median price of $1.15 million for condos is still a ridiculously huge amount of money, but here is the thing: It is the same median price as 27 months ago, in June 2016 (red line in the chart below). And it's not far above the $1.1 million first reached in February 2015 (green line):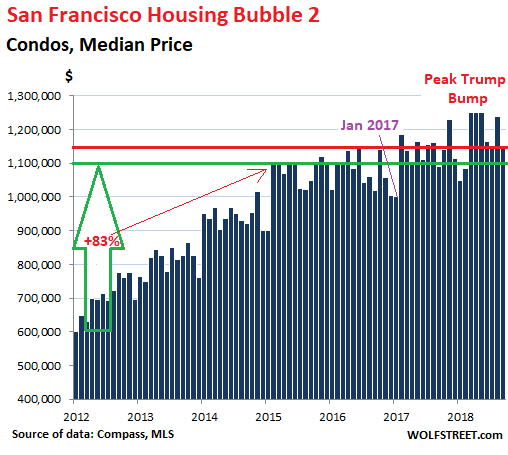 From January 2012 through February 2015, in just three years, median condo prices surged 83%, from $600,000 to $1.1 million, and then they began flatlining – meaning they bounced up and down but kept falling below the $1.1-million line and hit $1.0 million in January 2017.
Then the Trump Bump kicked in. In February 2017, prices surged. Note that this was the month when the deals closed and were reported to MLS as sold, but the deals were made weeks or months before then – so shortly after the election. The Trump Bump propelled condo prices up by 25% to peak at around $1.25 million in March, April, and May 2018. But this is now getting wrung out of the system.
Other aspects of the San Francisco housing bubble are, let's say, mixed.
Sales volume of all types of homes dropped to just 318 dwellings. This is down 8% from a year ago and down 22% from September 2016. In fact, it was the worst September in the data series going back to 2005. Even during the housing bust, September sales were higher.
But it's not for lack of inventory. Total listings reached 1,208 homes in September, which gives the city 3.8 months' supply at the current sales rate.
Single-family house sales dropped 18% from a year ago, to just 145 houses. The median price dropped to $1.515 million, down 11% from Peak Trump Bump in February 2018, when it was a mind-bending $1.7 million. But it's still up $195,000 from a year ago. So easy does it: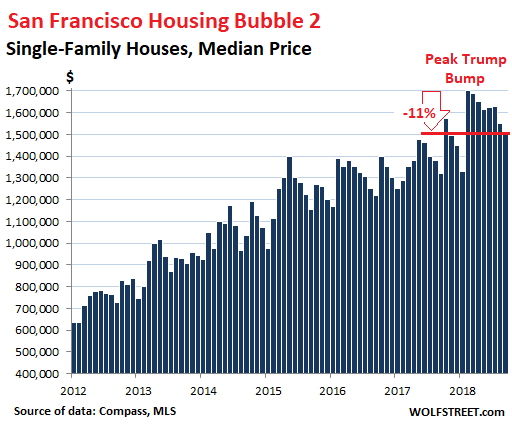 The median price of all types of homes dropped to $1.325 million, the lowest since January this year, but remains $80,000 (or 6.4%) higher than a year ago.
Enjoy reading WOLF STREET and want to support it? You can donate. I appreciate it immensely. Click on the beer and iced-tea mug to find out how:

Would you like to be notified via email when WOLF STREET publishes a new article? Sign up here.