This is why the trucking business is so cyclical – and you can see it coming.
Trucking is a cyclical business. And there are now signs that the phenomenal surge this year has peaked, and while it remains at high levels, has started to back off.
The latest sign: In September trucking companies ordered 42,278 class-8 trucks – the heavy trucks that haul the products of the goods-based economy across the US. This is down from the 52,000-orders range in July and August, which had been all-time records. While sharply off these records, September is nevertheless the 10th best month ever recorded, according to transportation data provider FTR: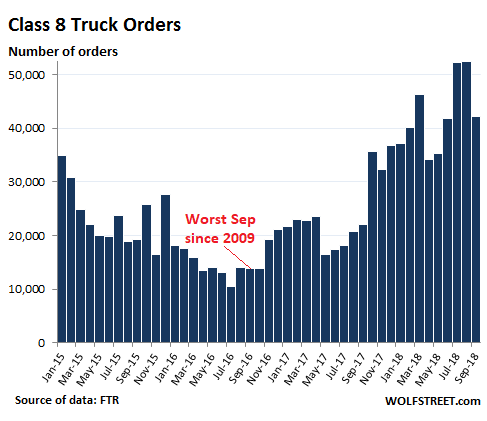 For the first nine months of this year, order volume of class-8 trucks has jumped by 106% compared to the same period a year ago.
The chart below shows the percentage change of class-8 truck orders compared to the same month a year earlier. It shows just how cyclical this business is, going from the effects of the "transportation recession" on truck orders in 2015 and 2016 – orders plunged to the lowest level since 2009, triggering layoffs at truck and engine makers – to the phenomenal boom in orders and equipment shortages this year, which too is now tapering off: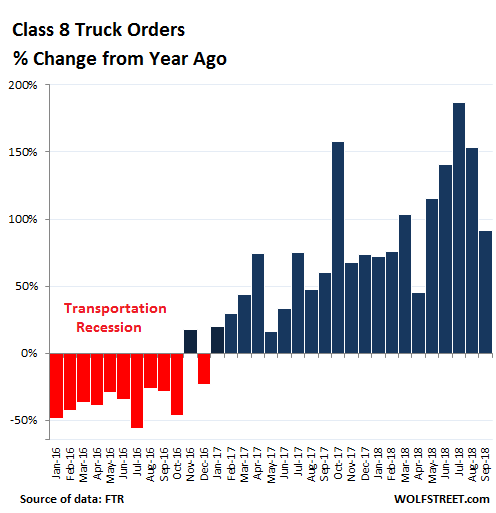 Clearly, orders of any kind can't grow in an exponential manner for very long. These huge record-setting orders were in part based on truckers' perception that we better order now because there's a growing backlog and we might never get our orders if we wait too long. Everyone rushed to get their orders in ahead of the others. Now the dust is settling, and truckers will get a better view on what they actually need.
So what would it take for the second chart above to once again produce these dreadful red hanging columns, as it did during the transportation recession?
If orders in October fall to 35,000 – which is still fairly strong, historically – they will be below October 2017, and the next column would be red. In November, 32,000 or fewer orders would create a red column, in December fewer than 36,800 orders. Next year, orders would have to beat the record-setting boom we saw this year to avoid turning red in year-over-year comparisons. This will be highly unlikely.
So perhaps as early as Q4 this year but no later than mid-2019, we will see a grouping of red columns in the chart above.
This doesn't mean that the industry will "collapse." It simply means that in trucking – and in the broader goods-based economy as well, but to a lesser extent – cyclicality is alive and well, and is part of the deal. There are up-cycles, and there are down-cycles. This year, we have seen one of the strongest up-cycles in trucking history, after a very tough "transportation recession," which had followed a very powerful up-cycle that had peaked in 2014. Now the cycle is swinging back.
Over the past 12 months, class-8 truck orders have reached nearly 500,000 according to FTR data. Truck manufacturers are currently cranking out trucks as fast as they can, at an annual rate of about 320,000 units. The order surge late last year and so far this year has created a record backlog now reaching 11 months, according to ACT Research. Any month with orders significantly over 27,000 units contributes to the backlog.
But if orders next August drop to for example 26,000, it would imply a 50% year-over-year plunge in orders, and it would create a deep red column in the chart above. That's what the industry will be up against.
If orders stay near this 26,000-level, the industry will revert to some kind of balance. But generally, that's not how reversion to the mean works. Instead, there are periods when the industry goes haywire ordering trucks. When these trucks are being delivered in large numbers, overcapacity appears, which creates pressures on freight rates, and when trucking companies see their revenues drop, they slash their orders to the bone. And after the backlog is worked through or canceled, truck manufacturers are once again going on their "right-sizing" binges. And the cycle starts all over again.
The cost of shipping surges, no holds barred. But…  What Truckers & Railroads Said About the Economy: Blistering Demand is Backing Off, Cyclicality Lives
Enjoy reading WOLF STREET and want to support it? You can donate. I appreciate it immensely. Click on the beer and iced-tea mug to find out how:

Would you like to be notified via email when WOLF STREET publishes a new article? Sign up here.