But the cost of shipping surges, no holds barred.
The signs that the infamous cyclicality of the transportation industry is changing direction once again are still timid. This industry is a thermometer of the goods-based economy. And it has been hopping! But the first such signs are appearing, even as activity is at record highs, amid complaints of equipment and driver shortages, bottlenecks and delays in the supply chains, and a massive double-digit surge in pricing.
Freight shipment volume across all modes of transportation – truck, rail, air, and barge – rose 6.0% in August, compared to a year earlier, according to the Cass Freight Index. The index covers merchandise for the consumer and industrial economy but does not include shipments of bulk commodities, such as grains or chemicals.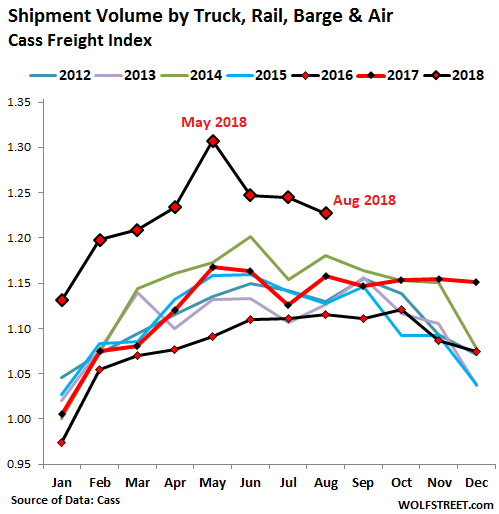 That 6.0% increase is only about half the double-digit year-over-year increases in six of the seven prior months, and the smallest increase since October 2017.
The chart below shows how the index changed compared to the same month a year earlier. It also shows the cyclicality of the business (the above chart shows the seasonality of the business). Clearly, these monstrous year-over-year increases in shipments so far this year cannot keep increasing at the same rate. Exponential increases cannot last. Cyclicality always wins: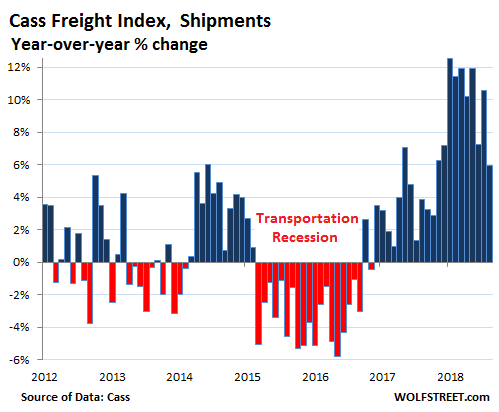 Another aspect that surging demand is starting to back off is visible in the DAT Dry Van Barometer, cited in the Cass report. The barometer tracks demand for van trailers compared to available capacity. This type of trailer is an indication of consumer goods moving across the country. The barometer shows the cyclicality in the business, including the "transportation recession" in 2015 and 2016. The horizontal blue line (50) indicates equilibrium between demand for vans and capacity. Values above it indicate demand exceeds capacity. The enormous spike in the demand-capacity imbalance since late last year has now started to back off (click to enlarge):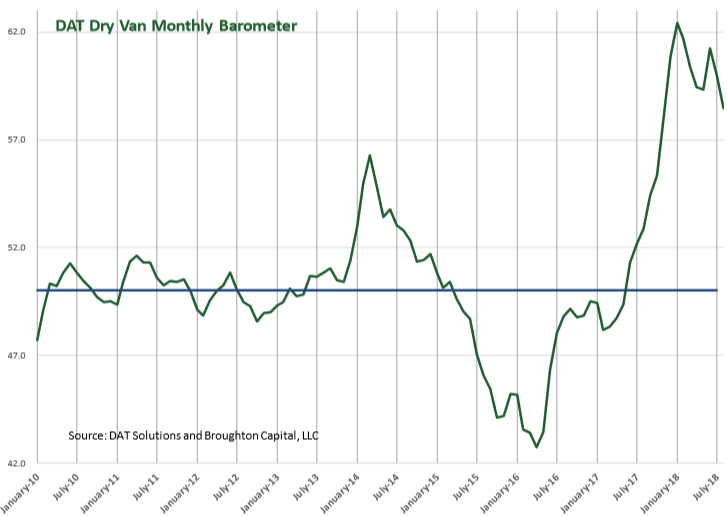 Demand from the industrial sector shows up in demand for flatbed trailers that haul equipment and supplies for oil-and-gas drilling, construction, manufacturing, etc. As demand surged late last year and capacity tightened, the DAT Flatbed Monthly Barometer, cited by Cass, spiked to historic highs. But there is no endless spike, and the demand-capacity imbalances are now being worked through (click to enlarge):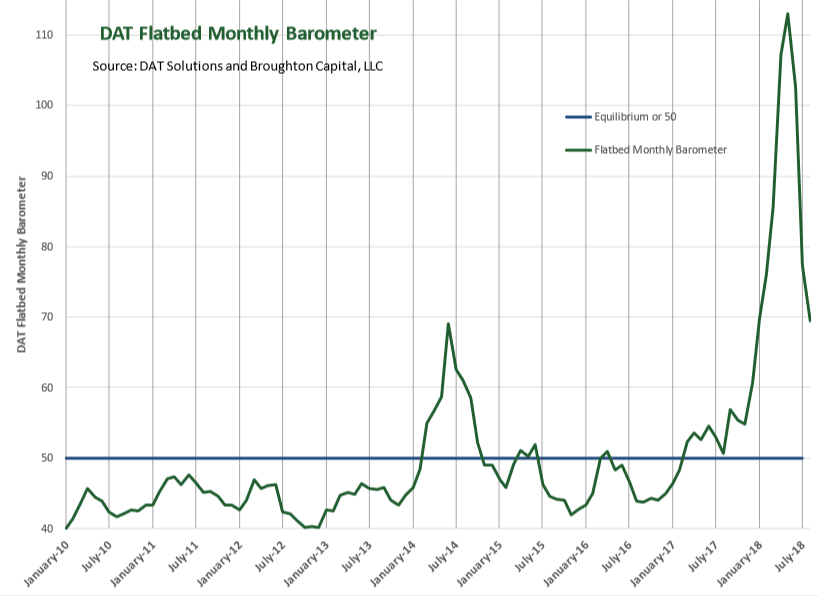 The Association of American Railroads (AAR) reported that shipments of most commodities by rail were fairly strong in August. US railroads originated 3.8% more carloads in August than a year earlier.
Intermodal traffic – containers and piggybacked trailers – rose 5.1% in August year-over-year. But that increase was down from a 6.9% year-over-year increase in July, and it was below the year-to-date total increase of 6.0%
But in terms of pricing, it's no holds barred….
The Cass Truckload Linehaul Index, which tracks per-mile full-truckload pricing but does not include fuel or fuel surcharges and is therefore not impacted by diesel price increases, jumped 11.1% in August, the largest year-over-year increase in the data going back to 2005: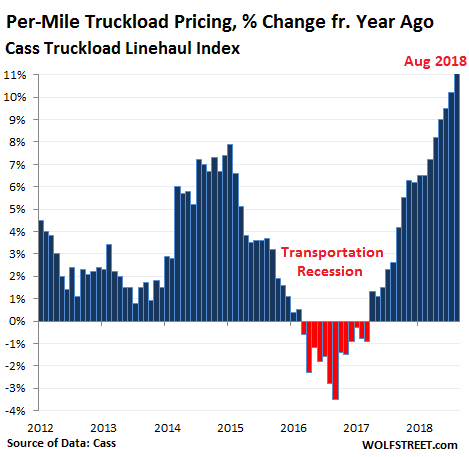 The price of diesel does not impact the Linehaul Index above. But it impacts the broader indices below. According to EIA data, the average price of diesel at the pump, at $3.26, is up 16% from a year ago but remains below the $3.80 to $4.20 range that prevailed between 2011 and 2014: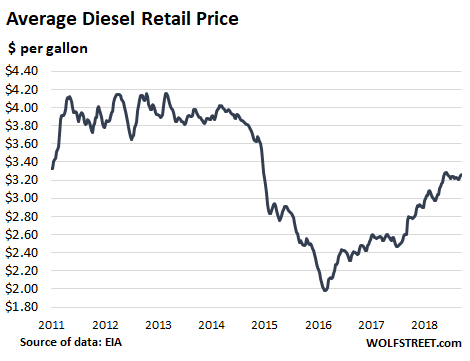 The Cass Intermodal Price Index includes fuel prices, and it jumped 11.4% in August compared to a year ago, the 23rd month in a row of year-over-year increases: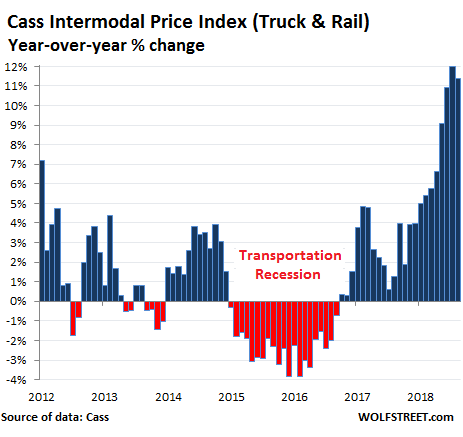 The total amount companies spent on shipping their merchandise via all modes of transportation surged 16.7% in August compared to August last year, according to the Cass Freight Expenditures index. This increase is a result of higher shipment volumes at much higher prices: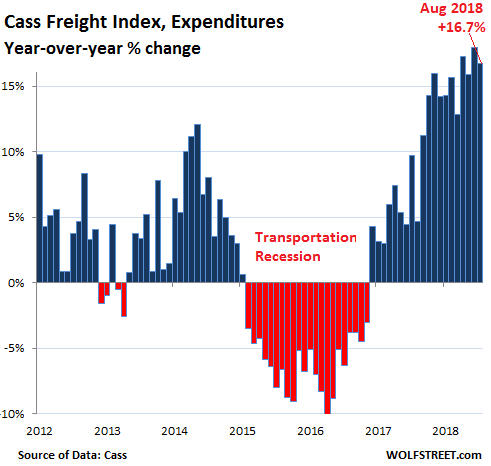 Shippers are going to be out of luck for a while. Capacity is still tight despite the first indications that some of the constraints – whether demand or additional capacity – are loosening up. Freight rates and expenditures for shippers will continue to rise as long as the industry operates at capacity. But when slack appears in the system, truckers will start to lose some of their pricing power, a process that shippers are eagerly looking forward to.
The trucking industry is expediting this process with a historic effort to increase their fleets and add capacity. So orders for Class 8 trucks in August jumped 153% from a year ago to a new record, after blistering increases all year. Read… What the US Heavy-Truck Market is Saying
Enjoy reading WOLF STREET and want to support it? You can donate. I appreciate it immensely. Click on the beer and iced-tea mug to find out how:

Would you like to be notified via email when WOLF STREET publishes a new article? Sign up here.