Defying my dictum that nothing goes to hell in a straight line.
The headline said that shares of Sears Holding jumped "more than 7%" in late trading after it reported more losses and store closures and plunging revenues in its second quarter earnings report. By the time I checked it out, the stuff was up 22%, to a whopping $1.48, after having been down 9% during the day.
When it comes to revenues, Sears Holdings has become the most predictable corporate entity out there. Despite any rhetoric about lifesaving deals with Amazon, Uber, or whatnot, and despite its online "initiatives" and Hail-Mary passes du jour, its revenues have been on an astoundingly straight line to hell, for seven years, starting in 2012, defying my dictum that nothing goes to hell in a straight line: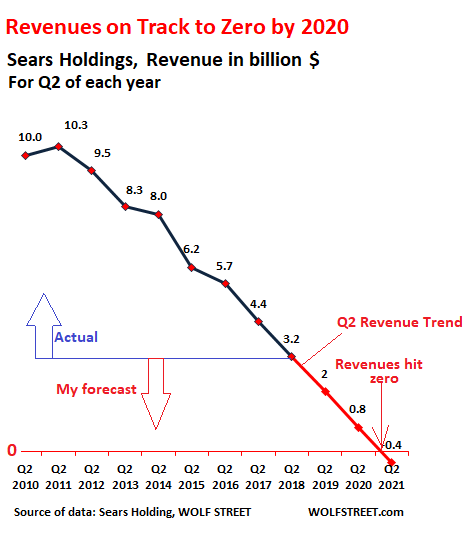 The above chart shows revenues for Q2 of each year since 2011. The red parts are my estimates, based on past revenue declines. This type of near-perfection is not easy: No deviation, no uptick, just straight to hell, with the great-big "zero" revenues looming at the end of 2020 or early 2021. But it will not last that long. The show will end sooner.
Q2 revenues plunged 26% from the same quarter last year, to $3.18 billion. And the net loss more than doubled to $508 million, bringing its loss for the first half to $932 million.
"During the quarter, we continued to focus on improving profitability and generating additional liquidity," CFO Rob Riecker said. How the phrase, "continued to focus on improving profitability," made it into the statement remains inexplicable. I mean, "improve profitability?" You cannot improve something that hasn't existed for years. "Focus on increasing losses," that should have been the phrase.
"In addition to delivering improvement in our comparable stores sales trend in the second quarter compared to the first quarter, we achieved positive comparable store sales in several categories at both Kmart and Sears formats, including apparel, footwear and jewelry," the press release said even more inexplicably.
These "comparable stores" sales numbers are a total joke and irrelevant because the company keeps shutting stores, and total sales keep plunging at a breath-taking pace.
At the end of Q2 2017, Sears Holdings had 1,250 stores. At the end of Q2 2018, count was down by 384 stores, to 866 stores. Over the 12-month period, it had shuttered nearly one-third of its stores! At this pace, it will run out of stores to close in Q3 2020, having reached a store count of "zero" to perfectly match its "zero" revenues by that time: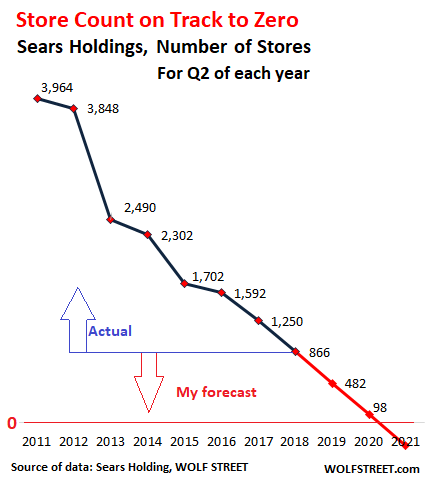 The copy-and-paste verbiage coming out of the company, ranging from meaningless to inexplicable, continues with a statement by CEO Edward Lampert, who clearly needs more time to strip the remaining assets out of the company:
While we are encouraged by the improved comparable stores sales trend we experienced in the second quarter, and the positive comparable store sales of 3.0% and 2.5% achieved in the months of July and August, respectively, we have yet to achieve our goal of returning the Company to profitability.

We continue to close unprofitable stores, and we are hopeful that we can stabilize our store base at a meaningful level in the near future. Our goal is to right-size our store footprint to a solid base from which we can operate and grow profitably, while leveraging our online and Shop Your Way platforms."
The statement also lists the usual slew of "initiatives" to make it look like they're trying to turn this fiasco around. "We believe these initiatives will help us to strengthen the Company, improve financial performance, and better position us for the future," it concludes.
It's all part of the show. The show is titled, "We're trying to turn this company around in good faith." It is supposed to provide cover. In reality, it's just an asset-stripping operation dragging out for many years, having to pass many legal hurdles that take time to get over.
By the time they get through with it, all the good assets – mostly real estate and also a few brands – will have been pulled out in different ways, such as by pledging them as collateral for loans that Lampert's hedge fund entities made to Sears (in bankruptcy court, Lampert's entities will be awarded that collateral).
Or they were sold in sweetheart deals, some of them on a lease-back basis, to affiliated parties such as Seritage. Seritage was then spun off from Sears via a rights offering in July 2015. Aggrieved investors filed suit, and in 2017, Sears Holdings and Lampert settled for $40 million. Lampert is still chairman of Seritage.
Over the years, there were numerous such deals. None of them pass the smell test, but it's been going on for so long, and with such regularity, that everyone has just come to accept that it's how it is, and if Lampert needs a little extra time to get this done, fine.
Enjoy reading WOLF STREET and want to support it? You can donate. I appreciate it immensely. Click on the beer and iced-tea mug to find out how:

Would you like to be notified via email when WOLF STREET publishes a new article? Sign up here.