It's cyclical: When will the biggest-ever boom end?
Orders for Class 8 trucks in August jumped 153% from a year ago to 52,400 trucks, beating by a smidgen the orders in July, which had been the highest number of monthly orders ever recorded. These are the heavy trucks that haul the products of the goods-based economy across the US, and trucking companies cannot seem to get enough of them: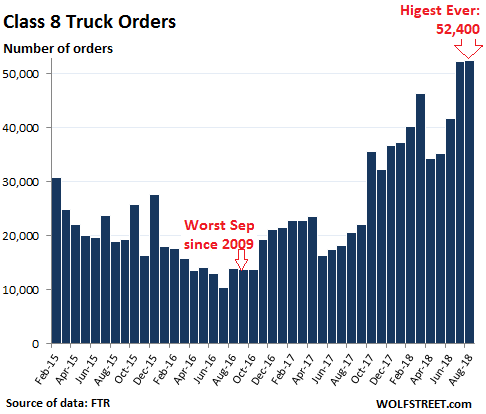 FTR Transportation Intelligence, which provided the data, explained:
Carriers continue to scramble to get enough trucks on the road to handle the robust freight growth.  The surging economy and vibrant manufacturing sector are stretching the logistics system to the limit. In some markets, goods are moving slower due to supply chain gridlocks, necessitating even more trucks to deliver goods.
In total for the first eight months this year, order volume of Class 8 trucks has jumped by 108% compared to the same period a year ago.
The chart below shows the percentage change of Class 8 truck orders compared to the same month a year earlier. Note the effects of the "transportation recession" on truck orders in 2015 and 2016 when orders plunged to the lowest level since 2009, and truck and engine makers reacted with layoffs: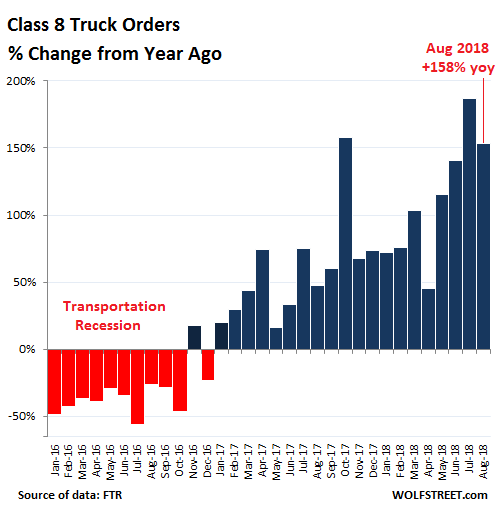 Truckers are trying to upsize their fleets after shrinking them during the transportation recession. And truck manufacturers and their supply chains, after laying off people during the transportation recession, are now scrambling to build these trucks.
"The good news is, it appears the supplier shortage issues that significantly slowed production earlier this year, have been largely abated for now," said Don Ake, FTR VP of commercial vehicles. "However, the supply chain remains tight, and fleets and dealers continue to place large orders to lock down build slots in 2019."
But he cautioned: "FTR does expect some easing to occur in the second half of next year."
For the freight industry – after having been gripped by the transportation recession – it has been a phenomenal year. In July, shipments by all modes of transportation – trucks, rail, air, and barge – of goods that are not bulk commodities jumped by 10.6% from July a year ago. Rail intermodal traffic (containers and trailers loaded on trains) rose nearly 7%. Freight rates truckers charge have soared by the double digits. But companies that need to ship merchandise are squealing: They spent 18% more on shipping expenses in July than in July last year.
Industry observers are getting cautious. This is a very cyclical business. But that worry-moment, as FTA also pointed out, will likely occur later in 2019. J.D. Power notes:
It would not be illogical to assume the order cancellation rate will increase later in 2019, as new truck deliveries catch up to actual needs and the build slot reservations are no longer needed.
J.D. Power also tracks the used truck market, believes when these new trucks get delivered, fleets will start flooding the market with their older trucks – though that hasn't happened yet:
We don't foresee a massive wave all at once, but we do expect a higher volume of used trucks entering the market going forward. Frankly, we're surprised this activity hasn't come to pass yet. We're looking at the 2nd Quarter of 2019 for any changes to become apparent. Why then? We won't have a completely clear picture of freight dynamics until then.

The next couple of months will include a contentious midterm election, which traditionally suppresses activity to a degree. Then, winter weather will impact freight volume. Through all this, buyers will continue to receive their new trucks. So we'll regroup in the early 2nd Quarter to see where things stand. We expect a somewhat more normal market for used trucks at that point.
But for now, the used truck market remains tight: At used truck dealers in the US, according to a separate report by J.D. Power, the average sleeper tractor that was retailed in July (the most recent data available) was older, had more miles on it, and brought more money:
82 months old: 7 months older than in July last year
462,125 miles on the odometer: 8,131 miles more than in July last year
Sold for $53,196: up $5,606 (or +11.8%) from July last year.
For now, fleets are not trading in their older trucks as much as they might normally do when they're taking delivery of a large number of new trucks. And the whole industry is fired up by the higher freight rates that are now sticking, and by the surge in freight volume, as the goods-based economy is pushing its limits before the industry's infamous cyclicality causes the next change in direction. Read…  What Truckers & Railroads Just Said about the US Economy
Enjoy reading WOLF STREET and want to support it? You can donate. I appreciate it immensely. Click on the beer and iced-tea mug to find out how:

Would you like to be notified via email when WOLF STREET publishes a new article? Sign up here.