Ford drops to 4th place. Industry sales in the red for the year. But FCA sales jump.
GM stopped giving out monthly numbers of new-vehicle deliveries earlier this year, and switched to quarterly releases. Today it reported its third quarter new vehicle deliveries, and they plunged 11% compared to a year ago, to 694,638 cars and light trucks. All of its brands lost ground.
Because we stubbornly insist on monthly numbers, even if GM [GM] is hiding them, they're now being estimated. Based on Bloomberg's survey of analysts, GM's sales in the month of September plunged 14%.
Automotive News estimated that GM's September deliveries plunged 15.8% to 235,228 vehicles, with GM Silverado pickup sales down 19% (44,960) and Sierra pickup sales down 35% (11,724). These are hot vehicles – or should have been.
These "deliveries" represent the number of new vehicles sold and delivered by dealers to their customers, or delivered by automakers directly to large fleet customers, such as rental car companies.
Ford [F] reported that sales in September dropped 11.2% to 197,404 – with deliveries at the Ford brand down 11.3% (189,236) and at the Lincoln brands down 7.2% (8,168).
For the first nine months, sales fell 2.4%.
Retail sales plunged 12.6% and fleet sales fell 6.7%.
Fleet sales (to rental car companies, commercial fleets, and governments) amounted to 24.9% of total sales, compared to 30.5% so far this year.
Ford is pulling out of car sales in the US, discontinuing sales of most sedans except for the Mustang, and it shows: Car sales plunged 25.7% to just 37,112 in September and are down 17.4%. At this pace, it won't take Ford long to be done with car sales.
Even truck sales, the hot segment for Ford, plunged 9.9%, with sales of the sacred F-series down 8.8% in September. SUV and crossover sales fell 2.7%.
Ford blamed the hurricanes last year and this year.
For the industry, September presented a tough scenario for comparison due to strong performance a year ago resulting from pent-up and replacement demand following Hurricane Harvey in Houston, while September 2018 experienced some weather-related impact due to Hurricane Florence.
"Tale of two hurricanes" is what Ford's head of US sales, Mark LaNerve called this phenomenon in a conference call. OK, I get it, the hurricanes were terrible, but apparently didn't hit Fiat-Chrysler.
Fiat Chrysler, whose brands include Chrysler, Dodge, Jeep, Alfa Romeo, Fiat, and Maserati, was able to boost its sales by 14.5% in September to 200,769 new vehicles. It thus outsold Ford and moved into third position behind GM and Toyota. Ford dropped into fourth place.
At Fiat Chrysler:
Fleet sales accounted for 25% of total sales.
Sales at Ram surged 10%, at Jeep 14%, and at Dodge 41%.
Fiat volume plunged 41%, Chrysler volume fell 7%, and Maserati sales dropped 15% to just 950 cars. Maserati sales are down nearly 16% YTD.
Toyota's sales, including Lexus and the now abandoned Scion brand, fell 10.4% in September to 203,098, putting the company in second place, just ahead of FCA and Ford. Year-to-date sales inched down 0.4% to 1,824,235.
Car sales plunged 25.2% in September to 68,753 units and are down 11.5% YTD
SUV sales fell 1.6% to 77,046 for the month but are up 10% YTD.
Pickup sales jumped 15.4% (to 33,710) for the month and 16.6% YTD.
Other manufacturers didn't fare so well either: Among the largest: Nissan's deliveries plunged 12.2% in September and 6.0% YTD. Honda deliveries dropped 7.0% for the month and 2% YTD.
Among the smaller automakers – but the one that hogs all the attention – Tesla was finally able to get some larger numbers of Model 3s delivered. Since it discloses only global deliveries on a quarterly basis, monthly US deliveries are estimated. According to estimates by Automotive News, Tesla delivered 21,700 vehicles in the US in September, up from 4,200 a year ago. This gave Tesla a market share in the US of 1.5%, just ahead of Mazda.
In the table below, percentage sales declines are marked in red. Automakers are listed in order of their overall deliveries in September. Many of these automakers have more than one brand. In addition to the brands mentioned above:
BMW includes BMW, Mini, and Rolls-Royce
Volkswagen Group includes VW, Audi, Porsche, Bentley, and Lamborghini
Hyundai-Kia includes Hyundai, Kia, and Genesis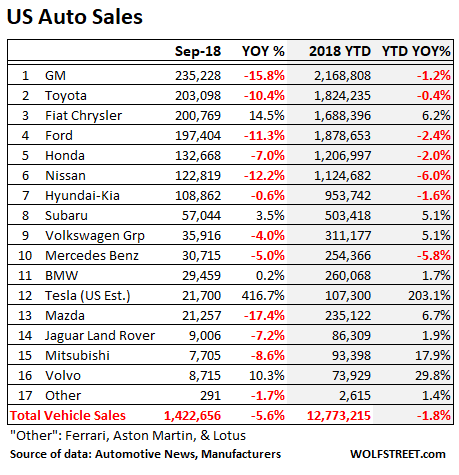 So overall it was a lousy month, with total sales down 5.6% from a year ago, dragging year-to-date sales into the red: down 1.8%. This comes after 2017, which had already been a down year. So the hopes that 2018 would produce higher sales for the industry than last year are rapidly being dashed.
But consumers, struggling with affordability of new vehicles, are switching to used vehicles. And the used-vehicle market is hot, and prices spike to record levels. Read…  What's Going On in the Used Car & Truck Market?
Enjoy reading WOLF STREET and want to support it? You can donate. I appreciate it immensely. Click on the beer and iced-tea mug to find out how:

Would you like to be notified via email when WOLF STREET publishes a new article? Sign up here.