Wholesale prices spike to record. Consumers, struggling with affordability, switch from new to used.
Used car and truck prices in August at auctions in the US jumped 6.4% from a year ago, after having jumped 5.1% in July, according to the Manheim Used Vehicle Value Index. The index, at 139.7, hit the highest level in "its more than 20-year history."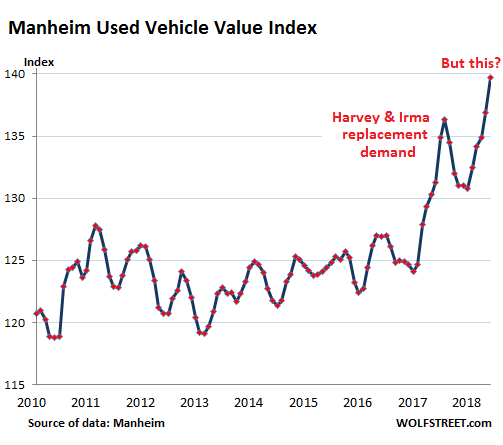 Manheim — the largest auto auction company in North America, runs about 8 million rental cars, lease turn-ins, repos, etc. through its auctions and online venues a year — explains:
Looking at trends in weekly Manheim Market Report (MMR) prices, the abnormal summer bounce that started in June continued in August. As of Labor Day, 3-year-old vehicles are now worth 4.8% more than they would normally be worth had typical depreciation occurred instead of the appreciation observed this year.
The data from those auction sales is adjusted for mix, mileage, and seasonality.
The chart below shows the year-over-year price changes in the index. Toward the end of 2017, the surge in prices that peaked in October and November was ascribed to the "replacement demand" from Hurricanes Harvey and Irma. This demand then tapered off, having turned out to be much smaller than initially estimated. Now new factors are at work: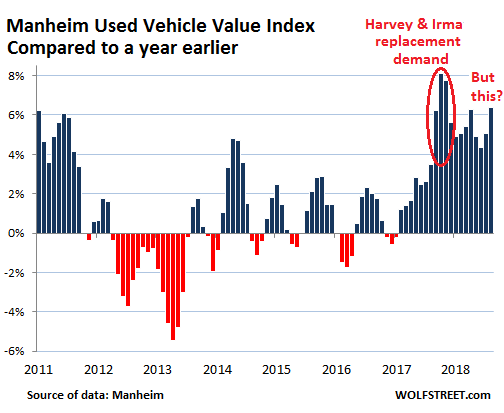 "The strange summer price appreciation in used cars" is a function of several factors, according to Manheim, including:
A "strong economy at its peak"
"Mounting affordability challenges for the consumer that favor growth in used vehicle sales at the expense of new"
"The fear of import tariffs' leading to higher prices in the future"
Consumer worries "about higher interest rates in the months ahead."
This increase in demand has been met by a "flattening wholesale supply," which "has led to faster moving retail inventory, higher sales efficiency at auction, and higher prices."
Sales of midsize and compact cars have collapsed over the past four years on the new-vehicle side across the industry as consumers have switched from cars to crossovers, SUVs, and pickups, to where Ford has thrown in the towel entirely on these cars and where GM is in the process of pulling out. But on the used vehicle side, midsize and compact cars are the hottest of them all with year-over-year price increases north of 8%: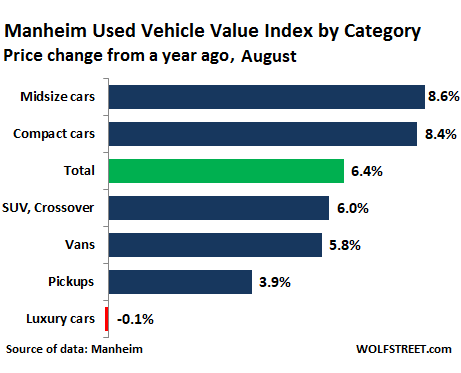 Except for luxury cars, all major vehicle categories experienced year-over-year price gains, but none more than midsize and compact cars because they, being priced lower, still allow consumers to deal with the affordability issues they face with crossovers and SUVs.
And for now, there is still supply of midsize and compact cars as rental-car fleets – also for reasons of affordability – are still skewed towards those vehicle categories. But that too is changing, and the price gains of midsize and compact cars show that supply from rental car fleets is not keeping up with demand.
A rental car company can obtain its vehicles in three ways:
Purchasing them outright without price guarantees to where it carries the risk for the price it may obtain for the vehicle when it is pulled from service ("risk vehicles")
Leasing them where the leasing company carries those risks when the vehicle is pulled.
Purchasing them under a guaranteed buy-back program with the automaker or its finance division.
The rental car company sends its "risk vehicles," after they come out of the fleet, to the auction or it sells them directly via its own retail operations (Enterprise is big into this).
Pricing of these "risk vehicles" at the auction jumped 8% in August year-over-year, Manheim found, even as the average mileage rose 4% year-over-year to 43,500 miles.
This mileage number is another sign of how vehicles are holding up better these days, and why the average age of vehicles on the road has been increasing over the years. Back in the late 1980s, rental cars were typically pulled with 15,000 to 20,000 miles on them. A rental car with 43,500 miles would have caused customer concerns. It would more likely have had reliability issues – taking care of customers whose rental car broke down is costly. And it would have looked iffy. But today, 43,500 miles is average!
All these prices relate to wholesales at auctions. This is only one part of the used-vehicle market. On the retail side, total used-vehicle sales in the US will close in on 40 million units this year, compared to about 17 million new vehicles. The used-vehicle retail market includes individuals selling directly to other individuals (as buyer, make sure you check the vehicle's title history, such as with FAX-VIN). The used-vehicle market is vast, complex, and liquid with a few huge players such as CarMax or Enterprise Car Sales, nearly 17,000 franchised dealers, about 20,000 independent dealers, plus individuals selling their own cars.
Here is a structural shift with some significance for the auto industry. Read…  Automakers Take Note: Americans Are Changing How They Commute to Work
Enjoy reading WOLF STREET and want to support it? You can donate. I appreciate it immensely. Click on the beer and iced-tea mug to find out how:

Would you like to be notified via email when WOLF STREET publishes a new article? Sign up here.