It spikes 150% from year ago. Caveats apply. Grain of salt helpful.
So I'm going to quantify the Fed's increasing hawkishness. This isn't going to be perfect. Caveats apply. And a grain of salt is helpful. But here we go.
About three weeks after the Federal Open Markets Committee (FOMC) meets to decide on monetary policy – currently eight times a year – it releases the minutes of this meeting. Today, it released the minutes of the meeting on July 31 and August 1. These minutes, which summarize the presentations by Fed staff and subsequent discussions among the "participants," are purposefully mind-numbing, repetitive, and vague.
But they're also full of descriptions of how the Fed sees inflation, the labor market, credit markets, the stock market, the housing market, and other things, including the global economy.
And these descriptions come with qualifiers, such as "strong" when things are going well, or "moderate" when things are so-so.
I'm going to track the use of the words "strong" and "strongly" as an indication of what the Fed thinks about the economy. The phrase shows up in sentences like these, gleaned from today's minutes:
Asset prices were influenced by a number of factors, including … data pointing to strong growth momentum in the United States.
Labor market conditions continued to strengthen in recent months and that real gross domestic product rose at a strong rate in the first half of the year.
Total nonfarm payroll employment expanded at a strong pace again in June.
Economic activity had been rising at a strong rate.
In today's minutes, the word "strong" appeared 32 times, 150% more than a year earlier, and the most since perhaps ever: Even in 2005, during the first half of the rate-hike cycle at the time, when the Fed was gung-ho about the economy, the word "strong" appeared between 3 times and 9 times in the minutes.
This chart below shows the number of times that "strong" has been used in the minutes going back through 2015. The spike shows how the Fed's point of view changed since late last year: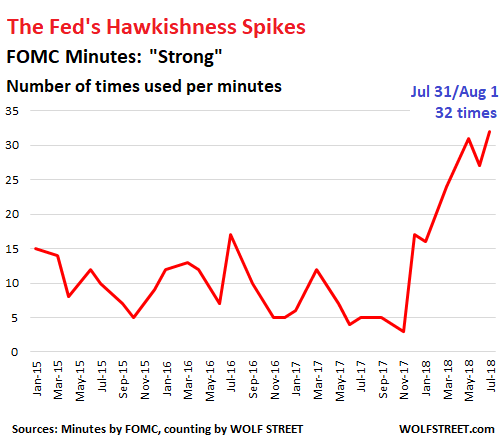 The Fed tapered QE during 2014 and stopped it entirely at the end of that year. The first rate hike in this cycle occurred in December 2015. So this was when the Fed started feeling pretty good about the economy. The oil bust, and the credit squeeze in the oil patch that occurred in early 2016, caused it to flip-flop on rate hikes until December 2016, when the rate-hike cycle commenced in earnest. But now, according to my chart, the Fed sees the economy rocking and rolling.
The current target of a range between 1.75% and 2.0% is way below inflation, with CPI currently rising at 2.9% on a 12-month basis. So the Fed is still highly "accommodative" where its monetary policy stimulates the economy. It is now heading toward "neutral" – and opinions diverge what that means, but it appears to be with the target range somewhere near 3%.
At some point, the Fed might decide to "tighten" – that is, raise rates beyond "neutral."
If the Fed sees this chart and realizes that there are some "strong"-counters out there, it might do one of three things: Ignore them, use them as additional tool to spread its monetary policy guidance, or trip them up by changing its vocabulary, such as by replacing "strong" with a variety of adjectives:
Energetic growth momentum
Employment expanded at a firm pace
Nonfarm payroll employment expanded at a forceful pace
Economic activity is rising at a robust rate
Growth of outstanding commercial and industrial (C&I) loans held by banks was muscular.
Business fixed investment had grown at a tenacious rate.
Then we'd finally have a hoot reading the minutes. Until then, I'm going to track "strong" and "strongly" to see where they will lead.
The Fed's QE Unwind is accelerating. The first 12 months are the ramp-up period – just like there was the "Taper" during the final 12 months of QE. The plan calls for shedding up to $420 billion in securities in 2018 and up to $600 billion a year in each of the following years until the balance sheet is sufficiently "normalized" – or until something big breaks. Read…  The Fed Accelerates its QE Unwind
Enjoy reading WOLF STREET and want to support it? Using ad blockers – I totally get why – but want to support the site? You can donate. I appreciate it immensely. Click on the beer and iced-tea mug to find out how:

Would you like to be notified via email when WOLF STREET publishes a new article? Sign up here.

Classic Metal Roofing Systems, our sponsor, manufactures beautiful metal shingles:
A variety of resin-based finishes
Deep grooves for a high-end natural look
Maintenance free – will not rust, crack, or rot
Resists streaking and staining
Click here or call 1-800-543-8938 for details from the Classic Metal Roofing folks.