Lowe's finally seems to get the brick-and-mortar meltdown.
Orchard Supply Hardware – whose mission was, according to its site, "to be America's neighborhood hardware and garden store focused on paint, repair, and the backyard" – is an iconic name in California going back to the Great Depression when it started as a non-profit co-op to supply farmers. But now it's scheduled to die.
Its 98 stores in California, Oregon, and Florida will be closed, along with its distribution center in Tracy, California. Its 4,000 employees will be let go. Liquidation sales start Thursday.
So said its owner, Lowe's (LOW), which is under pressure from Home Depot. This "exit" is "a necessary business decision," said Lowe's CEO Marvin Ellison in a statement. Let-go employees "will be given priority status if they choose to apply for other Lowe's positions."
Lowe's now gets the brick-and-mortar meltdown – with sales shifting to the internet. It's refocusing on "retail fundamentals," Ellison said. It will tighten its store inventory and it's reducing its footprint to get ready for a demanding brick-and-mortar retail environment.
This puts an end to Orchard's long history of being sold and resold, with bouts of independence and a bankruptcy in between. In recent history: Sears acquired OSH in 1996. In 2005, Sears Holdings – by then run by hedge-fund guy Eddie Lampert – announced that it would extract a special dividend of $450 million out of OSH, and that OSH would borrow the money to pay this dividend.
In January 2012, in typical private-equity manner, the now heavily indebted OSH was spun off to the public; 18 months later, in June 2013, OSH, buckling under this debt that Sears Holdings had put on it, filed for bankruptcy.
This is when Lowe's swooped in and bought most of its assets out of bankruptcy. At the time, OSH had 91 stores. Lowe's paid $205 million in cash. It was an effort to step on Home Depot's toes in California.
This is how the media gushed about the deal in September 2013, when the acquisition was completed:
The bid looks like a smart move by Lowe's to counter competition in the lucrative California real estate market from Home Depot, the nation's biggest home improvement retailer. Home Depot has more than twice the number of stores as Lowe's in California and they are located strategically, giving the company better access to consumers.

The California market is booming in particular, especially because of its enormous population. Here, Lowe's has only 110 stores out of its total 1,750 North American stores while rival retailer Home Depot has 233. Home Depot enjoys a further advantage as it is located in areas with high population density. OSH is also present in high-density, prime locations in California and has 89 of its 91 stores located in this state alone. In one fell swoop, Lowe's can get access to OSH's prime real estate properties without having to spend the time and a huge amount to build a presence on its own.
The hype about corporate acquisitions and the ingenuity behind them can be quite amusing.
Of the stores that went into the bankruptcy, 71 survived the process. The remaining stores were closed. Lowe's then proceeded to open new stores, including its first in San Francisco, in the North Beach area, in a location vacated by Petco. The grand opening was in 2015. It's a big store spread over two buildings, connected via a skyway. I rarely saw more than a couple of customers in it, unlike our other neighborhood hardware store that is small, crammed, and often packed. So it was hard to see how this huge store would ever make money.
I took this photo this morning and chatted with a nice but still stunned employee. They all had been told yesterday. The sign over the entry – "Now Hiring Happy People" – has now been obviated by events: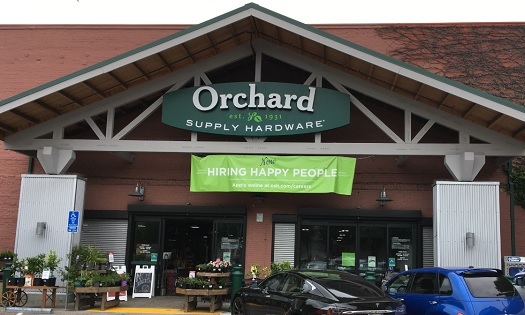 In 2016, OSH expanded to Florida, opening with great hoopla its first non-West-Coast stores. By that time, I'd been writing about the brick-and-mortar meltdown for a while, but Lowe's still didn't get it. Now they get it.
In its quarterly earnings report today, Lowe's added up the expected costs of this "strategic reassessment," a tab between $620 million and $705 million, for a store it had bought for $205 million.
$230 million in charges resulting from this "exit" which "led to long-lived asset impairments and discontinued projects during the second quarter."
$390 million to $475 million in costs "related to lease obligations, accelerated depreciation and amortization, and severance obligations."
This brings to a conclusion of sorts another side-chapter of Sears Holdings and another chapter of the brick-and-mortar meltdown.
Even brick-and-mortar sales at our hero-of-the-day Nordstrom actually fell! Read… E-Commerce Does it Again: The Stores that Got Pummeled
Enjoy reading WOLF STREET and want to support it? You can donate. I appreciate it immensely. Click on the beer and iced-tea mug to find out how:

Would you like to be notified via email when WOLF STREET publishes a new article? Sign up here.