Core CPI jumps the most year-over-year since 2008.
The Fed doesn't actually need more ammo to justify "normalizing" its monetary policy. But it got it anyway.
Inflation as measured by the Consumer Price Index for all Urban Consumers in July rose 2.9% from a year ago (not seasonally adjusted), the fastest rate since February 2012, according to the Bureau of Labor Statistics this morning.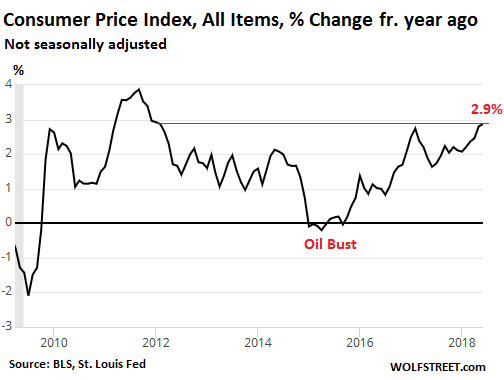 This includes a 3.5% year-over-year increase for the costs of "shelter," which includes rent and "owners equivalent rent." This is the biggie because it weighs about one-third in the overall index — though for many consumers, it weighs well over half of their budget.
It also includes a 4% year-over-year increase in the costs in "transportation services" – we've seen the surging costs in trucking and rail for a while.
In terms of the volatile groups of food and energy, it includes a 12% year-over-year increase in the costs of energy (which weighs 8% in the overall index). Within this group, the price of gasoline surged 25%. But there has been only a 1.4% increase in the cost of food (which weighs 13% in the index).
The Consumer Price Index without food and energy – the "core CPI" – rose 2.4%, the fastest rate since September 2008, edging out by a smidgen the prior highs in 2016 and 2012: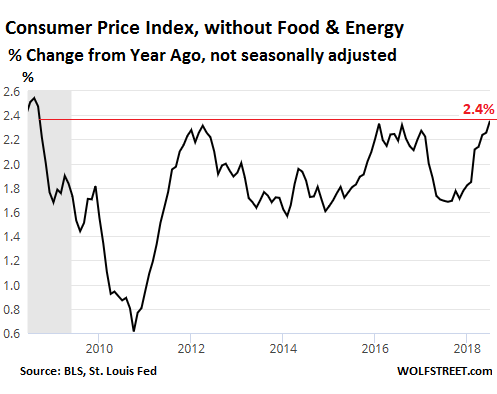 Conversely, the purchasing power of the dollar with regards to consumer goods – a data set the BLS also provides to let us know what is really happening when we talk about inflation – dropped 2.9% from a year ago and has dropped 17.3% over the past decade.
The chart below shows the index for the purchasing power of your hard-earned dollar with regards to the consumer goods in the CPI basket. It does not show what happened to the purchasing power of the dollar with regards to assets, such as housing, where it has gotten totally crushed in recent years. So this is the most benign view of the relentless destruction of the purchasing power of the dollar: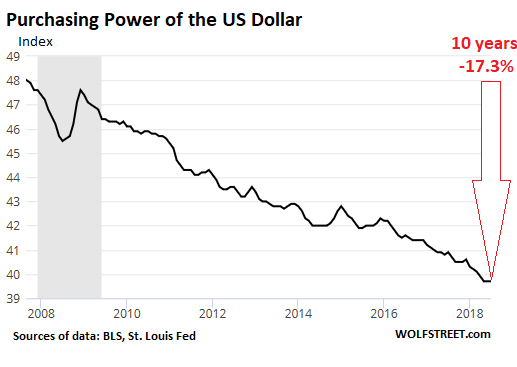 The Fed keeps its eye on all kinds of inflation measures, including some rarely cited ones, though its inflation target, currently at 2%, is based on the Personal Consumption Expenditures Index, Excluding Food and Energy, the so-called "core" PCE index, which usually runs cooler than CPI. And many consumers claim with considerable justification that even CPI runs a lot cooler than their actual increases in the costs of living. This includes renters in cities where rents are surging by 10% or 15% a year, and whose rental expense is a lot more than one-third of their total expenditures. But people in cities where rents are dropping experience much less inflation.
In terms of the Fed, this CPI reading – particularly the core CPI reading which jumped the most year-over-year since 2008 – is another paving stone on its by now well-defined path to becoming ever more hawkish, as even the doves are becoming less dovish – and in some cases outright hawkish.
Consumers have their way of trying to dodge inflation the best they can: As "affordability challenges" hit new vehicles, consumers switch to used, prices spike to record, inflation psychology sets in. Read…  What's Going On in the Used Car & Truck Market?
Enjoy reading WOLF STREET and want to support it? Using ad blockers – I totally get why – but want to support the site? You can donate. I appreciate it immensely. Click on the beer and iced-tea mug to find out how:

Would you like to be notified via email when WOLF STREET publishes a new article? Sign up here.

Classic Metal Roofing Systems, our sponsor, manufactures beautiful metal shingles:
A variety of resin-based finishes
Deep grooves for a high-end natural look
Maintenance free – will not rust, crack, or rot
Resists streaking and staining
Click here or call 1-800-543-8938 for details from the Classic Metal Roofing folks.