Exports are dominated by two countries, imports by three. And everything revolves around China.
By MC01, a frequent commenter on WOLF STREET:
China's phenomenal and somewhat worrying rise as the top steel producer in the world has fueled an absolutely unprecedented boom in the trade of iron ore. The latest data available (2016) put the worldwide seaborne dry bulk trade at 4,553 million metric tons, of which 1,354 million metric tons, or 30%, were iron ore. The iron ore tonnage is up 37% from 2010.
The iron ore trade is overwhelmingly directed at East Asia: China accounted for 68%, Japan for 10%, and South Korea for 5%. Combined, they account for 83%. Germany, next in line, accounts for only 3%.
Iron ore exports are even more concentrated: Australia accounts for 57% and Brazil for 26%, for a combined 83%. South Africa, third in line, accounts for 5%.
The latest data from China claim the country is the third largest iron ore producer in the world at 375 million metric tons. But to fuel its gargantuan steel industry, China has to import enormous quantities of iron ore from abroad.
China, the iron ore producer, however, has a major problem: to help sustain its dramatic growth in steel production, it has started mining on a large scale even very-low grade deposits, resulting in a steep drop in the average iron-ore grade produced.
Iron ore is divided in two categories for commercial purposes: high-grade – over 50% content in pure iron (Fe) – and low-grade (below 50% Fe). Low-grade iron ore usually requires capital intensive and often time-consuming processes collectively called "beneficiation" before being used.
Chinese iron ores are generally very low-grade these days, with an average Fe content of just 32%, requiring extensive beneficiation. In 1995, the average Fe content was 49%.
By contrast, Brazilian iron ores have an average Fe content of 66%, even higher than the celebrated Swedish iron ores which for centuries were the best available in quantity (at last check, 65%). Australia's average Fe content is 58%.
High-grade iron ores command a large premium over low-grade ores, but often the latter are so cheap as to make them economically attractive despite the costs of beneficiation. However, beneficiation of iron ores under 30% Fe content is usually considered uneconomical, no matter how cheap the ore itself, the energy used in the beneficiation, and how large the scale of operations. This raises some very interesting questions about the economics of China's large-scale use of domestic low-grade iron ores with an Fe content as low as 25%.
Australian iron ore exports come overwhelmingly from Western Australia, and the breakneck increase in production over the past decade has gone wholly to feed the iron mills of China. The latest available data from Australia's Department of Industry, Tourism and Resources are for 2015. They put iron ore production at 817 million metric tons, more than double 2009 production (394 million metric tons).
Not even the 2008 Financial Crisis impacted the volume of iron-ore production in Australia in any meaningful way, possibly due to the various stimulus programs instituted by the Chinese government to support their heavy industries.
At the receiving end of this trade are China's megaports, such as Ningbo-Zhoushan, which, in terms of raw tonnage, is by far the busiest port in the world: in 2016, it handled 889 million metric tons of freight.
Ningbo-Zhoushan is the main gateway for commodities entering China and for bulk cargo, such as chemicals, being exported. It has an enormous capacity: 191 berths, 39 of which are classified as "deep water," meaning they can be used by the largest oil tankers and dry bulk carriers at full load.
But even for a megaport, unloading the largest dry bulk carriers is not an easy process. The Valemax-class iron ore carriers, with a capacity of 400,000 metric tons, are 362-meters (1,200 feet) long and 65 meters (214 feet) wide (image via Vale).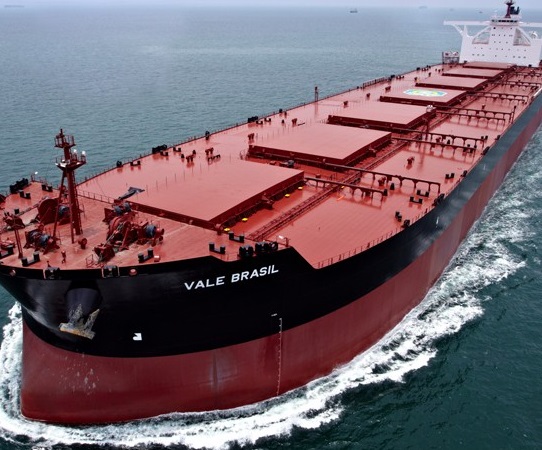 A Valemax getting the finishing touches (image via Vale):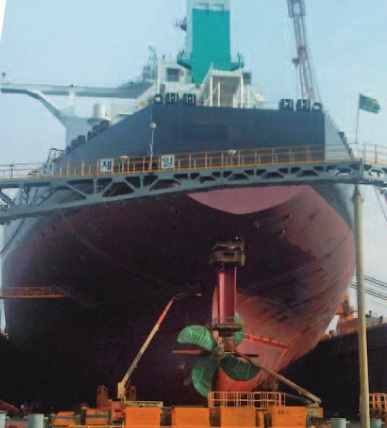 Ningbo-Zhoushan has some of the world's largest gantry cranes for offloading ore, with a capacity of around 2,500 metric tons/hour. Even then, unloading a single Valemax iron ore carrier with a load of 300,000 metric tons (75% carrying capacity) will take over 120 hours of nearly continuous operation of a 2,500 metric tons/hour crane, or over five days.
Unloading a bulk cargo is not merely a matter of emptying the holds: It's absolutely critical to maintain balance while emptying each hold and to keep the cargo as level as possible. Failure to do so can result in the ship capsizing or even experiencing structural failure.
The hull must also constantly be monitored for fatigue cracks during the unloading procedure, which must still be overseen by the ship's first mate, just like during the Age of Sail.
Because here is what can happen: The Brazilian port of Ponta da Madeira – which is operated by Vale SA, the Brazilian mining titan – gained worldwide notoriety in late 2011 when the Valemax dry bulk carrier Vale Beijing suffered structural failure while being loaded with 300,000 metric tons of iron ore during her first revenue-generating cruise.
Cracks in the hulls developed and extended to the ballast tanks, rupturing them. As the ship was in immediate danger of sinking, Brazilian authorities ordered her to be towed into deep water outside the port and her fuel tanks to be drained of bunker fuel.
By that point, the Vale Beijing had loaded about 250,000 metric tons of iron ore. To allow divers to perform emergency repairs to the ballast tanks, this cargo had to be unloaded to other dry bulk carriers outside the port, using a heavy lift pontoon crane. The Vale Beijing then limped to Jinhae in South Korea for repairs and is still in service as the Sea Beijing.
This dramatic incident, mercifully without victims or environmental damage, highlighted some of the absurdities of the modern marine trade.
The Vale Beijing was the first of a series of eight Valemax carriers ordered by Korean shipping company STX Pan Ocean (now simply Pan Ocean) under a complicated agreement with Vale SA. STX Pan Ocean obtained license to the Valemax design and a long-term contract with Vale SA in return for exclusively chartering these eight ships to Vale SA.
The exact financials are murky. As the Hanjin Shipping bankruptcy exposed, there have long been suspicions that the whole operation was not exactly profitable, as Korean shipping companies have a long history of bidding at cost or even at a loss to win large contracts.
These eight ships were ordered from STX Offshore & Shipbuilding, another Korean shipbuilder with shaky financials; it made headlines for "suddenly" entering receivership in late 2016 thus leading to a fire sale of their oversized European operations.
Neither the builders nor the shipping company have ever come clean about the causes of the structural failure. But two years later, another laden STX-built Valemax, the Vale Indonesia (now Sea Indonesia), suffered ruptured ballast tanks after running into a sandbar in the South Atlantic Ocean.
The ships operated by Pan Ocean are the only Valemax built by a Korean shipyard. Four others are being built by Japan Marine United. The rest have been built by Chinese companies. The Valemax class itself was designed by a Chinese engineering company, the Shanghai Merchant Ship Design & Research Institute.
These massive Valemax iron ore carriers are changing the iron ore trade: The 42 completed so far represent 15% of worldwide capacity, and there are presently firm orders for another 26. If no extra iron ore carrying capacity is added, by 2020 the Valemax will represent 24% of worldwide iron-ore carrying capacity. Astonishing and worrying at the same time.
This is one of the reasons why the Baltic Dry Index is not the reliable measure of sea trade it once was: As iron ore represents over 29% of dry bulk cargo worldwide, with such a massive supply of carrying capacity, rates are constantly repressed, and that's without taking into account the long-term contracts (10+ years) that shipping companies such as COSCO and Pan Ocean have with mining concerns.
There have been constant rumors about even larger dry bulk carriers being considered by shipping companies. But the Valemax are already pushing the envelope, not just in terms of engineering challenges, but especially when it comes to infrastructure. Unloading them is a lengthy and costly procedure, and even China balked at the costs of improving its ports to allow fully loaded leviathans of this class to operate.
Larger ships would not merely have to reliably solve the issues that have dogged designers for over three decades but would also need incredibly expensive infrastructure that even China's central planners may find prohibitive to build and finance. By MC01, a frequent commenter on WOLF STREET.
Years of "growth at any cost" led to accounting fraud, huge government bailouts, and murky restructuring plans. Read…  "Big Three" Korean Shipbuilders & Their Huge Shipyards in a World of Overcapacity and Collapsed Orders
Enjoy reading WOLF STREET and want to support it? You can donate. I appreciate it immensely. Click on the beer and iced-tea mug to find out how:

Would you like to be notified via email when WOLF STREET publishes a new article? Sign up here.