So here are the charts.
Steel tariffs are now in place, and the world is grumbling and threatening retaliation against the US. Its closest partners, such as Canada, are trying to figure out how to navigate the waters. Part of Corporate America is lobbying against it and wagging its checkbook. The other part of Corporate America — the part that has been lobbying for it — is now grinning from ear-to-ear. And the media is steeped in this melee. But just who is producing all this steel, and who is dominating this trade?
In April, China's crude steel production rose 4.8% from a year ago to 76.7 million tonnes (Mt), the highest on record, according to the World Steel Association. This was nearly 11 times as large as the 6.9 Mt of crude steel that the US produced.
China's production was nine times as large as that of the second and third largest producers, Japan and India, each with 8.7 Mt. World production of crude steel in April was 148.3 Mt, of which China's share was 51.7%.
And with somewhat awkward timing, the World Steel Association, whose members represent approximately 85% of the world's steel production, just released its World Steel in Figures 2018, with data through 2017. So here we go, step by step.
Steel production has grown sharply over the years. Since 1996, there were only three years when production declined: In 1998, as a result of the Asian Financial Crisis, in 2009 as a result of the Global Financial Crisis, and in 2015, when China made a short-lived effort to get a grip on its rampant overproduction.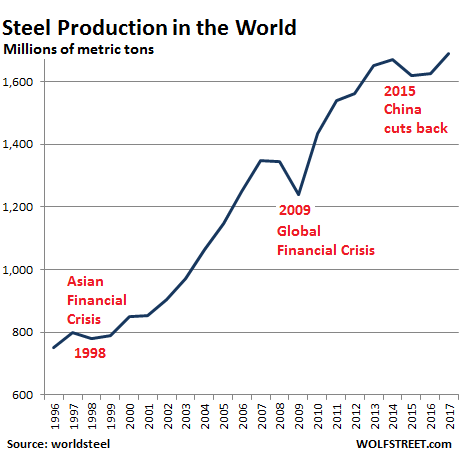 So how big of a role does China play in this?
The chart below shows steel production by some of the major regions: China (red line); Asia/Oceania without China (green line), which includes Japan, South Korea, and India; the EU (mauve line); North America, the NAFTA countries (black line), and the CIS (brown line) which includes Russia, Ukraine, and others. Note that production growth in China blew right through the Asian Financial Crisis and the Global Financial Crisis, but dipped in 2015: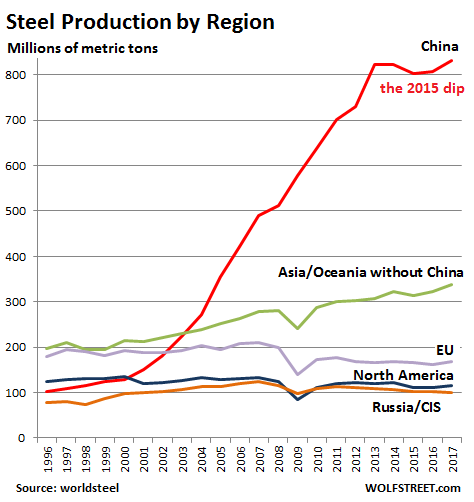 China's share of global steel production has skyrocketed over the years to 51.7% in April. The chart below shows China's market share (red line) that reached 50% for the first time in 2013 and has about stayed there since (2017 = 49.2%). This is juxtaposed to North America's market share – so the share of the US, Canada, and Mexico combined – which fell from nearly 17% in 1996 to just 6.9% in 2017: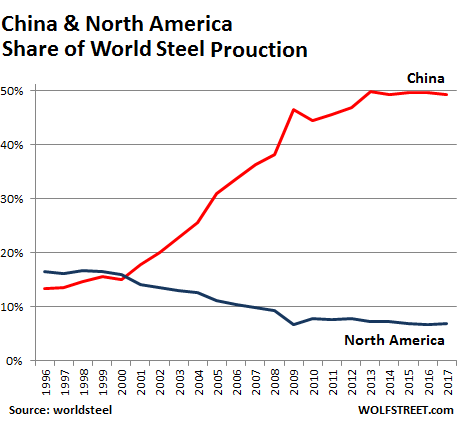 By country, below are the largest steel producers in the world, with the US ranking fourth, behind India even. In 2017, the US produced 81.6 Mt. China produced 10 times as much, 831.7 Mt. Now find Mexico and Canada on this chart (hint, look low):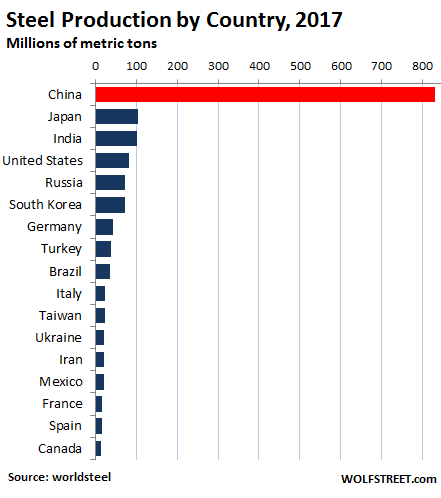 Drilling down to the corporate level, we find that among the 12 largest steelmakers in 2017, five are owned by various government entities in China. The largest US steelmaker is in 11th place:
ArcelorMittal (97 Mt) – formed in 2006 when Indian giant Mittal Steel acquired French steel giant Arcelor. Now registered as a Luxembourg mailbox company run from India.
China Baowu Steel Group (65 Mt) – owned by the government of China.
Nippon Steel & Sumitomo Metal Corporation (47 Mt) – Japan.
Hesteel Group, formerly HBIS Group (45.6 Mt) – owned by the government of Hebei Province, China.
POSCO (42 Mt) – South Korea.
Shagang Group China (38 Mt) – privately owned, China.
Anshan Iron and Steel Group Corporation, or Ansteel Group (36 Mt) – owned by the government of China.
JFE Holdings (30 Mt) – Japan.
Shougang Group (27 Mt) – owned by the government of Beijing, China.
Tata Steel Group (25 Mt) – India.
Nucor (24 Mt) – North Carolina, USA
Shandong Steel (22 Mt) – owned by the government of Shandong province, China.
This involvement in steelmaking by various government entities extends beyond the giant steelmakers. These steelmakers also receive no-questions asked funding from the four state-owned megabanks in China. Many of the steelmakers' largest customers are also state-owned. China's central bank, the PBOC, is part of the same team and makes sure that the state-owned banks don't collapse from the results of their lending practices to state-owned steelmakers that have turned into loss-making zombies.
It is Chinese government entities that together as a team totally dominate the global steel trade.
This data set, provided by the World Steel Association, is what we need to keep in mind when we hear that the US imports very little steel from China. Of course! Chinese steelmakers, most of them state-owned and state-funded, transship the steel to other countries, from where it either gets shipped to the US, or where it gets processed in some way and then shipped to the US. It's just a fig leaf.
Three companies build the huge "low-speed" two-stroke diesel engines that power the largest ships in the world. Read… The Engines of the Largest Container Ships in the World, and Challenges their Manufacturers Face
Enjoy reading WOLF STREET and want to support it? You can donate. I appreciate it immensely. Click on the beer and iced-tea mug to find out how:

Would you like to be notified via email when WOLF STREET publishes a new article? Sign up here.