The crankshafts may set the limits.
By MC01, a frequent commenter on WOLF STREET:
Three engine manufacturers have come to dominate the market for the giant low-speed two-stroke diesel engines used in the largest container ships, bulk carriers, and tankers: MAN SE of Germany, Mitsubishi Heavy Industries of Japan, and Wärtsilä of Finland.
Stricter environmental legislation around the world is only part of the increasingly more challenging environment these three firms – and the shipyards and contractors they work with – have to deal with.
The shipping industry does not merely demand cleaner and more fuel-efficient engines, but also engines that will last the design life of the ship (usually 25 years) with only scheduled maintenance and minimal repairs. Several shipowners (led by CMA CGM) are coming to like the single engine/single propeller configuration for its efficiency and reduced running costs – as long as it doesn't impact cruising speed too much.
Technical solutions range from the use of plates of corrosion-resistant materials such as Inconel (a family of nickel-based super-alloys originally developed for jet engines) welded to the piston crown to using crankcase oil to cool not just the pistons themselves but the rod as well to reduce the likelihood of heat-induced failures.
To give an example of what the shipping industry demands nowadays, Maersk's Triple-E container ships – the largest container ships in the world with a capacity of over 18,000 twenty-foot-container equivalent units (TEU) – are powered by two MAN two-stroke diesels, each driving its own propeller. Each engine has eight cylinders with an 800 mm bore. The engines are designed to deliver their maximum efficiency at 73 rpm. Their combined power of 59,000 kW allows the monster-ship to cruise at 16 knots.
These MAN engines are not the most efficient offering from the German firm, and there are several single engines that put out a lot more power. For example, the much celebrated 14 cylinder version of the Wärtsilä RTA96C is rated for over 80,000kW.
But MAN's twin-engine configuration allows to reduce engine room size relative to the size of the ship, thus giving more room for cargo. It allows to install one 3000 kW electric generator per shaft, thus almost doubling power from thermal-fired generators and the waste heat recovery (WHR) system.
This increased electricity generation allows each Triple-E ship to carry up to 1,800 climate-controlled containers, a huge boon when carrying heat-sensitive cargo (such as some electronic components) through the hot Indian Ocean.
The Triple-E 25-year design lifespan may be cut short if there are technical breakthroughs that make the ships uneconomical to run, repair, or retrofit. So, just in case, according to both Maersk and Daewoo, the Triple-E were designed to be "easy to break up" when their time comes, but until that day comes we won't know how much truth there is in this statement.
All of this comes at a price. Each of the three series of 10 Triple E container ships cost Maersk $1.9 billion, bringing the total for all 30 ships to US $5.7 billion in 2016 dollars. This is the largest contract ever for commercial vessels of any kind.
The ferocious competition between Asian shipyards, and especially the Big Three of Korea (Daewoo, Hyundai, and Samsung) allowed Maersk to get excellent financial conditions on hull construction and system assembly/integration. Each ship took about a year to build (Daewoo has large enough facilities to build three such ships at a time). Maersk obtained both a two-year warranty (other shipyards offer one-year warranties) and a so called "tail-heavy" payment: 40% during construction and 60% after Maersk has conducted sea trials after delivery.
Hence it should not come as a surprise that in late 2016 Daewoo was caught in a massive accounting scandal. It was discovered that the firm, instead of being profitable, had accumulated dizzying losses in 2015 and 2016 of 6 trillion won ($4.8 billion). Only a direct government loan of US $2.6 billion in March 2017 allowed Daewoo to avoid bankruptcy.
And challenges in the industry abound.
In 2016 MAN released the result of a study it had carried out at a time single-engine configurations were becoming attractive even for gargantuan projects after the success of the Wärtsilä RTA96C.
MAN said the computer simulations and theoretical studies found only one real challenge for building straight engines with as many as 18 cylinders and pistons with a bore as wide as 1200 mm. As a comparison the largest version of the RTA96C "only" has fourteen cylinders and a piston bore of 960 mm. That challenges, which may become a deal-breaker, is building the colossal crankshafts required for these monster engines.
The largest crankshafts produced so far for marine engines are built in three sections, each of which has to be machined from a huge cast part of forged steel to truly exacting standards of precision.
This photo (via MAN) shows a section of a crankshaft for a large MAN B&W engine. Note the little men under it: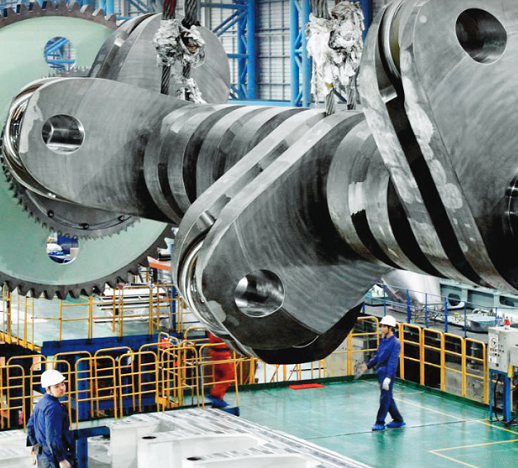 There are only four firms in the world that can cast and machine these crankshafts: HSD Mechatronics and Hyundai Heavy Industries of Korea, Sidenor of Spain, and Kobe Steel (KOBELCO) of Japan. The process is expensive and time-consuming. The crankshaft is by far the most expensive part of these marine engines and, unless there's some technological breakthrough, may be what will limit the size that piston engines may reach.
Crankshafts are just one of the many parts in an engine that can fail. Modern engines are designed for being mostly serviced in situ. Shipowners now demand most repairs to be carried out with minimal downtime, for example during an ordinary harbor stop.
Companies such as Goltens, to name but the most famous, specialize not merely in offering shipboard repairs but also in-situ machining, annealing, and even line boring to cut this downtime to the absolute minimum and thus allow shipowners to maintain their contractual obligations. The crankshaft from a cruise-ship diesel engine can be replaced in as little as 12 hours during a scheduled harbor stop and without cutting the watertight bulkheads, thus not impacting operations. Amazing.
I hope this gave a small peek into some of the challenges of the shipping industry. The challenges ahead are huge, but human ingenuity seems to know no bounds when stimulated the right way. By MC01, a frequent commenter on WOLF STREET.
The Transportation Boom after the Transportation Recession. Read…  Freight Costs, Volume, Demand All Surge across Trucking & Rail, Inflation Fears Heat Up
Enjoy reading WOLF STREET and want to support it? You can donate. I appreciate it immensely. Click on the beer and iced-tea mug to find out how:

Would you like to be notified via email when WOLF STREET publishes a new article? Sign up here.