HSBC makes it official.
The HSBC branch on Montgomery Street in San Francisco caught my attention this weekend with a poster. It showed a large red "2.01%" and the phrase, "Business Elite Savings Account." An interest rate of 2.01% on a savings account at a large bank is the highest I've seen in over decade. And this was for a savings account for businesses. In my experience, interest rates for business savings accounts are even lower than interest rates on personal savings accounts: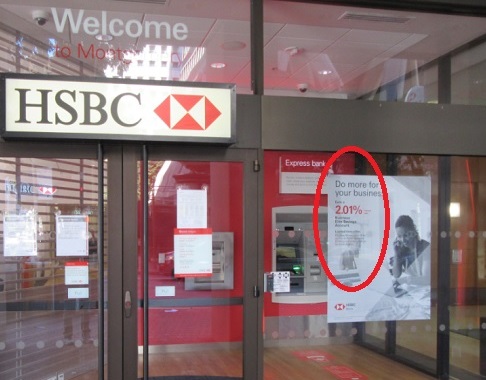 A closer look through the reflections and smudges in the window – too many noses pressed against it to read the small print? – revealed "For New Money Only."
A check of HSBC's website confirmed it was indeed offering 2.01% for these business savings accounts, "For New Money only." It was for a "limited-time offer" – so hurry up, or miss out on it forever. In other words, HSBC might be worried that it will have to offer an even higher interest rate later this year, when other banks are offering 2% on savings accounts.
And there was a footnote: "New Money is defined as deposits and investments not previously held by any member of the HSBC Group in the U.S."
This is the first time I've seen a big bank explicitly say that its special rate is "for new money only," and that the current money you have at that bank will continue to suffer through what I now call "punishment rates" of near-zero.
This is just one more step in the battle for deposits where banks are fighting every which way they can to attract new deposits – the "new money" – while keeping their overall funding costs low.
It's working for them. There are $9.2 trillion in savings deposits at all banks and credit unions in the US. The national average rate these venerable institutions paid their customers (as of May 21) on 12-month CDs of $100,000 or less was 0.37%; and the national rate on savings accounts, which has been stuck ignominiously at 0.06% for years, just now ticked up to a still ignominiously low 0.07%.
This means that at this average rate of 0.07%, for every $1,000 in a savings account, these institutions pay their customers on average about 70 cents a year in interest — still, even after the rates on Treasuries and other securities have surged.
By contrast, the interest from HSBC's "new money only" savings account would amount to about $20.10 a year for each $1,000 on deposit. This is still ludicrously low, but it's nearly 30 times higher than the national average of 70 cents.
American Express Bank offers 1.60% on its savings account – new money and old money – up from 1.50% a few weeks ago. Goldman Sachs's Marcus Bank has nudged its rate on savings accounts up to 1.70%. On Bankrate.com, the highest rate on savings accounts today is offered by CIT, 1.85%. But HSBC's 2.01% "for new money only" deal is not on the list.
In terms of "brokered CDs," rates continue to tick up. At my broker, banks compete fiercely for deposits. Wells Fargo has recently hiked its rate on a 13-months CD to 2.35%, more than any other bank on my broker's CD list. This is higher than the one-year Treasury yield of 2.27% at the close on Friday. A slew of banks below it are offering 2.25% or similar CDs.
Wells Fargo's CD offers also rank at the op in two-year CDs, offering 2.80%, along with Morgan Stanley, and just a notch above other banks offering 2.75%. All are higher than the two-year Treasury yield of 2.48%.
Wells Fargo, Citibank, Morgan Stanley, and others are offering 3.10% for 3-year CDs. This rate is quite a bit higher than the 3-year Treasury yield of 2.60% at the close on Friday! In fact, this 3-year CD rate is higher than the 20-year Treasury yield of 3.01%.
Let this sink in for a moment.
All of these CDs are FDIC insured, thus ultimately backed by the US Treasury. In terms of credit risk, they're in a similar category as Treasury securities.
But on the websites of Wells Fargo, Citibank, and others, the banks are still sticking to their near-zero percent punishment rates for existing money. "Punishment rates" because you get punished for leaving your money in those banks.
At banks like Citibank and Wells Fargo, there isn't even any distinction between "new money" and old money. No one currently doing business at Wells Fargo gets competitive rates on savings accounts or CDs, even on new money they bring in. All they get is punishment rates.
To get the high rates from Wells Fargo, Citibank, or other banks, you would need to withdraw your funds from that bank and deposit them in your brokerage account and then buy their CDs with those funds.
So in their battle for deposits that kicked off sometime last year, banks are following one of three strategies:
Banks like Wells Fargo, Citibank, and similar: even if a current customer brings in "new money," that new money will still only get punishment rates. But they offer top rates on "brokered CDs."
Banks, such as Goldman Sachs' Marcus or American Express bank, pay the higher rates automatically to all existing and new customers.
And now there's HSBC, explicitly stating that "new money only" will get the higher rates, and all its current customers can get those rates on money they might transfer to the bank, which leaves those customers with two accounts and two different rates.
The use of punishment rates was part of the Fed's well-communicated strategy to recapitalize the banks after the Financial Crisis by maximizing their profits on the backs of savers. But now, a new wind is blowing. The Fed is stepping out of the way. And banks are trying to figure out how to deal with it. They want the deposits – that's for sure. But savers will need to jump through some hoops, or else they will continue to get punishment rates.
Banks are using other strategies to attract deposits and keep funding costs down. Read…  "Act Now and Lock in" these Deposit Rates: Banking Cat-Fight Breaks Out Like We Haven't Seen in Over 10 Years
Enjoy reading WOLF STREET and want to support it? You can donate. I appreciate it immensely. Click on the beer and iced-tea mug to find out how:

Would you like to be notified via email when WOLF STREET publishes a new article? Sign up here.