The ugly market-share battle in reimbursed ground transportation.
Rideshare companies are shaking up the rental-car industry and the taxi industry in the US. In at least one segment that we can track – company-reimbursed ground transportation – the rental-car and taxi industries, both, are getting crushed.
Facing these rideshare startups are, after decades of consolidation, three rental-car companies that now control 95% of the $28.6-billion-a year US rental car market, each with a number of national brands.
Hertz Global Holdings (HTZ) which owns Hertz, Thrifty, and Dollar Rent A Car
Avis Budget Group (CAR) which owns Avis, Budget, Payless Car Rental, and Zipcar
Enterprise Holdings (privately held) which owns Enterprise, National Car Rental, Alamo, and Enterprise CarShare.
The total rental-car fleet in the US (all operators, including independents) dropped 5% year-over-year to 2.19 million vehicles in 2017, as right-sizing fleets has become a big theme. According to estimates of Auto Rental News, total revenues in 2017 were essentially flat with 2016.
While there are segments within the rental-car business that are doing well, there is one segment where rideshare companies are eating their lunch: reimbursed ground transportation.
And Rideshare companies are totally wiping out the market share of taxis within the reimbursed ground transportation segment.
These trends show up in the data from Certify, a provider of online travel and expense management for companies, based on its analysis of over 10 million business travel receipts and expenses.
Of the three ground transportation segments for business expense reimbursement – rideshare, rental cars, and taxis – the share of Uber and Lyft combined reached 72.5% share in the second quarter, according to Certify. That's up from 0% not too long ago!
In Q1 2014, when Certify started tracking rideshare reimbursements, their combined share was 8% (almost all Uber).
At the same time, rental-car share of reimbursed ground transportation plunged from 55% in Q1 2014 to just 22% in Q2 2018. And the share of taxis plunged from 37% to just 5%: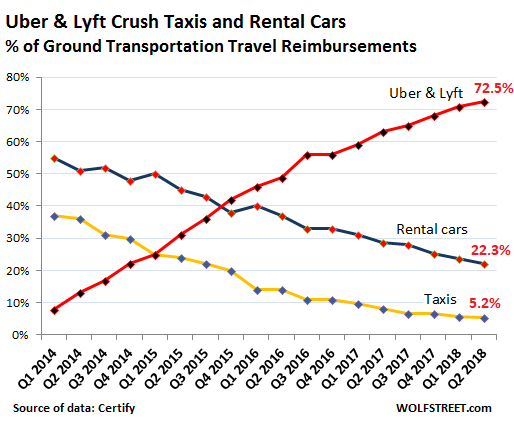 Rideshare companies have a huge competitive advantage: They're losing enormous amounts of money, and their investors like it that way and reward them – or rather themselves – with lavish valuations. In fact, investors are eager for feed them more billions to burn through, and thus they eagerly subsidize each ride.
Rideshare companies also have the advantage in many jurisdictions of not being regulated as taxi enterprises, and thus are able to dodge some expenses and rules.
But most importantly, rideshare companies are offering a service that riders appreciate and value. This came about as the staid taxi industry slept through the arrival of smartphones – and what an app-based system could do. While there are now apps for taxi services, it's too little too late.
In terms of competing with rental cars in the reimbursed ground transportation segment: it's logical. When you get off a plane in a city you don't know, nothing beats skipping the rental car counter and getting picked up by chauffeurs that are at your beck and call, day and night, for the entire five days of your stay. And the company willingly pays for it all. This is a no-brainer for many business travelers – see above chart.
But within the rideshare universe of reimbursed ground transportation, it's a raging battle for market share between Uber and Lyft. Uber was first and had the small pieces it was carving out from rental cars and taxis all to itself initially. Then Lyft came along and gradually started eating into Uber's market share. But both were taking share away from taxis and rental cars at an astounding pace, and Uber's loss of market share to Lyft was no big deal.
Then in late 2016, Uber's self-inflicted series of fiascos caused a sudden shift in ridership to Lyft, with Lyft bumping up its market share from 7.7% in Q4 2016 to 21.1% in Q2 2018. Over the same period, Uber's share dropped from 92.3% to 78.9%: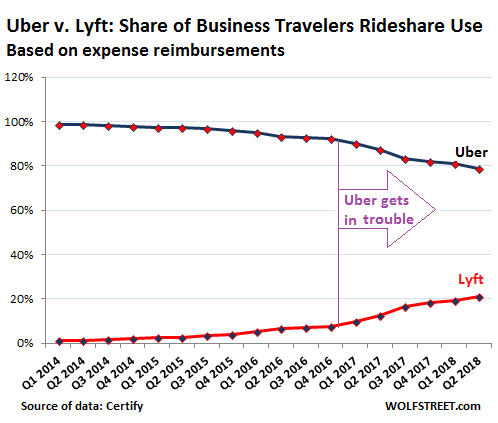 While Uber is losing share to Lyft within the rideshare segment, business travelers are spending more money per trip with Uber than with Lyft, according to Certify. In Q2 2018, on average per ride:
Uber: $26.00
Lyft: $22.37.
In many industries, new entrants with a slicker product or service can gain a good portion of the market, until the incumbents get the hang of it and fight back successfully, thus halting their own market-share losses. This does not appear to be the case in the reimbursed ground transportation segment where Uber and Lyft are continuing to crush the rental-car and taxi industries which have not yet mounted any kind of visible pushback.
GM, Fiat Chrysler, and Ford all got ugly in unison, in one day, something we haven't seen since the Financial Crisis. Read…  Carmageddon in Detroit
Enjoy reading WOLF STREET and want to support it? You can donate. I appreciate it immensely. Click on the beer and iced-tea mug to find out how:

Would you like to be notified via email when WOLF STREET publishes a new article? Sign up here.