There are no more excuses.
The Fed keeps its eye on various inflation measures and indices but "prefers" the Personal Consumption Expenditures Index, Excluding Food and Energy, the so-called "core" PCE index, released by the Bureau of Economic Analysis this morning. The Fed bases its inflation target on this core PCE inflation index because it usually shows lower inflation rates than the Consumer Price Index, thus further understating the deterioration of the purchasing power of the dollar as consumers experience it.
But even core PCE inflation hit 2.0% in May for the first time since April 2012, in the bull's eye of the Fed's target (not rounded, thus giving a false sense of fake accuracy in very inaccurate data, the core PCE rate was 1.9553%):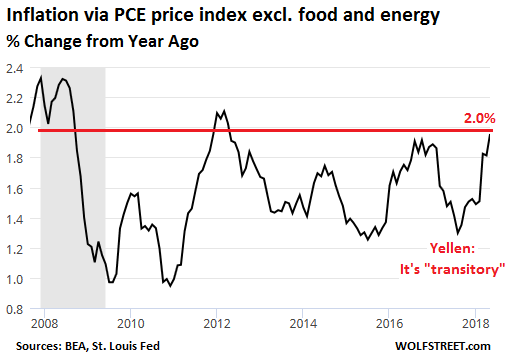 The Fed's target of 2% inflation isn't a minimum, but a target. To emphasize this, the Fed has recently started to insert a new word into its communications: "symmetrical" – meaning the Fed doesn't want inflation to go higher or lower.
In the chart above, note the low point in core inflation last summer, when Fed Chair Janet Yellen emphasized, while being roundly pooh-poohed by Wall Street economists, that this was "transitory." She pointed at some specific factors, even as the financial media clamored for the Fed to back off its already "gradual" rate hike path.
The reason the Fed focuses on "core" inflation is not because food and energy are not important to consumers. They are! See the beautiful gasoline prices yesterday in our neighborhood in San Francisco: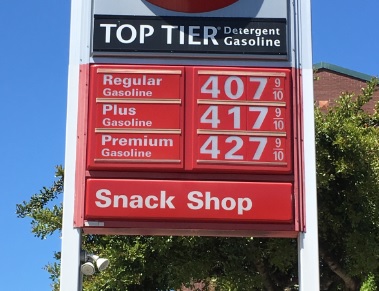 But because food and energy prices can gyrate wildly and have a big but temporary impact on inflation data. This happened during the Oil Bust in late 2014 and early 2015 when fuel prices plunged. This shows up in the broader PCE price index that includes food and energy, as the chart below shows. This PCE index jumped 2.3% from a year ago, the biggest jump since March 2012.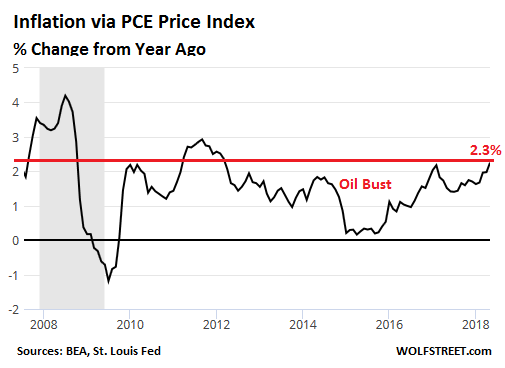 That inflation is rising is no longer surprising anyone and is no longer being disputed. The data is cropping up everywhere. The Consumer Price Index, released two weeks ago, rose 2.8% in May from a year earlier, on its way to 3%. Companies have been complaining about price pressures on the input side, and they have been able to gradually pass this on to the next entity in line, and ultimately to the consumer, as this data shows.
This PCE inflation data will feature prominently in the Fed's post-meeting statements to justify further rate hikes, with the probability of a total of four rate hikes this year – with two more to go – gaining steam, followed by more rate hikes in 2019.
Consumer products companies, retailers, oil-and-gas drillers, manufacturers, and other companies have been complaining about the soaring costs of shipping goods in the US as trucking companies and railroads are jacking up their prices. Everything is spiking, setting off "inflationary concerns." Read… What's Going On with Trucking and Rail?  
Enjoy reading WOLF STREET and want to support it? You can donate. I appreciate it immensely. Click on the beer and iced-tea mug to find out how:

Would you like to be notified via email when WOLF STREET publishes a new article? Sign up here.