Designs, Technologies, and Challenges for liquefied natural gas carriers.
By MC01, a commenter on WOLF STREET:
LNG is a mixture of natural gases – chiefly methane with some mixture of ethane – that has been processed and converted into liquid form through cooling to -162°C for the ease of transport: LNG takes up less than 1/500th space than gas in its original form. The treatment process natural gas undergoes before being liquefied also makes it "cleaner" to burn by eliminating pollutants such as mercury and sulfur hydroxide.
LNG was first industrially produced in the US, with the first liquefaction plants becoming operative in 1940 and production ramping up due to WWII. After a catastrophic explosion in Cleveland in 1944, industrial LNG production was abandoned. But theoretical and experimental work continued as LNG offered a potentially attractive way to transport natural gas over long distances by rail or ship where pipelines were not available.
In 1959, the first LNG carrier, a converted diesel-powered WWII-vintage Type C1M cargo, the Methane Pioneer, sailed from a Conoco processing plant in Louisiana to the South Eastern Gas Board (now part of British Gas) facilities in Canvey Island, UK. Between 1959 and 1963, a few more vessels were converted and used on the Louisiana-Great Britain route. But Shell found enormous quantities of natural gas off the Groningen coast (Holland), prompting the boom in North Sea drilling and hence killing the demand for more expensive LNG from the Americas.
At about the same time Gaz de France started to investigate the potential of LNG for the Algerian natural-gas trade, but a combination of weak demand in France and the discovery of the Lacq gas fields (Nouvelle Aquitaine Department) ensured not much large scale work was done until the early 1970s. What was done, however, came in handy at a later date.
LNG carriers had a renaissance in the 1970s, when US energy companies found a new market for natural gas in Japan. An LNG terminal was set up on the Cook Inlet in Alaska, and the Maritime Administration (MARAD) incentivized the building of specialized LNG carriers in US shipyards under the Jones Act.
However two carriers, the MV Artic Tokyo and the MV Polar Alaska, were built in Scandinavia to take advantage of a new onboard LNG storage system developed by Moss Maritime of Norway.
LNG carriers had previously used tanks with oblong shapes, installed inside the cargo holds together with ancillary equipment, and covered with thick layers of insulation. These tanks were relatively cheap to manufacture and easy to install in existing cargo holds, but also prone to deformation and, in extreme cases, cracking during the extreme cooling and heating cycles these tanks regularly experience.
By contrast, the Moss tank is in a spherical shape with a structural brace around its diameter ("equatorial ring"), which is in turn connected to a large "skirt" which transfers the weight off the tank to the ship structure. This makes it extremely durable and resistant to shocks. As the Moss tank is designed to contract and expand during cooling and heating cycles, all the piping comes in from the top and is connected to the ship through bellows.
Over the years, Moss Maritime improved insulation efficiency and added features such LNG sprayers to keep tank walls cooler and help reduce the phenomenon known as boiloff (more in a moment). This tank design dominated LNG carriers in the 1980s and 1990s (image via Moss Maritime):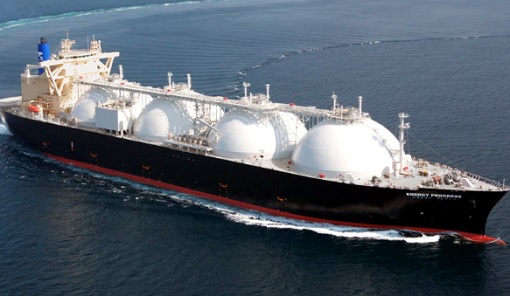 However Moss tanks have a massive drawback for ship designers: they do not make good use of hull space. This means there's a lot of empty space in the ship, which limited carrying capacity.
In 2014, IHI of Japan introduced the prismatic tank, the culmination of a decade of studies and trials. It makes better use of hull space than the Moss tank, has higher structural strength, is more resistant to temperature shocks, and reduces a phenomenon called "sloshing": In rough weather, the thousands of metric tons of LNG inside the tank may "slosh around," putting enormous strain on the tank's wall. This led to catastrophic accidents and is an ever-present danger, especially when sailing through the Indian Ocean in monsoon season.
The downside of the prismatic tank is the extremely high cost. It's finding a niche in Floating Production Storage and Offloading (FPSO), the vast vessels used to process natural gas produced either by themselves or nearby platforms and store it until it can be offloaded. But shipowners are finding the high cost hard to stomach for ordinary LNG carriers.
At about the same time that US energy companies were starting to bring Alaskan LNG to Japan, Gaz de France was finishing building the state-of-the-art regasification terminal of Fos-Tonkin, near Marseille, which entered service in 1972. While the nationalization of foreign energy assets in Algeria had slowed the process, natural gas was rapidly becoming big business in Europe and the small-scale work carried out from the late 1950s onward was now coming in handy.
Among this work was a design of onboard LNG storage called the membrane tank. Instead of having solid tanks made of thick stainless steel or aluminum, these tanks are made of a "membrane" composed of alternating metal and insulating layers.
The two most used designs today have a metal layer in direct contact with the LNG, an insulating layer, a thicker metal layer providing structural strength, and one final insulating layer. The metals used are either common SAE 304 stainless steel or Invar, a nickel-iron alloy with an extremely low coefficient of temperature expansion.
Insulation has become steadily more sophisticated and now chiefly consists of tightly packed plywood boxes filled with perlite. The insulation is continuously flushed with nitrogen, both to improve thermal insulation and to provide an inert atmosphere around the tank. The nitrogen is constantly monitored by sensors to detect NG levels consistent with a leak.
The two French companies behind the membrane tank – Gaz Transport and Technigaz – were merged in 1994 and the resulting concern was renamed GTT.
Membrane tanks have come of age with the modern ultra-large LNG carriers, relegating the Moss tank to either smaller vessels or FPSOs. This image shows an LNG carrier with a membrane tank (image via IGU):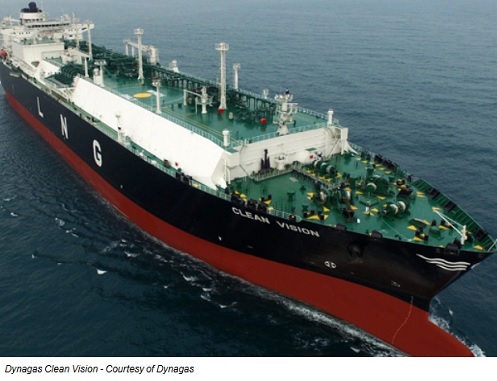 Qatargas, the largest LNG company in the world and owner of a large fleet of LNG carriers, has brought a lot of changes to the industry. Among them:
The sheer size of the ships. The Q-Flex class, which entered service in 2007, has a capacity of 210,000 cubic meters, or over 50% more the largest LNG carriers previously built. The Q-Max class, which entered service in 2008, has a capacity of 266,000 cubic meters. At a length 345 meters (1,132 feet) and a beam of 53.8 meters (176.5 feet), Q-Max ships, as the name implies, are the largest ships that can moor at the existing enormous LNG terminals in Qatar.
Large orders. Qatargas ordered 14 Q-Max and 31 Q-Flex so far. The large orders have completely shifted the shipbuilding balance in favor of the Big Three of Korea: Daewoo, Hyundai, and Samsung. Qatargas, which owns the ship designs, has spread orders evenly among the three. Japanese shipyards such as Imabari and Japan Marine United have come to dominate the market for smaller LNG carriers and FPSO's. This has resulted in the paradoxical situation that, as the LNG trade continues to grow, the old European shipyards which once dominated this trade are seeing orders for FPSO and LNG carriers shrink.
Onboard reliquefaction. Both the Q-Flex and Q-Max come with a reliquefaction plant as standard equipment. This was previously a rare sight on LNG carriers due to cost and complexity. I'll explain the implications shortly.
The use of slow speed two stroke diesels as main engines instead of the steam turbines widely used on LNG carriers (I discussed those giant engines here).
The last two points are closely connected.
Even if insolation design and construction of onboard LNG tanks have advanced by leaps and bounds since the late 1950s, on any trip some of the LNG in the tanks will boil and turn back into gas. Modern LNG carriers will see anything between 0.1% and 0.25% of the cargo boil every day, a loss affected by environmental conditions and insulation degradation.
The Methane Pioneer merely vented this boiled gas once tank pressure reached a certain level. But designers and shipowners were already working on ways to put this gas to good use – to help run the ship: replacing the diesel engine of the Methane Pioneer with steam turbines solved the fuel problem as the boilers used to feed steam to the turbines can run on pretty much any fuel.
While designing the piping proved tricky at first (among other problems, the "boiled" gas is still well below 0°C and needs to be heated to about 20°C before being fed to the boilers), the whole system has proven very reliable over the decades. The turbines are mature technology with excellent reliability and low maintenance costs, both superior to diesels.
However there are some drawbacks.
First: Steam turbines run at thousands of RPM, while the propellers used by merchant vessels of larger sizes are most efficient below 300 rpm. This means costly reduction gear to drive the propellers. While turbo-electric drives (turbines drive generators that feed power to electric motors that drive the propellers) have long been used as part of maritime propulsion plants and found to be both reliable and efficient, they have failed to take hold outside of warships and fast cruise ships due to cost and complexity.
Second: Steam turbines require larger crews than diesels and that. Outside of nuclear-powered warships and LNG carriers, they are becoming rare in maritime applications, meaning trained crews are becoming harder and harder to come by.
Third: Steam turbines are slightly less thermally efficient than two stroke diesels. While this difference is small in modern designs (2-3%), in a world of cutthroat competition and paper-thin margins it matters.
The idea of running two stroke diesels on an LNG/bunker mixture (I discussed bunker fuel here) is actually nothing new: in 1973 the MV Venator, an LNG carrier built for the Alaska-Japan trade, was powered by two dual-fuel six cylinder two stroke diesels designed and built by Sulzer of Switzerland (Wärtsilä of Finland bought Sulzer's diesel division in 1996, inheriting this technology). The dual-fuel diesel technology has since been developed for a variety of applications by several engine manufacturers but it's still not fully exploited and there's still room for cost-effective improvements. Among the manufacturers are Hyundai Heavy Industries and  Doosan of Korea, Daimler and MAN of Germany, and Mitsubishi Heavy Industries and Diesel United of Japan.
On top of this, the Q-Flex and Q-Max LNG carriers' onboard reliquefaction plants make it possible to re-cool the gas that boils off to -162°C and either pumped it back into the tanks directly or spray it onto the tank walls to improve cooling. This means that the incentives to use LNG as fuel are much reduced.
It also means Nakilat, the Qatargas subsidiary which runs their LNG carriers, has to carefully consider fuel costs before instructing ship crews on how to run the ship engines: the modern MAN two strokes used in the Q-Flex and Q-Max LNG carriers can easily switch between several types of fuel burning cycles during navigation by a single operator. By MC01, a commenter on WOLF STREET
Enjoy reading WOLF STREET and want to support it? You can donate. I appreciate it immensely. Click on the beer and iced-tea mug to find out how:

Would you like to be notified via email when WOLF STREET publishes a new article? Sign up here.