As banks pull back from mortgage lending amid inflated prices and rising rates, "shadow banks" become very aggressive.
In the first quarter 2018, banks and non-bank mortgage lenders – the "shadow banks" – originated 1.81 million loans for residential properties (1 to 4 units). In the diversified US mortgage industry, the top 10 banks and "shadow banks" alone originated 260,570 mortgages, or 14.4% of the total, amounting to $75 billion. We'll get to those top 10 in a moment.
Banks are institutions that take deposits and use those deposits to fund part of their lending activities. They're watched over by federal and state bank regulators, from the Fed on down. Since the Financial Crisis and the bailouts, they were forced to increase their capital cushions, which are now large.
Non-bank lenders do not take deposits, and thus have to fund their lending in other ways, including by borrowing from big banks and issuing bonds. They're not regulated by bank regulators, and their capital cushions are minimal. During the last mortgage crisis, the non-bank mortgage lenders were the first to collapse – and none were bailed out.
So let's see.
Of those 1.81 million mortgages originated in Q1 by all banks and non-banks, according to property data provider, ATTOM Data Solutions:
666,000 were purchase mortgages, up 2% from a year ago
800,000 were refinance mortgages (refis), down 11% from a year ago due to rising interest rates.
348,000 were Home Equity Lines of Credit (HELOCs), up 14% from a year ago
HELOCs, which allow homeowners to use their perceived home equity as an ATM, are once again booming: $67 billion were taken out in Q1, though that's still less than half of peak-HELOC in Q2 2006, when over $140 billion were taken out.
The Top 10 Mortgage Lenders in Q1 2018
Wells Fargo used to be the largest mortgage lender in the US until fairly recently. But it fell to second place, trounced by a "shadow bank." In Q1, the number of purchase mortgages and refis it originated, 44,320 in total, plunged 37% from a year ago. And dollar volume of mortgages originated plunged 30% to $14.5 billion.
The largest mortgage lender in Q1 was a shadow bank: QuickenLoans. Its total mortgage originations edged down 3% to 73,896 mortgages, though dollar volume rose 4% to $17.0 billion.
Third largest mortgage lender was JP Morgan Chase. Its mortgage originations plunged 21% to 27,329 mortgages. And dollar volume plunged by 21% to $8.6 billion.
Fourth largest was a shadow bank, LoanDepot. Its mortgage originations soared 27% to $24,691 mortgages. And Dollar volume soared 29% to $6.4 billion.
Fifth largest was also a shadow bank, United Wholesale Mortgage. Its mortgage originations skyrocketed 55% to 20,387 mortgages. Dollar volume skyrocketed 67% (!) to $6.0 billion.
Sixth largest was Bank of America. Its mortgage originations plunged 43% to 14,325 mortgages. Dollar volume plunged 37% to $5.9 billion.
Seventh largest was a shadow bank, Caliber Home Loans. Its mortgage originations rose 4% to 18,629 mortgages. Dollar volume jumped 14% to $5.4 billion.
Eighth largest was also a shadow bank, Fairway Independent Mortgage. Its mortgage originations soared 28% to 14,655 mortgages. Dollar volume soared 37% to $3.8 billion.
Ninth largest was – you guessed it – a shadow bank, Guaranteed Rate. Its mortgage originations rose 4% to 11,525 mortgages. Dollar volume rose 7% to $3.6 billion.
Tenth largest was – surprise, surprise – a bank. US Bank's mortgage originations plunged 24% to 10,817 mortgages. Dollar volume plunged 19% to $3.6 billion.
This is the trend: Banks are pulling back from mortgage lending in a big way, likely cherry-picking their customers to curtail the risks amid inflated prices and irrational exuberance in an environment of rising mortgage rates; and non-bank lenders aggressively chase everyone else. And since these "shadow banks" not regulated by bank regulators, they're free to do as they please.
This chart shows the top 10 mortgage lenders in the US in Q1, by dollar volume, shadow banks in red: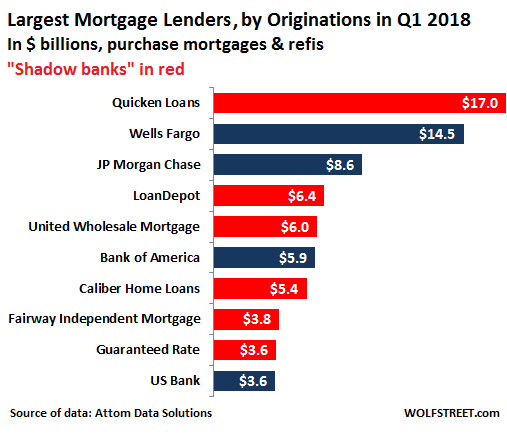 ATTOM obtained this data from publicly recorded mortgages and deeds of trust in more than 1,700 counties accounting for more than 87% of the US population.
It also pointed at the curious dynamics of co-buyers – defined as multiple, non-married buyers listed on the sales deed – in the most expensive markets. Nationwide in Q1, 17.4% of all single family homes were purchased by co-buyers, up from 16.3% a year ago, and up from 14.9% two years ago. But the national averages paper over the vast differences in individual markets.
The chart below shows a sample of the 184 metropolitan statistical areas (MSAs) analyzed in the study by percentage of co-buyers. Not surprisingly, the most expensive housing markets rank at the top, where people have to gang together – such as resorting to the "bank of mom and dad" – to be able to afford a home. Nevertheless surprisingly, nearly half of all homes in Silicon Valley were purchased by co-buyers and nearly 38% in the San Francisco MSA: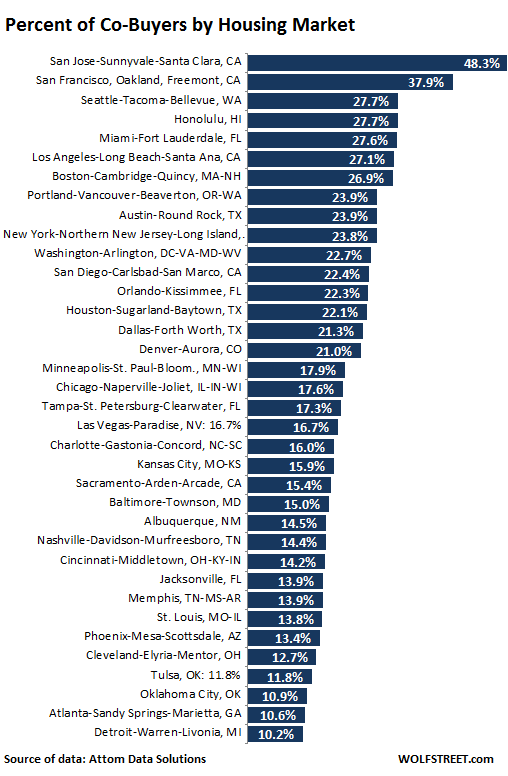 In terms of down-payments, forget 20%. The average co-buyer down-payment amounted to 15.3% of the average sales price. For all other homeowners, it amounted to 11.4%. This does not include the possibility that the down payment has been at least partially borrowed. And down-payment lending is becoming a hot business in this market.
The "waterbed effect" of money flows. Read…  How Chinese Investors Inflate Housing Markets in the US, Canada, and Australia, as Governments Try to Stem the Tide
Enjoy reading WOLF STREET and want to support it? You can donate. I appreciate it immensely. Click on the beer and iced-tea mug to find out how:

Would you like to be notified via email when WOLF STREET publishes a new article? Sign up here.