The old question: When will she buckle?
Shares of Deutsche Bank fell 7.2% today in Frankfurt to €9.16, the lowest since they started trading on the Xetra exchange in 1992. They're now lower than they'd been during its last crisis in 2016. And they're down 71% from April 2015.
This came after leaked double-whammy revelations the morning: One reported by the Financial Times, that the FDIC had put Deutsche Bank's US operations on its infamous "Problem Bank List"; and the other one, reported by the Wall Street Journal, that the Fed, as main bank regulator, had walloped the bank last year with a "troubled condition" designation, one of the lowest rankings on its five-level scoring system.
The FDIC keeps its "Problem Bank List" secret. It only discloses the number of banks on it and the amount of combined assets of these banks. A week ago, the FDIC reported that in Q1, combined assets on the "Problem Bank List" jumped by $42.5 billion to $56.4 billion (red bars, right scale), the first such surge since 2008, as I mused…  Oops, It's Starting, Says This Chart from the FDIC: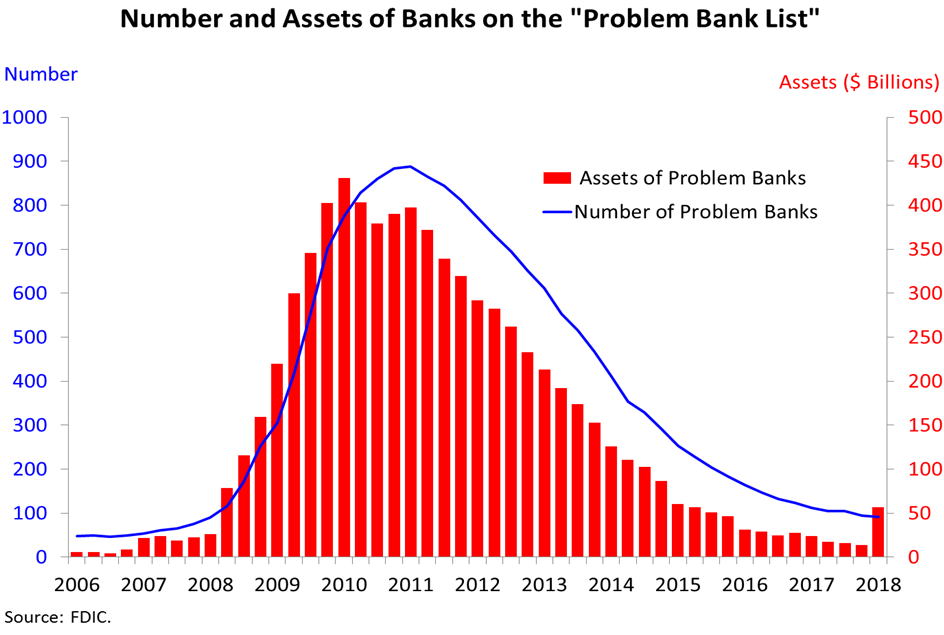 That increase in assets of $42.5 billion on the "Problem Bank List" nearly matches the assets of Deutsche Bank's principle subsidiary in the US, Deutsche Bank Trust Company Americas (DBTCA) of $42.1 billion as of March 31. And this has now been confirmed by the sources: it was DBTCA that ended up on the "Problem Bank List."
The Fed's downgrade a year ago of Deutsche Bank's US operations to "troubled condition" was what apparently nudged the FDIC in Q1 to put the bank on its Problem Bank List. The Fed's ranking of banks is also a secret – for a good reasons: When these things come out, shares plunge and investors lose what little confidence they have left, as we're seeing today. This loss of trust can entail larger problems that then coagulate into a self-fulfilling prophesy that perhaps should have self-fulfilled itself years ago.
In addition to the shares sinking to a new low, Deutsche Bank AG's contingent convertible bonds, one of the instruments with which the German entity has increased its woefully drained Tier 1 capital after the Financial Crisis are now plunging again. The 6% CoCos dropped 3.6% today, to 90.12 cents on the euro. They're now down 15% from the beginning of the year: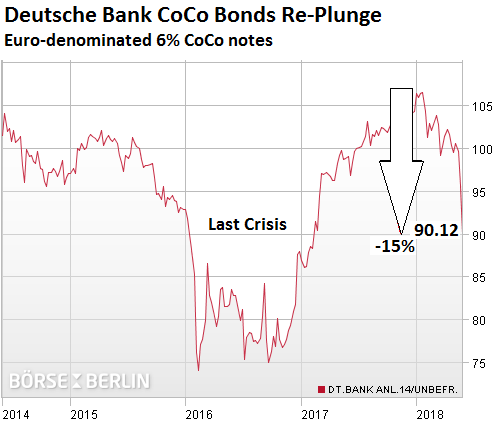 "CoCos" are designed to be "bailed in" before taxpayers get the bill. Thus, they count as Tier 1 capital, and they're a gauge of these investors' fears about getting bailed in.
Since the Financial Crisis, Deutsche Bank has sold several waves of these CoCos. Unlike most other bonds, they have no maturity date. But the bank can redeem them, usually after five years. Annual coupon payments are contingent on the bank's ability to keep its capital above a threshold. If capital falls below that threshold, the bank won't make the coupon payment. But this will not count as a default, it's just part of the deal. If regulators deem that the bank is failing, CoCos get "bailed in," either by getting converted into increasingly worthless shares or by getting canceled.
To make these risks worthwhile, CoCos offer a high annual coupon. The 6% CoCos in the chart above, when they still traded at 106 cents on the euro earlier this year, yielded 5.7%; at today's lower price, the yield has jumped to 6.7%. In other words, investors demand to be paid more to take on the risks of getting bailed in.
Deutsche Bank has been whacked serially by layoffs, strategic redirections and misdirections, CEO chaos, three years in a row of big losses, and many billions of dollars in fines – the price it is now paying for having gone from a stodgy German bank that was taking care of its industrial customers in Germany to a global powerhouse with one of the riskiest, most far-flung operations around.
But once again, there's nothing to worry about. Deutsche Bank AG, the main entity, in Germany came out with a long press release today to slough off these issues, saying firstly, "As a matter of policy, we do not comment on specific regulatory feedback"; and secondly, Deutsche Bank AG "is very well capitalized and has significant liquidity reserves," and the US entities, which are getting tarred-and-feathered here, "have very robust balance sheet as disclosed in our quarterly regulatory filings."
Regulators, however, have been hounding the bank. Earlier this month, the Financial Times reported that the ECB and Germany's BaFin, which both regulate the bank, were raising alarms about its US operations, their size, and their potential as trigger for instability, according to "four people with knowledge of the discussions."
The Wall Street Journal summed up why US regulators are fretting, and why the Fed, its primary US regulator, has hit the US entities with its punitive "troubled condition" status:
Fed supervisors grew exasperated with its shortcomings in systems and controls and the slow pace of improvements, people familiar with internal discussions said.

Deutsche Bank's U.S. operations have drawn regulatory ire for years. They received a stinging rebuke from the New York Fed in 2014 about repeated financial-reporting failures and lack of follow-through on promised fixes, The Wall Street Journal detailed.

Deutsche Bank U.S. operations failed the Fed's stress tests in 2015 and 2016, and in 2017 was the subject of multiple Fed enforcement actions for perceived lax controls tied to currency trading, money laundering, and Volcker-rule trading restrictions.
In the US, a battle for deposits has broken out, where banks fight by raising the rates on savings products to attract new money while keeping their overall funding costs low, with some twists. HSBC makes it official. Read…  "For New Money Only": Banks Fight for Deposits, But if You Don't Jump Through Hoops, You Get "Punishment Rates"
Enjoy reading WOLF STREET and want to support it? You can donate. I appreciate it immensely. Click on the beer and iced-tea mug to find out how:

Would you like to be notified via email when WOLF STREET publishes a new article? Sign up here.