The PE-firm-owned brick-and-mortar retailer grapples with its fate.
PetSmart, the largest brick-and-mortar pet supply and services retailer in the US and Canada, with 55,000 employees, 1,600 big-box stores, 200 pet boarding facilities, and $8.7 billion in revenues in fiscal 2017, has a little problem: $8.1 billion in debt.
And you guessed it: Half of this debt is the result of its leveraged buyout by a private equity firm. When a company gets acquired via an LBO, it is the company itself that ends up carrying the debt used to acquire it. Hence the phrase "leveraged" buyout. In 2014, "activist" hedge funds took a stake in the publicly traded shares and started clamoring for a sale. PE firms took notice. A bidding war broke out – a bidding war for a brick-and-mortar retailer, as if they'd never even heard of e-commerce!
BC Partners in London, with zero experience in US retail, won the bidding war with its ludicrous $8.7 billion offer. It was the most expensive retail LBO ever. After the deal closed in 2015, BC Partners loaded PetSmart up with debt and extracted a special dividend of $800 million. With this dividend, BC Partners likely made its money, no matter what happens to PetSmart.
And then, in a move of desperation and in a sign that the credit market was boiling over with blind enthusiasm for anything junk-rated, PetSmart borrowed another huge load of money to buy its online competitor Chewy.com for $3.4 billion. It was the most expensive acquisition of an online retailer ever.
In its last SEC filing as a publicly traded company in February 2015, PetSmart reported $343 million in cash and a mere $560 million in debt. Now it has 15 times as much debt — $8.1 billion — and some of this debt is getting into painful trouble.
No one in bond-land will easily forget the epic collapse of Toys "R" Us bonds. They were still trading above par at 101 cents on the dollar in late August 2017. By September 18, they'd plunged 88% to 12 cents on the dollar, as bankruptcy rumors for the PE-Firm owned LBO queen became reality.
When Toys "R" Us filed for Chapter 11 bankruptcy, it assured everyone it would keep doing business as normal. The bonds jumped to 40 cents on the dollar by October 27, and those who'd had the balls to dive in at 12 cents made a bundle if they were able to unload them in late October (however, with little liquidity in this kind of bond, it can be hard to unload).
But, after a series of plot twists, Toys "R" Us is now liquidating, and those bonds traded today at 8 cents on the dollar (chart via FINRA/Morningstar):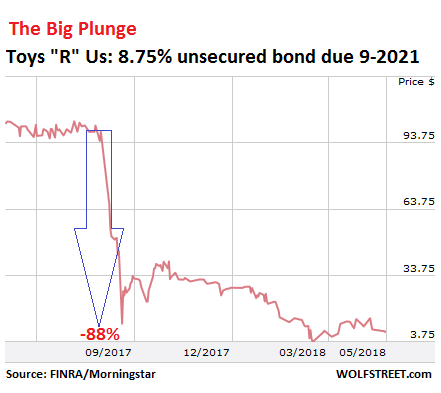 PetSmart bondholders likely witnessed this sordid spectacle too. And now they're smelling a rat in their own house. PetSmart's 8.875% senior unsecured note, due June 2025, last traded at 48.6 cents on the dollar, down 51% from a year ago, which gives the bond a yield of 24.6%. The smell of default hangs in the air:
On April 27, S&P Global's LCD reported that, according to sources, in its fiscal fourth quarter, PetSmart booked disappointing "adjusted" EBITDA (a form of pre-everything cash flow) of about $203 million on about $2.5 billion in revenue.
But the overall pet business, while not exactly booming, has been growing in line with other retail spending. According to the American Pets Products Association, consumers spent $69.5 billion on pet products in 2017, up 4.1% from a year earlier: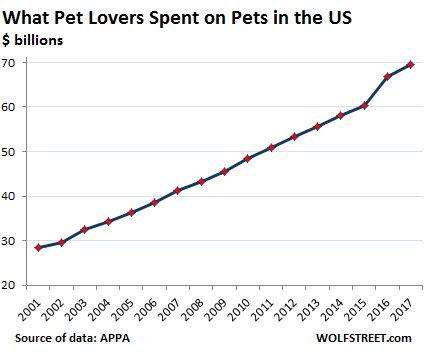 But as in other retail segments, sales in brick-and-mortar stores are declining while online sales are booming. And PetSmart has 1,600 big-box stores.
On May 15, Moody's downgraded PetSmart by two notches to Caa1, deep into junk – after having already downgraded it on January 5:
The downgrade reflects PetSmart's continued weak operating performance in its core brick and mortar business, which is well below our expectations. We do not expect its credit metrics, already weakened by the Chewy acquisition, to demonstrate any meaningful improvement in the next 12 months.

[W]e estimate Chewy will remain EBITDA negative for at least the next 12 months and our negative outlook reflects the uncertainty around PetSmart's ability to change the negative sales and margin trends in its brick and mortar operations and reducing it unsustainably high leverage considering the continued losses at Chewy and the increasingly competitive business environment.
Moody's slapped on a negative outlook, reflecting "the higher risk of a distressed exchange." This could be a debt restructuring where creditors would get a haircut.
It doesn't help that PetSmart has trouble with its CEOs. After the LBO in 2015, the old CEO was discarded and Michael Massey was installed as new CEO. In August 2017, Massey quit. In March 2018, Chewy's CEO Ryan Cohen quit. Then finally, on May 21, 2018, after nine months without CEO, PetSmart announced it had nailed down J.K. Symancyk as CEO, to fill Massey's slot.
PetSmart is another example — in a seemingly endless series — of a PE-firm-engineered LBO that is strangling a brick-and-mortar retailer. The transition of consumer preference to e-commerce has made life exceedingly difficult for all brick-and-mortar retailers. But the transition becomes fatal for retailers that are burdened with debt, and where therefore cost-cutting is the rule rather than spending on stores and masterful merchandising, which is what's required to retain customers.
What's really amazing is that investors and lenders were still blind to all this as late as 2015 – when the brick-and-mortar meltdown was already in the works – and that they were willing to fund these shenanigans.
Only about half of retail is under attack from e-commerce, but that half is getting crushed. Brick & Mortar Meltdown Pummels These Stores the Most
Enjoy reading WOLF STREET and want to support it? You can donate. I appreciate it immensely. Click on the beer and iced-tea mug to find out how:

Would you like to be notified via email when WOLF STREET publishes a new article? Sign up here.