Only about half of retail is under attack from e-commerce, but that half is getting crushed.
E-commerce sales in the first quarter soared 16.4% from a year ago to a new record of $123.7 billion (seasonally adjusted), according to the Commerce Department this morning. E-commerce includes sales by online retailers such as Amazon but also by the online operations of brick-and-mortar retailers, such as Walmart, Target, or Macy's. Over the past five years, e-commerce sales have doubled: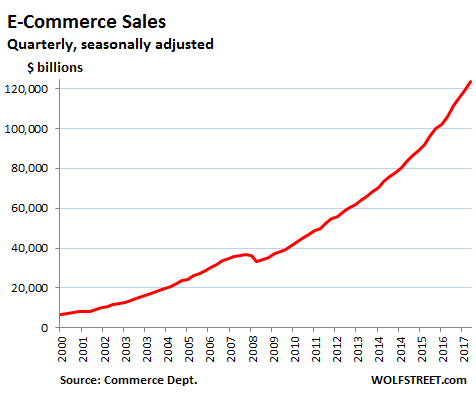 Many observers keep pointing out that e-commerce still accounts for only a small part of total retail sales — in Q1 a new record of 9.3%. And so these observers say the brick-and-mortar meltdown isn't happening. But it's not that simple.
There is a bitter reality hidden under these averages: Some retail sectors are getting totally crushed by e-commerce, but others remain largely resistant for now – and this has been borne out by retailer bankruptcies and liquidations over the past three years.
How did brick-and-mortar retail do on its own?
Total retail sales in Q1 – e-commerce and brick-and-mortar combined, but excluding sales at restaurants and bars – increased 5.3% year-over-year to $1.31 trillion.
Retail sales without e-commerce in Q1 rose 3.4% from a year ago.
The "online resistant" bunch: These are brick-and-mortar sectors whose sales have not massively migrated online, for various reasons, including the nature of the product. Most prominently: Gas stations, auto dealers, and grocery and beverage stores. These "online-resistant" sectors combined account for over half of all brick-and-mortar sales. In Q1, their combined sales rose 4.6% to $610 billion.
The "under-attack" bunch: Most of the remaining sectors are under all-out attack from e-commerce. And sales at the "under-attack" sectors edged up only 2.1% in Q1, below the rate of inflation as measured by CPI, even as e-commerce sales surged 16.4%. This chart shows how e-commerce is eating into the share of the brick-and-mortar retailers that are under attack: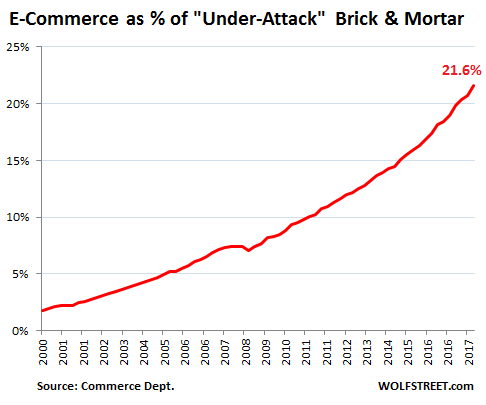 But even that chart averages out the meltdown in specific sectors. Some brick-and-mortar sectors have already been largely wiped out, such as music stores and video stores. Others have been decimated by e-commerce, such as sales at book stores and toy stores, including Toys "R" Us which is currently being liquidated.
Department store sales peaked in 2001 and have since plunged 36%, despite inflation and population growth. Even the most iconic names in the sector have been shuttering stores and laying off people. Bon-Ton Stores is currently being liquidated. This chart shows department store sales versus e-commerce sales: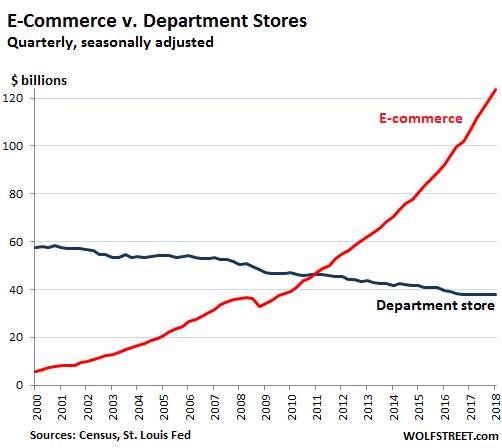 Other Brick-and-Mortar Losers are included in the categories in the chart below:
Green line: Sporting goods, hobby, book, music, toy, and game stores: their combined sales are down 1% over the past 10 years, despite inflation and population growth.
Blue line: Electronics & appliance stores: sales are down 22% over the past 10 years.
Yellow line: Shoe stores. Their sales peaked in Q1 2016 and have since declined 3.5%, while online shoe sales have boomed, something that 15 years ago, few people believed could ever happen because, like, you need to try on shoes: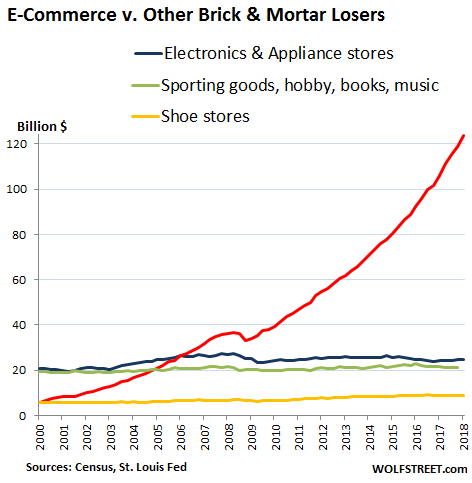 The under-attack retailers that are losing the battle against e-commerce are precisely the stores that populate shopping malls. Department stores tend to be the anchors, and smaller stores fill in the rest. This problem for mall landlords – despite feverish industry rhetoric to the contrary – is simply going to get worse.
Consumers will continue to shift more of their purchases online. Entire "under-attack" sectors will, like music stores and video stores before them, essentially disappear over the next many years. It's a slow process. It took 20 years of e-commerce sales to reach this point. And in a way, this is just the beginning. Every year, the environment for brick-and-mortar retailers and the malls they're in will get relentlessly tougher, ending in many more bankruptcies and liquidations. Each liquidation makes it easier for the remaining brick-and-mortar competitors, but only briefly. Then the process continues.
Other brick-and-mortar retailers will thrive by building a vibrant online presence, as their brick-and-mortar operations continue to shrivel. Macy's is an example of that. They're all trying. They all know that e-commerce has turned into an irreversible disruption of how consumers do business. Those that can get on top of it and those that figure out how to offer services or experiences that consumers cannot get online will thrive. The others will disappear.
And the impact on jobs is starting to show up too. Here's where the jobs went and where they came from. Read…  Jobs, Sliced and Diced
Enjoy reading WOLF STREET and want to support it? You can donate. I appreciate it immensely. Click on the beer and iced-tea mug to find out how:

Would you like to be notified via email when WOLF STREET publishes a new article? Sign up here.