Where they went, where they came from.
Employers added 164,000 jobs in April, seasonally adjusted, according to the Bureau of Labor Statistics, based on its survey of about 651,000 work sites of 149,000 businesses and government agencies. It was the 91st month in a row of gains, the longest such period in the history of the data.
The trend has been solid but not spectacular: For the 12-month period ended in April, employers added 2.27 million jobs (not seasonally adjusted). This is in the middle of the range since 2012. The chart below shows the 12-month change in payrolls going back to 2000: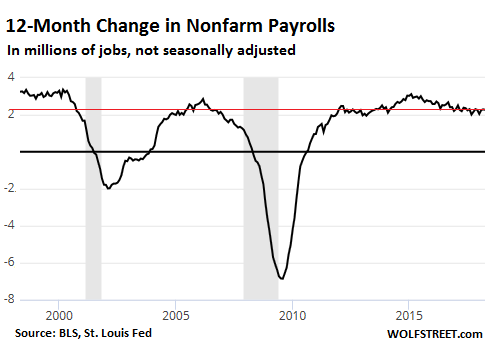 The BLS publishes several unemployment rates, based on differing definitions. The data is obtained from household surveys, rather than employer surveys. Here are the two most often cited:
U-3, the headline unemployment rate with a narrow definition of "unemployment," edged down to 3.9%, from 4.1% where it had hovered for half a year.
U-6, the broadest measure that covers U-3 plus people who are "marginally attached to the labor force" plus those employed part time who want to have full-time employment, edged down to 7.8% in April, from 8.0% in March.
The crucial aspect of these "unemployment rates" is that they're not absolute measures of unemployment, and were never designed to be that. They're indicators of trends in the labor market: Is unemployment rising or falling?
A different measure with the same trend, the number of "unemployed" in April fell by 239,000 to 6.35 million.
And so the labor market continues to tighten. But it's tighter in some sectors, and shedding jobs in other sectors. The BLS provides a trove of granular data on these movements. By looking at the totals for the past 12 months through April, we capture the trends and avoid much of the monthly noise – to see which industries and governments created or destroyed jobs.
The chart below shows the total jobs by sector in April:
Note in the chart above that I have put education jobs at state and local governments into one category to get employment in education. I titled this category, "Education, state & local gov.," the fifth largest category, with 10.9 million workers. Employment by state and local governments is then shown "excluding education."
The Federal government, with a civilian payroll of 2.7 million people is way down on the list (military is not included). The Postal Service, which has been shedding jobs for years, cut its payroll by 5,500 jobs over the past 12 months. It accounts for 28% of civilian federal employment.
And here's how these industries and payroll categories have either slashed jobs or created jobs over the past 12 months: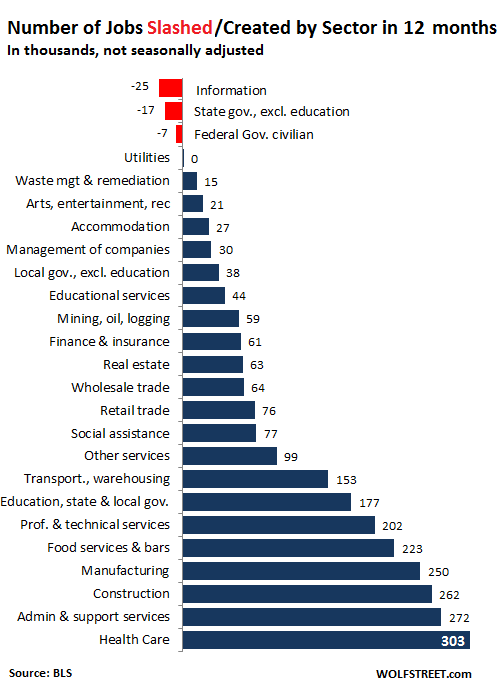 It might be surprising that "information technology," a category with 2.77 million workers in April, has been shedding jobs over the past 12 months. While up on a monthly basis, the sector is down 25,000 jobs from a year ago. Many of these tech jobs are at companies that are not tech companies. And they routinely offshore their tech jobs or eliminate them as part of cost-cutting. Also, many actual tech companies go through job cuts after their numerous small and large acquisitions.
Federal government job losses are mostly attributable to the USPS (-5,500 jobs). Total state and local government employment, including education, has been increasing. But the number of jobs not related to education has been falling, and that's what the above chart shows.
"Health care," the behemoth that is taking over the US economy, created 303,000 jobs over the past 12 months, the most of any sector. "Admin & support services," with 8.9 million jobs, is the second fastest growing category, with 272,000 jobs created. In the chart above, also note the jobs boom in construction and in manufacturing.
Even "retail trade" has added 76,000 jobs over the past 12 months. So what about the "brick-and-mortar meltdown?" Turns out, part of the retail industry is booming, and part of it is truly melting down: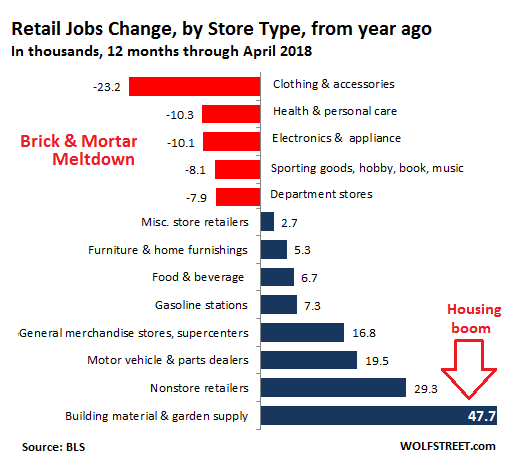 The online-resistant sectors and online-related "nonstore retailers" are adding jobs: "Food and beverage stores" (with 3.1 million jobs), "Motor vehicle and parts dealers" (with 2.0 million jobs), "General merchandise stores & supercenters," (with nearly 2 million jobs, including at Walmart, Costco, etc.), and gasoline stations (with nearly 1 million jobs).
Note that these retail jobs are those at the stores, not the corporate types, tech workers, warehouse workers, and truck drivers of the same companies. Those jobs are classified in different categories.
But the brick-and-mortar meltdown sectors (marked in red) – the heroes in my articles about store closings, bankruptcies, and liquidations – have shed a net of 60,000 jobs over the past 12 months, and they're not done shedding, far from it, no matter how good the overall economy is.
There is nothing in this jobs report to slow down the Fed. Its QE Unwind is already ramping up toward cruising speed. These are getting to be serious amounts. Read…  Fed's QE Unwind Accelerates Sharply
Enjoy reading WOLF STREET and want to support it? You can donate. I appreciate it immensely. Click on the beer and iced-tea mug to find out how:

Would you like to be notified via email when WOLF STREET publishes a new article? Sign up here.