These Canadians are in a "highly vulnerable" position.
Canadian real estate debt hit a new high, and the news gets worse as they explain it further. The Bank of Canada (BoC) updated household debt numbers for March. In a speech this week, BoC's Governor Stephen Poloz also gave further insights on the numbers. The record debt levels are concentrated in a smaller segment of Canadians. These Canadians are now in a "highly vulnerable" position, and they're f**ked if they don't start preparing for higher rates now.
8% of Canadians Have Mortgage Debt Over 3.5x What They Make
In a speech this week, the BoC gave us further insights on the Canadian debt problem, and it's worse than we thought. It turns out 8% of households have mortgage debt that's more than 350% of their gross income.
This segment of borrower represents "a bit more than 20 percent of total household debt." BoC Governor Poloz stressed that these households need to understand how "personally vulnerable" they are, as rates rise.
Rising rates are already putting the pinch on households, and it should get worse. The BoC reiterated the "neutral rate," which is the rate where policy is no longer expansionary, is between 2.5% and 3.5%. Assuming no "shock" to the economy, rates will get there. Currently we're at 1.25%, so that would mean rates will double over the next few years. You know, if we don't face a major recession. Then you're in the clear on rates, but a whole other bag of issues will crop up. On that note, onto those climbing debt numbers.
Canadian Households Owe More Than $2.1 Trillion Dollars
Total household debt hit a new record, but the annual pace of growth continued to decline. The total balance at the end of March stood at a whopping $2.129 trillion, up $3.4 billion from the month before. The annual rate of growth is now 5.25%. While it's a new all-time high, it's also the slowest pace of growth since November 2015. Let's break this down into the two major components – mortgages, and consumer credit.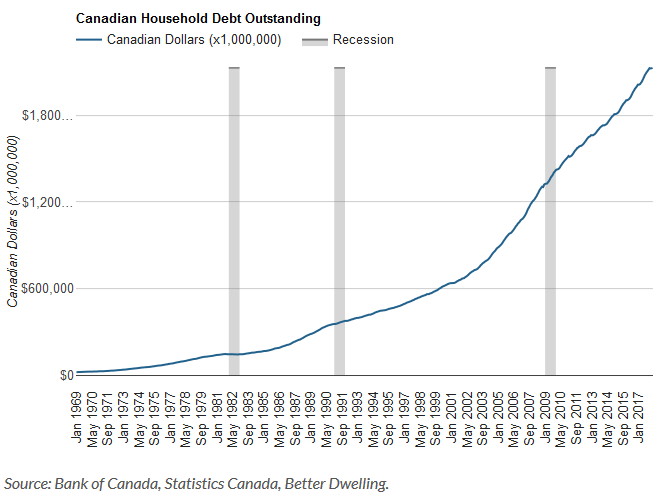 Canadians Owe Over $1.52 trillion Worth of Mortgage Debt
Outstanding residential mortgage credit is also at a new high. The total outstanding balance of residential mortgages hit $1.52 trillion, up $1.88 billion from the month before. That brings the annual rate of growth to 5.27%, the lowest since March 2015. The slowing rate of growth is being attributed to B-20 stress tests, and isn't the good news people think it is.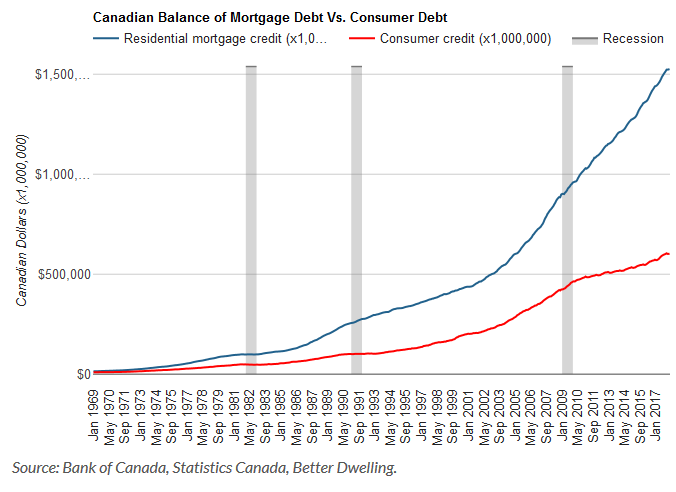 Canadian Owe More Than $603 Billion In Consumer Credit
It's not just mortgage debt those crazy Canucks are diving into, consumer credit is also at an all-time high. The total balance of outstanding consumer credit stood at $603 billion, up $1.54 billion from the month before. The annual rate of growth is now 5.2%, the lowest its been since July 2017. Consumer debt growth is the closest to beating mortgage growth, since 2010. That's… a special moment for all of us.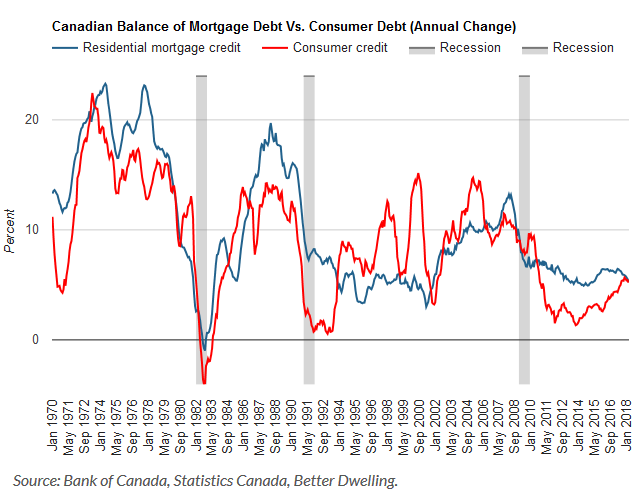 High levels of household debt are a concern, that gets even worse when you realize how concentrated it is. It's also created a debt trap for the BoC. Continued economic growth will send rates higher, putting these households at further risk. Lowered growth will send debt levels higher, putting even more households at risk. By Daniel Wong, Better Dwelling
Canadians' tapering their personal debts against their homes? That would be ridiculous! Read… Congrats! Canadians Just Set a New Record for Borrowing Against their Homes
Enjoy reading WOLF STREET and want to support it? You can donate. I appreciate it immensely. Click on the beer and iced-tea mug to find out how:

Would you like to be notified via email when WOLF STREET publishes a new article? Sign up here.