Three interest rate hikes in one week, to 40%, imply the first two didn't work, and the Central Bank is not in control.
By Bianca Fernet, Argentina:
If you're watching Argentina's economy, it hasn't been a banner week. This week, Argentina had to raise its key interest rate three times to keep the Argentine peso from losing even more value against the dollar. Three interest rate hikes in one week is a lot – it implies the first two didn't work, and the Central Bank is not in control.
The interest rate currently sits at 40%. That means the Central Bank pays 40% per year on peso-denominated debt, which can imply that they expect the value of the peso to fall somewhere in the ballpark of 40% over a one year period. A year ago in April, the rate was closer to 26%. Yikes.
And the exchange rate kicked off the week at around 20.5 ARS/USD. It jumped almost to 23 ARS/USD, and is currently hovering around 21.8 ARS/USD.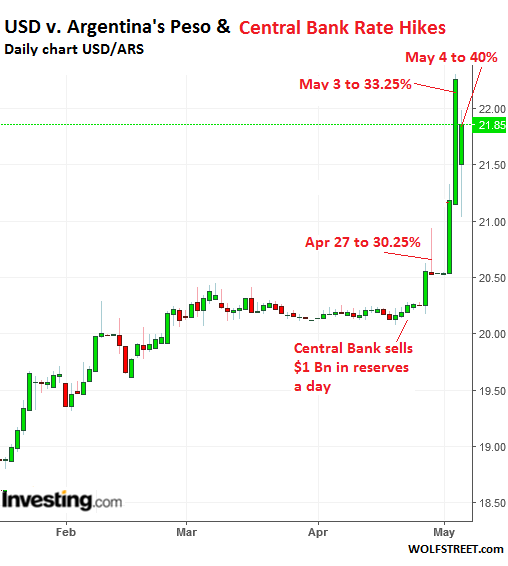 This bout of currency instability was triggered by a generally bad week for emerging markets, then compounded by a tax on foreigners holding local currency short term debt instruments (LEBAC) coming into force. Emerging markets, and their currencies across the board, suffered due to a strong dollar. This relationship exists because a stronger US dollar raises fears in investors that emerging markets will be unable to repay dollar denominated debt.
While that seems like circular logic (and yes, it's not a linear cause and effect relationship), consider this: Emerging markets are viewed as riskier for investing than countries like the United States and Western Europe. Investors accept these riskier investments in exchange for higher returns than they would get in safer jurisdictions.
When the US dollar increases in value, emerging market currencies decrease, meaning in Argentina's case it will take increasingly more pesos to buy dollars. This then amplifies the risk that emerging markets will be unable to make payments on dollar denominated debt, causing investors to sell their emerging market investments, further amplifying the currency stress.
The timing specifically in the case of Argentina is uncannily bad. Until this week, non-residents investing in Argentina were exempt from paying the equivalent of capital gains taxes across the board, including local-currency peso-denominated central bank notes, or LEBACs. This Tuesday, this exemption on LEBACs officially no longer applied, meaning foreign holders of these notes now incur a tax equal to 5% on profits. I'll update this article when I have an estimate of the total outflow attributable to this change.
"Some people in Argentina don't seem to have a clear assessment of just how dangerous the economic situation was in 2015," said Ignacio Celorrio of Alfaro Abogados, a law firm with offices in Buenos Aires, Beijing, and New York. In addition to external emerging markets conditions and the unwinding of foreign holdings in LEBACs, Celorrio noted that there has been a general sentiment for over six months that the peso may be overvalued against the US dollar. This week just happened to be when reality set in.
And right now people feel like Argentina's government may not have control over the peso. As silly as it may seem, people feeling like an economy is in trouble can be enough to spur a crisis regardless of underlying realities. Interest rates as high as 40% mean that inflation isn't going anywhere for a while, either.
That being said, and while I expect a great amount of pontificating from market commentators and expert economists with beards, the reality is that if any of them actually knew what was going to happen they'd be putting their money behind that position rather than ranting against economic ideologies or heads of state.
"Shock therapy is politically impossible in Argentina, and the problem with gradualism is that hard targets and promises are difficult to make. The Central Bank is making monetary policy based on fundamentals rather than creating artificial economic expansion at the expense of currency stability," said Celorrio .
Rough week. And while nothing has really fundamentally changed between last week and now, I sure wouldn't want to be working in the Central Bank today. By Bianca Fernet, Argentina.
Enjoy reading WOLF STREET and want to support it? You can donate. I appreciate it immensely. Click on the beer and iced-tea mug to find out how:

Would you like to be notified via email when WOLF STREET publishes a new article? Sign up here.