But nothing goes to heck in a straight line.
I don't think there has ever been an entire sector that skyrocketed as much and collapsed as quickly as the cryptocurrency space. The skyrocketing phase culminated at the turn of the year. Then the collapse phase set in, with different cryptos choosing different points in time.
It doesn't help that regulators around the world have caught on to these schemes called initial coin offerings (ICOs), where anyone, even the government of Venezuela, can try to sell homemade digital tokens to the gullible and take their "fiat" money from them and run away with it. There are now 1,596 cryptocurrencies and tokens out there, up from a handful a few years ago. And the gullible are getting cleaned out.
And it doesn't help that the ways to promote these schemes are being closed off, one after the other.
At the end of January, Facebook announced that, suddenly, "misleading or deceptive ads have no place on Facebook," and it prohibited ads about ICOs and cryptos.
On March 14, Google announced that it will block ads with "cryptocurrencies and related content," including ICOs, cryptocurrency exchanges, cryptocurrency wallets, and cryptocurrency trading advice. Its crackdown begins in June.
On March 26, Twitter announced that it would ban ads of ICOs, cryptocurrency exchanges, and cryptocurrency wallet services, unless they are by public companies traded on major stock markets. It will roll out its policy over the next 30 days.
On March 29, MailChimp, a major email mass-distribution service, announced that it will block email promos from businesses that are "involved in any aspect of the sale, transaction, exchange, storage, marketing or production of cryptocurrencies, virtual currencies, and any digital assets related to an Initial Coin Offering." This broadened and tightened its policy announced in February that promised to shut down any account related to promos of ICOs or blockchain activity.
The overall cryptocurrency space, in terms of market capitalization, peaked on January 4, when market cap reached $707 billion, according to CoinMarketCap. Less than three months later, market cap has now plunged by 65% to $245 billion. $462 billion went up in smoke.
Here's how the top five cryptos did over the past few months. Together they account for 76% of the total market cap of the space:
Bitcoin plunged 67% from its peak of $19,982 on December 17, to $6,573 at the moment. In just over three months, its market cap collapsed by $225 billion, from $336 billion to $111 billion. But as this chart shows, nothing goes to heck in a straight line (chart via CoinMarketCap):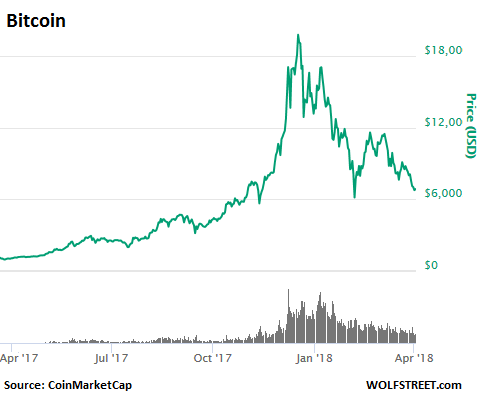 Ethereum plunged 74% from its peak of $1,426 on January 13, to $367 at the moment. Market cap collapsed by $102 billion, from $138 billion to $36 billion (chart via CoinMarketCap):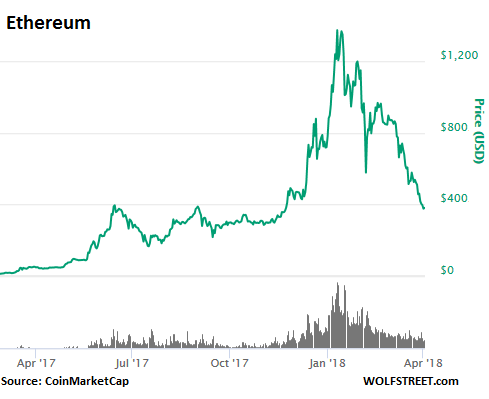 Ripple plunged 88% from its peak of $3.84 on January 4 to $0.47. Over the period, its market cap went from $148 billion to $18 billion. On March 28, when I last wrote about the collapse of Ripple, it was at $0.57, but has since plunged another 18% (chart via CoinMarketCap):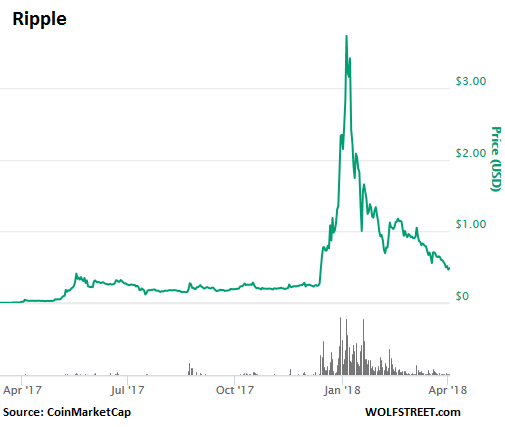 Bitcoin Cash plunged 85% from its peak of $4,138 on December 20 to $632 at the moment. Market cap dropped from $70 billion to $10.8 billion. It was split from Bitcoin last August. On November 12, I featured Bitcoin Cash, in an article subtitled "Peak Crypto Craziness?" I was observing, practically in real time, how it quadrupled in two days to $2,448. It is now back where that quadrupling had started out: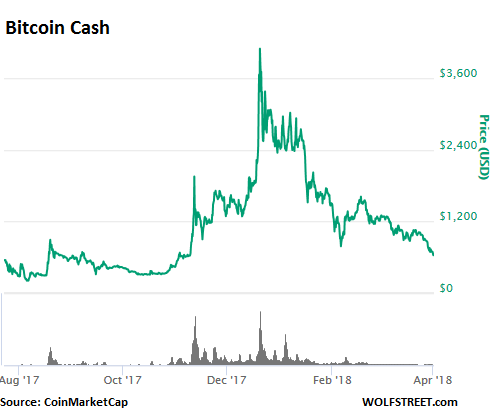 Litecoin plunged 70% from its peak of $363 on December 19, to $110 at the moment. Curiously, its founder admitted on December 20 that he'd wisely cashed out at or near the peak by selling his entire stake. The true believers who bought the tokens have been eating losses ever since. Market cap went from $19.7 billion to $6.2 billion.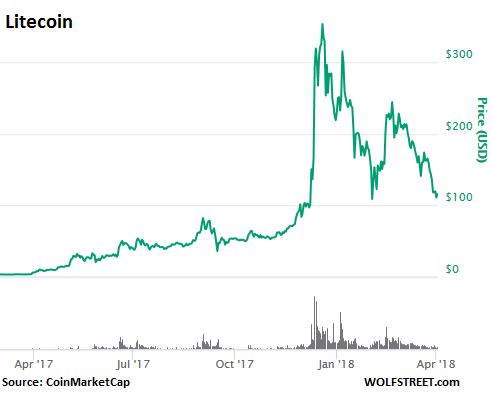 EOS plunged 71% from its peak of $18.16 on January 12, to $5.30. Market cap went from $11 billion to $4.1 billion: I pooh-poohed it on December 18 with "The Hottest, Largest-Ever Cryptocurrency ICO Mindblower." The purchase agreement that buyers in the ICO had to sign – the ICO was not offered in the US due to legality issues – stated explicitly that holders of EOS have no rights to anything related to the EOS platform, and that they get nothing other than the digital token. Here is what the chart of this scam looks like: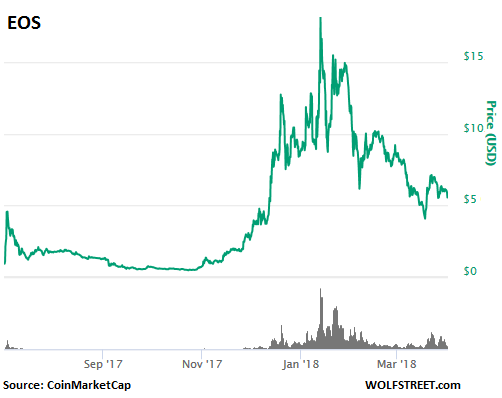 And the blockchain technology (the distributed ledger technology) has nothing to do with cryptos. Cryptos merely use it. There have been a number of efforts underway for years to find large-scale commercial use for blockchain, outside of the crypto space. Those efforts have yet to bear fruit, though they may someday. All we have for now are small-scale experiments. Even if blockchain finds large-scale use, it will do nothing for these collapsing cryptos.
But the ancient theory that nothing goes to heck in a straight line still holds true, borne out by the charts above, and we can expect sharp volatility and a good amount of whiplash on the way there.
And here is an update on the hated "fiat" currency, the US dollar that cryptos were supposed to annihilate or at least obviate. Read… What Could Dethrone the Dollar as Top Reserve Currency?
Enjoy reading WOLF STREET and want to support it? You can donate. I appreciate it immensely. Click on the beer and iced-tea mug to find out how:

Would you like to be notified via email when WOLF STREET publishes a new article? Sign up here.