Hedge funds pare back bearish bets "by most since November."
A surge of the 10-year Treasury yield to 4.5% by year-end "would cause a 20% to 25% decline in equity prices," and the economy would likely suffer a sharp slowdown but not a recession, according to Goldman Sachs economist Daan Struyven. That's not his base case, but if it happens watch out below. Whatever might happen by year-end, it's not happening today.
What happened by mid-morning today is that the 10-year Treasury yield fell to 2.83%, after having reached 2.95% last Wednesday, the highest since January 2014, and tantalizingly close to that ominous or glorious 3%.
Bond prices fall when yields rise. Since October last year, betting against the 10-year Treasury, and thus betting on a rising yield, has become a very crowded and profitable trade for hedge funds and other speculators.
On February 13, I wrote that Record Short Bets against 10-Year Treasury Promise Turmoil. At the time, bearish bets in 10-year Treasury futures had surged to over 939,000 contracts, the most ever, according to Commodity Futures Trading Commission data through February 6.
In the week that followed, bearish bets increased to about 960,000 contracts, another record. By February 21, the 10-year Treasury yield had risen to 2.95%, tantalizingly close to 3%.
That 3%-range is a key level. It renders the 10-year Treasury increasingly appealing and brings out more buyers. And these buyers would likely coincide with short-sellers trying to take profits and get out of a short position. This might work together to put some additional oomph under the price and thus push down the yield, which could trigger a snap-back rally or even a short-squeeze for the 10-year Treasury with sharp declines in the yield.
This snap-back rally could take off even before the 10-year yield hits 3%, I postulated at the time because heavy shorting of any asset tends to have this sort of contrarian effect.
And this seems to have happened. After the 10-year yield hit 2.95% on Wednesday, it plunged, going as low as 2.83% by mid-morning today. This chart shows the daily moves of the 10-year yield: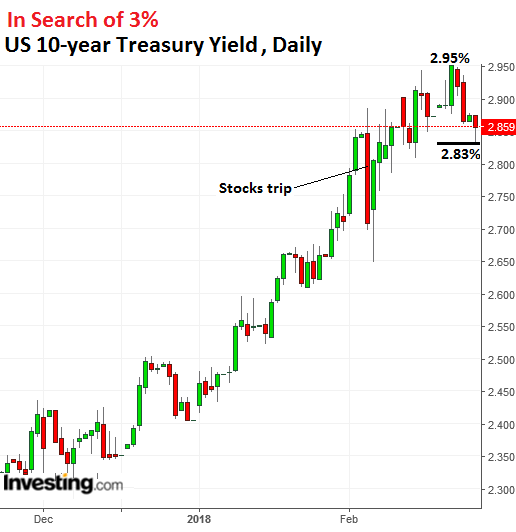 But now something else has happened. Over the past few hours, the 10-year yield has bounced to 2.86%. Is this the end of the Treasury rally?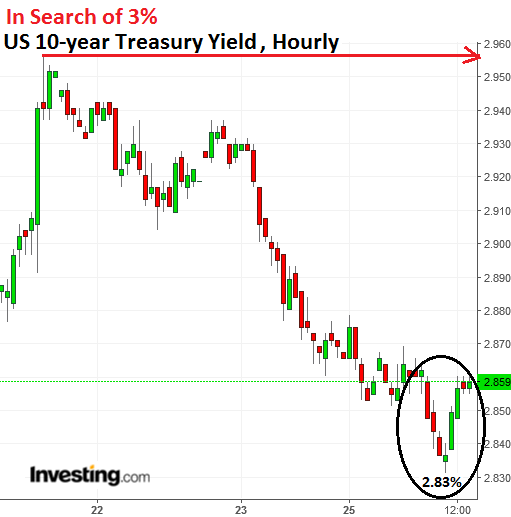 This morning, Bloomberg's fixed-income specialist Lisa Abramowicz reported that bearish bets against Treasuries by these hedge funds and speculators plunged "by most since November," by about 10% from one week to the next, to below 900,000 contracts (chart).
So has this washed out the shorts? And can the 10-year yield rise from here on out?
At just under 900,000 contracts, speculators are still very bearish, and that will likely cause any increase in yields to become a profit-taking opportunity for them. In addition, the 3%-range is going to pose a formidable resistance for fundamental reasons as well. This dynamic will stay in place until shorter-term yields rise further in a significant way to where they offer alternatives in yield with shorter duration. At that point, the 10-year yield would have to rise further to attract more buyers. This will eventually happen. And it might happen in a sudden surge. But for now, the 3%-range of the 10-year yield remains a formidable barrier.
Over the longer term, the Treasury market faces a serious challenge: the flood of supply of Treasury securities being issued to fund the ballooning deficits. And these are the good times. Read…  US Gross National Debt Spikes $1 Trillion in Less Than 6 Months
Enjoy reading WOLF STREET and want to support it? You can donate. I appreciate it immensely. Click on the beer and iced-tea mug to find out how:

Would you like to be notified via email when WOLF STREET publishes a new article? Sign up here.