Is jacking up ticket prices helpful in this environment?
We keep hearing the good news, and we love it. During the four-day weekend, "Star Wars: The Last Jedi," became the highest-grossing movie of 2017 with 58.1 million tickets sold in the US and $517 million in ticket sales so far, according to movie data provider The Numbers. "The Last Jedi" was released on December 15 and grossed $220 million that weekend, making it the movie with the biggest weekend of the year.
And it continues to sell tickets into 2018. This, as the Wall Street Journal put it, gave Walt Disney "another banner year at the box office that left rival studios fighting for leftovers."
The top ten movies in US ticket sales in 2017:
"The Last Jedi" (Walt Disney): $517 million
"The Beauty and Beast" (Walt Disney) $504 million
"Wonder Woman" (Warner Bros.) $413 million
"Guardians of the Galaxy" (Walt Disney) with $389 million
"Spider-Man: Homecoming" (Sony) $334 million
"It" (Warner Bros.) $327 million
"Thor: Ragnarok" (Walt Disney): $311 million
"Despicable Me 3" (Universal): $267 million
"Logan"(20th Century Fox): $226 million
"The Fate of the Furious" (Universal) $226 million
These are big numbers. And ticket sales for "The Last Jedi," which continue into 2018, will likely remain behind the record $937 million in domestic box office sales raked in by "The Force Awakens" in 2015.
And that may be symptomatic.
The number of actual tickets sold in US movie theaters in 2017 fell 3.6% year-over-year to 1.25 billion tickets, according to The Numbers. That's down 21% from "Peak Ticket Sales" in 2002, when box offices sold 1.58 billion tickets. In fact, the number of tickets sold in 2017 was the lowest since 1995.
This chart shows what's going on in terms of filling seats in brick-and-mortar movie theaters in the US: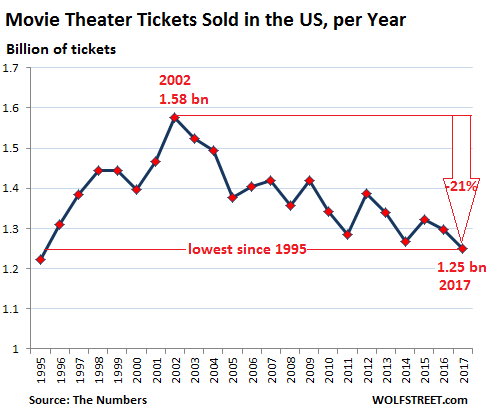 Sharp price increases per ticket Band-Aided the pain of dropping ticket sales until 2012. Since then, even those price increases haven't been enough. According to The Numbers, the average ticket price has more than doubled from $4.35 in 1995 to $8.90 in 2017.
Only $8.90?
I have to say that it has been years since I paid less than $10 a ticket for a major movie. For example, a ticket for "The Last Jedi" goes for $22.49 — not for a family of three, but for just one adult — at one of the AMCs in San Francisco. Not exactly an encouragement to go see it. But there are cheaper movies out there, and there are cheaper cities too, and national averages might not parallel personal experience.
Since Peak-Ticket-Sales in 2002, the average price has jumped 53% from $5.81 to $8.90 in 2017. At the same time, the number of tickets sold has plunged 21%. Connection? Maybe. One thing's for sure: When ticket sales drop, the industry has to raise prices to make up for the drop; and the more the industry makes up with price increases for dropping ticket sales, the more consumers start looking for alternatives.
Thus overall ticket sales in dollars only inched down 0.8% in 2017 to $11.13 billion. Fewer and fewer people go to the movies, but they pay more and more each time, and as ticket prices have soared (right scale), overall ticket sales in dollars (left scale) are only languishing rather than plunging: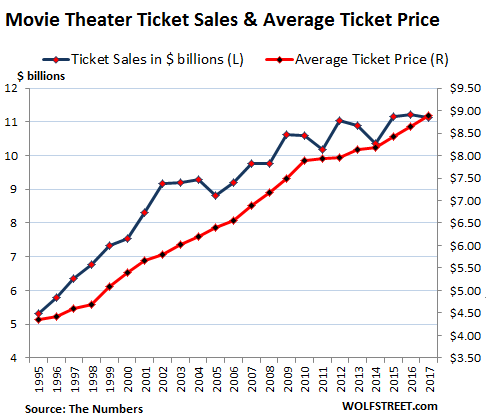 The number of wide releases by the six major studios – Warner Bros, Walt Disney, 20th Century Fox, Paramount Pictures, Sony Pictures, and Universal – has also been on a downward trend since 2006. In 2017, they released just 79 movies, down 38% from 2006. Since 1995, only 2013 was lower. "Other" studios released 46 movies, the highest since 2007: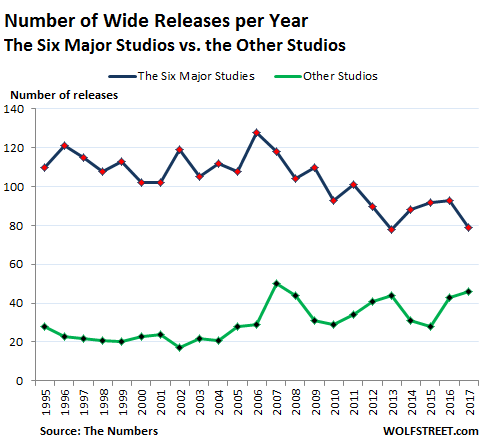 Movie theaters are an essential part of brick-and-mortar.
The Commerce Department doesn't include ticket sales in its retail sales figures. It includes ticket sales in "admissions to the arts, movies, sporting events, and other entertainment and recreational activities," which figure into the vast group of "personal consumption expenditures,"  not retail sales. Yet ticket sales figure into the scenario of malls where many theaters a located, and they're part of the broader brick-and-mortar environment that is under full attack by the Internet.
People can watch movies at home in many ways. Movies can be purchased at the spur of them moment from Amazon, Netflix, and others. They can be streamed, downloaded, or obtained via DVDs and other technologies. If people can wait a while, they can watch the recent releases by the big studios when they become available online. Consumers have never had so many sit-at-home alternatives to going to the movies.
While studios have been able to prop up their revenues more or less with ever higher ticket prices, and while they also cash in massively from digital sales, fewer and fewer people are showing up at the movie theaters.
Theaters have responded by making seats wider and more comfortable, and by providing more legroom, and by giving a cushy feel to make sort of an event out of it – rather than an economy-class experience. This is supposed to justify the ticket prices. But the extortionately priced soda and popcorn (what they put on it is not butter) are still the same.
And as the declining number of tickets sold shows – despite increases in the population and the surge of the millennials into prime movie-watching age – it appears to be a losing battle to get Americans to go out to brick-and-mortar movie theaters. And jacking up ticket prices in this environment of nearly unlimited choices isn't exactly helpful.
Rents are tanking in some of the most expensive metros. Even Seattle is cooling off, awash in new supply. Read… Suddenly, US Rental Markets Diverge by Bedrooms
Enjoy reading WOLF STREET and want to support it? You can donate. I appreciate it immensely. Click on the beer and iced-tea mug to find out how:

Would you like to be notified via email when WOLF STREET publishes a new article? Sign up here.