Something convoluted is happening in the office sector.
New office towers are still sprouting like mushrooms in some pockets of San Francisco and Silicon Valley. The biggest tech companies are still expanding their office footprint. The media are still full of stories of mega-salaries for tech workers. And yet, employment growth of the phenomenal job-creation machine has stalled, and in San Francisco, "office-using employment" growth has turned negative.
This is how it's not adding up in San Francisco:
The office sector in San Francisco saw a slew of large leasing transactions in the third quarter, at the top of which were the familiar names, according to global real-estate service provider Savills Studley in its Q3 report on San Francisco:
Facebook leased 412,234 square feet (sf), taking all the office space in the new mixed-use tower at 181 Fremont Street, scheduled for completion in the first half of 2018.
AirBnB leased 270,000 sf in the Zynga headquarters building at 650 Townsend Street.
Amazon leased 175,727 sf.
"Leasing activity has been quite top heavy in San Francisco in recent quarters, as the market's largest firms secure more space," writes Colin Scanlon, Research Manager at Savills Studley's San Francisco office.
It "further depleted the supply of blocks of space greater than 75,000 sf," he writes. "The dearth of options continues to be a challenge for very large requirements, but companies looking for full floors or less still have plenty of alternatives."
So leasing activity surged to 2.7 million sq. ft. (msf), bringing the total for the past four quarters to 7 msf, though that's still down about 10% from the long-term annual average of 7.7 msf, according to Savills Studley's report.
After those deals, Class A vacant availability, which had been rising over the past several quarters, declined to 10.2%, but remained higher than a year ago. And the average Class A asking rent rose 3.6% year-over-year. Class B rent jumped nearly 10%. And office property sales spiked 47% year-over-year to $2.66 billion.
But here's the twist: Companies overall are not adding to employment in San Francisco. And "office-using employment" – a metric prepared by Savills Studley based on its analysis of Bureau of Labor Statistics data, utilizing employment categories for financial, information, and professional/business services – has turned negative this year.
The chart below by Savills Studley shows that total office-using employment (blue columns, left scale) is around 425,000, a notch below 2016. The annual percentage change of office-using employment (black line, right scale) has dipped below zero. But the national trend (red line, right scale) hovers at an annual growth rate of around 2%: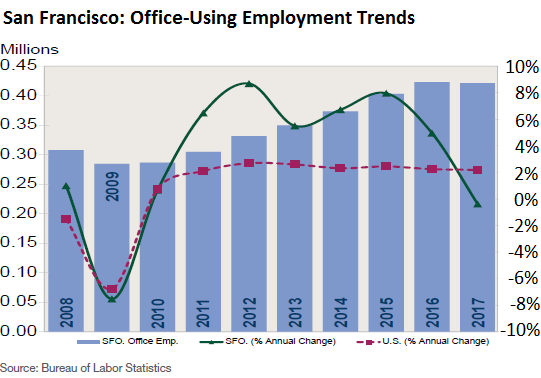 Note how growth peaked in 2012 and 2015 at annual rates of over 8% and how office employment crashed in 2009. The chart aptly represents the dizzying boom-and-bust cycles of San Francisco employment.
A similar scenario is playing out in Silicon Valley.
Office leasing activity rose 10% in Q3, bringing the total for the past four quarters to 4 msf, according to Savills Studley Q3 office report on Silicon Valley. Despite that, overall vacant availability rose from 14.5% a year ago to 16%, with Class A availability jumping from 18% a year ago to 21%. Nevertheless, overall asking rent jumped 12.4% year-over-year. Class A asking rent spiked 19%. And property sales for the year through July jumped 23% to $2.14 billion.
"Google, under the guise of CBRE Global Investors, made more than 52 South Bay property purchases totaling $820 million over the last three years," concentrated in Sunnyvale, Savills Studley reported, adding that "Google occupied some buildings but its plans for many sites remain unclear."
So Google is warehousing space for later use, if any. Just grabbing space is the key.
In recent months it also acquired a slew of other buildings including three NetApp buildings in Sunnyvale for $319 million. NetApp is consolidating its footprint and will lease back one of the buildings.
"Google's clandestine purchases in Sunnyvale may have enabled them to get ahead of any land rush," the report added.
Google also unveiled plans to build an 8 msf mixed-use community in Downtown San Jose, including office, retail, and residences on a 240-acre site. But according to the report, "It will likely be several years before Google starts construction."
So everything's cool in Silicon Valley?
Alas, as in San Francisco, the present is marked by stalling employment growth in Silicon Valley, particularly office-using employment (chart by Savills Studley):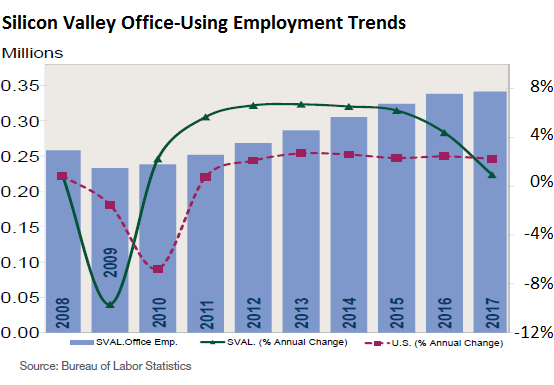 So what's next? Even as the biggest tech employers are hiring – particularly Google, Facebook, and Amazon – others are not, and some are trimming back, such as Yahoo, NetApp, and others, including a gaggle of startups that are having trouble or are shutting down.
The net effect is in the above charts: overall office-using employment growth in Silicon Valley and San Francisco has stalled along a fairly steep curve, and in San Francisco has already shifted into decline mode. This might provide some clues about other uncool data points cropping up in the area.
For example, even as upward pressure on already crazy home prices persists in the Bay Area and in California, volume is in trouble. Read… Housing Bubble 2 Gets Complicated: Pending Home Sales Plunge in San Francisco Bay Area, Drop in all California
Enjoy reading WOLF STREET and want to support it? You can donate. I appreciate it immensely. Click on the beer and iced-tea mug to find out how:

Would you like to be notified via email when WOLF STREET publishes a new article? Sign up here.