But upward pressure on already crazy home prices persists.
Pending home sales in California fell 6% in September compared to a year ago, the third month in a row of year-over-year declines, after having dropped 3.5% in August and 2.6% in July.
"Entering the fall home-buying season, the housing market momentum waned," the California Association of Realtors said in its report. Brokers "reported slower open house traffic, and listing appointments and client presentations fell below positive territory in September."
The report cited "continued housing inventory issues and affordability constraints," as home prices have moved out of reach for many people, despite historically low mortgage rates. This "may have pushed the market to a tipping point."
Pending home sales are an indication of what actual sales might look like over the next few months. They're notoriously volatile. But in the San Francisco Bay Area, pending homes sales have been plunging in the double digits for months. And now Southern California is catching the cold.
In the San Francisco Bay Area, pending home sales plunged 10.8% year-over-year, after having plunged 11.6% in August, and 11.5% in July. It was the 12th month in a row of year-over-year declines. In the two counties that make up Silicon Valley, San Mateo and Santa Clara, pending sales plummeted respectively 22.4% and 23.5%!
In Southern California, pending home sales fell 7.1% year-over-year, after having fallen 3.8% in August. In July, they'd still inched up 1.4%. The counties with the sharpest declines were Los Angeles (-8%), San Diego (-11.5%), Riverside (-13.4%), and San Bernardino (-11.6%).
In the Central Valley region, pending home sales edged down 0.6% year-over-year, driven by the 16.8% plunge in Sacramento County.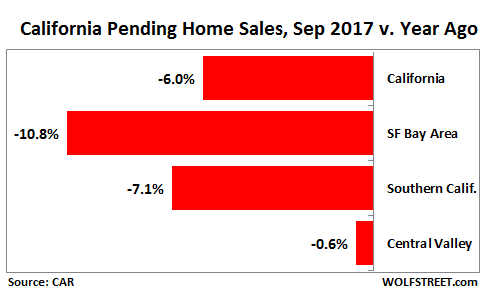 Of the homes put under contract, 26% had had their listing price reduced before buyers got interested. And after that:
29% sold above asking price – at an average premium of 13%
28% sold below asking price – at an average discount of 15%
43% sold at asking price
Already, sales growth is in trouble. Earlier, CAR reported that actual sales in September had inched up 1.7% year-over-year for all California, but that sales of condos and townhouses had fallen 4.1%, that sales in the Bay Area had fallen 4.2%, and that sales in the Los Angeles metro had fallen 2.5%. The current pending home sales decline will continue to pressure actual sales downward over the next few months.
But upward pressure on prices persists: Home sales, though declining, are still outstripping new listings that are declining even faster – as "the supply of homes available for sale continued to drop."
This has led to some crazy prices. In September, the median house price (not including condos) reached these levels: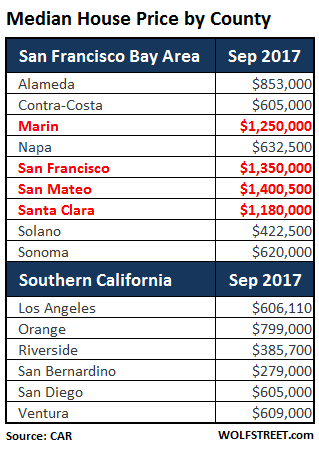 No wonder that "declining housing affordability/inflated home prices" was the biggest concern of 44% of the brokers in the CAR survey, along with "rising interest rates." At these prices, even slightly higher mortgage rates make a large difference for already over-stretched buyers.
The lack of homes for sale was cited by 35% of the brokers as their biggest concern.
So, as they say, it's complicated. In these expensive areas, sky-high prices have moved homes out of reach for most homebuyers and thus strangle sales. At the same time, those sky-high prices are locking homeowners into their current homes that they bought a few years ago at much lower prices because they cannot afford the mortgage payments that would result from buying an equivalent or larger home in the same area.
And so the market is in a stage of slowing down, where many current homeowners cannot afford to move up or even sideways, where new buyers cannot afford the prices, and where prices are still propped up by a lack of supply because current homeowners are stuck and cannot put their homes on the market even if they'd like to move because they cannot afford the payments of that new home.
Here's how our extraordinary asset price inflation is developing in all its beauty. Read… The US Cities with the Biggest Housing Bubbles
Enjoy reading WOLF STREET and want to support it? You can donate. I appreciate it immensely. Click on the beer and iced-tea mug to find out how:

Would you like to be notified via email when WOLF STREET publishes a new article? Sign up here.