People buying homes to live in – rather than as investments to be rented out – form the bedrock of a healthy housing market. It was once called the American Dream. Then came the bubble, its collapse, and the new boom that is already a bigger bubble than the prior one in many cities. And in some metro areas, investors are now the majority of buyers!
In the first quarter, the proportion of owner-occupant buyers fell to 63.2% of all residential sales, down from 65.8% in the fourth quarter last year, and down from 68.6% a year ago, RealtyTrac reported today. It was the lowest quarterly level in the data series going back to 2011.
Who were the other buyers? Investors. The report defined them as buyers who purchased a property but then had their property tax bill mailed to a different address. And these investors accounted for a record of 36.8% of all home sales.
In some metro areas, investors went hog-wild, elbowing owner-occupants into minority status. Here are the metro areas with a population of at least 500,000 where this miracle of our "healed" housing market has occurred in Q1, the miracle being that investors make up the majority of all homebuyers: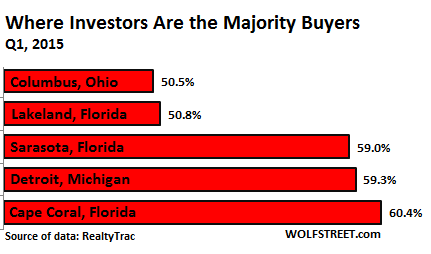 In some states, a similar picture is developing. Of course, there's tourist-paradise Hawaii which is fully loaded with vacation-rental condos, to where 78.5% of all home sales in Q1 were to investors. But note the next three states in line. So here are the 10 states where investors play the largest role: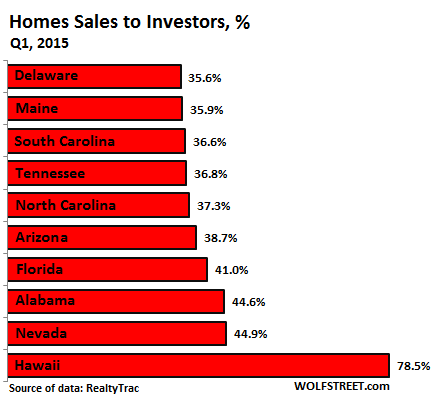 This is what happens when the Fed "heals" the housing market with its six-year money-printing and interest-rate-repression campaign. It doused the land with nearly free money so that investors could take this money and buy assets and drive their prices into absurdity, and thereby raise the costs for people who want to live in those assets.
But "institutional investors," entities that buy 10 or more units a year, accounted for only 3.4% of total sales in Q1, the lowest level in the data series, down from 6.2% in Q1 2014, and from 8.7% during the heyday in Q1 2013. These big investors, including large PE firms that used to buy tens of thousands of units – the "smart money" – have been losing interest for two years. But in the last quarter, they just about pulled up their stakes: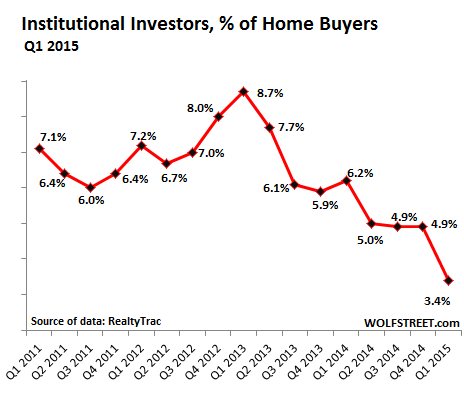 The investors that are now piling into the market like never before are "smaller, mid-tier, and mom-and-pop investors," explained RealtyTrac VP Daren Blomquist.
Of all investors, 44.7% were all-cash buyers, down from 61% a year ago. Cheap debt is just too tempting. A large variety of easy-money financing options have become available for small investors as "a new crop of nationwide companies has emerged offering financing specifically for investment properties," Blomquist said. I can attest to that; I get their spam in my inbox.
So small investors are piling into the market in record numbers, even as institutional investors are backing out, to where overall investor purchases hit a new record. And what happens? Prices soar. According to the report, the median price in March jumped 8% from a year ago.
Institutional investors may smell a rat in these prices. For them, the math of buying high and then renting the place to struggling consumers may no longer work. But for the intrepid small investors, including those that have learned the art of real estate investing from once again hot radio shows, it's a debt-fueled, high-leverage paradise where only the sky is the limit.
However this is going to work out for them, it has undermined the foundation of a healthy housing market: owner-occupied homes.
Homeownership rates have been skidding since 2004, when they peaked at 69.2%. It was the middle of a phenomenal housing bubble, when speculative buying whipped prices in to a frenzy. With the Fed nodding approvingly, the industry conspired to stuff people into homes and mortgages they couldn't afford and would never be able to pay for.
But as prices rose further, even those methods were insufficient to keep the boom in homeownership going. So homeownership started to decline in 2005, accelerated during the housing bust, and continued to drift lower afterwards. But since late 2013, two years after investors had started to send prices soaring once again, homeownership rates fell off a cliff: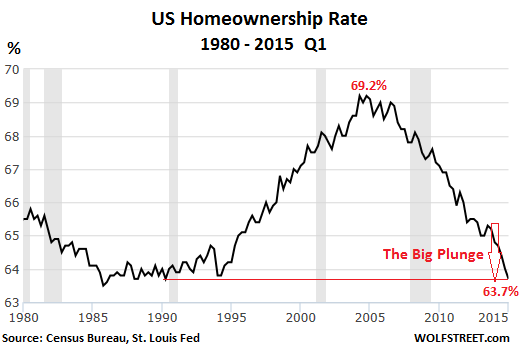 The homeownership rate in 2014, not seasonally adjusted, plunged by 1.2 percentage points to 64%, the largest annual drop in the history of the data series going back to 1965. And in the first quarter of 2015, it dropped to 63.7%, according to the Commerce Department, the lowest since Q2 of 1990, unwinding 25 years of the American Dream.
The highest ownership rates were in the Midwest at 68.6%. The lowest were in the West at 58.5%, which includes California where homes have become immensely expensive, and the American Dream a phrase tarnished with cynicism.
Potential buyers face this wall of soaring prices, and they come to their own conclusions. Read…  Americans Suddenly Sour on Buying a Home, Worst Drop since 2008, Optimism Plunges in the West
Enjoy reading WOLF STREET and want to support it? You can donate. I appreciate it immensely. Click on the beer and iced-tea mug to find out how:

Would you like to be notified via email when WOLF STREET publishes a new article? Sign up here.