Sez Fitch & Yellen
US Treasury securities are doing something that is worrying a lot of folks, including Fed Chair Janet Yellen: While short-term yields are rising in line with the Fed's hikes of its target range for the federal funds rate, longer-term yield have done the opposite: they've been declining. This has flattened the "yield curve" to a level not seen since before the Financial Crisis.
This chart shows the yield curve of today's yields (red line) across the maturity spectrum against the yields of exactly a year ago, after the rate hike at the time. Note how short-term yields on the left have risen in line with the rate hikes, while toward the right of the chart, long-term yields have fallen: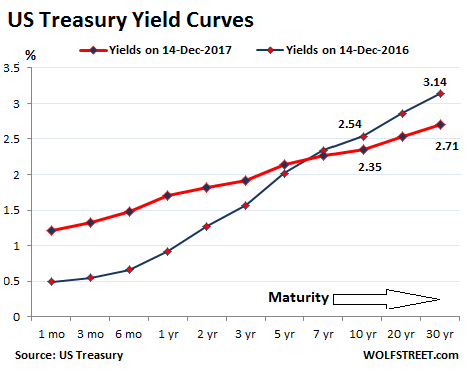 When long term yields fall below shorter term yields, the curve becomes "inverted." This has been a reliable predictor of a recession or worse. And we're getting closer. Today, the 10-year yield closed at just 0.53 percentage points above the two-year yield. This is the narrowest spread since August 2007.
However, in her post-FOMC-meeting press conference yesterday – where this conundrum came up hard and heavy – Yellen cautioned that "correlation does not imply causation."
An inverted yield curve these days doesn't necessarily cause a recession, she said. An inverted yield curve is itself a product of various factors. And one of those factors is heavy buying of long-dated US Treasuries by investors in countries on which central banks have inflicted their negative-interest-rate policies – the ravaged NIRP refugees hailing from Europe and Japan.
There are a lot of them, and they're having an increasingly large problem that is only going to get worse next year – regardless of what the ECB will or will not do.
Fitch Ratings estimates that the total amount of global negative-yielding government debt is $9.7 trillion, with Japanese government debt accounting for $5.8 trillion and European government debt for $3.9 trillion.
While the ECB has tapered its QE program from €80 billion a month to €60 billion a month in April and has announced further tapering to €30 billion a month starting in January, it has acquired a volume of government bonds equivalent to 3.5 times the net issuance on average in 2016 and 2017, according to Fitch.
This massive buying pressure has inflated the prices of those bonds to ludicrous levels. As bond yields by definition fall when bond prices rise, it has pushed many yields into the negative. For example, even Spain's two-year debt has a yield of negative -0.23%. Fitch:
[This is] forcing holders of Eurozone debt to purchase other assets, such as US treasury securities. While long-term yields in the US remain low, they remain well above core Eurozone yields that are near their 2017 lows.
With the US Treasury 10-year yield at 2.34% today and the German "Bund" 10-year yield at 0.32%, the spread between them is a juicy 202 basis points.
And this is going to be a problem for institutional investors with large positions in medium and longer-term European sovereign debt, such as pension funds and insurers that hold bonds to maturity.
Maturing securities will continue to be reinvested in securities with little to no coupon income in Europe and Japan, hurting investment income and increasing duration risk, all else equal.

In Germany, a bond originally with 10 years to maturity will come due in January 2018 with a coupon of 4%. If reissued, with a coupon at current market rates, the German bond will have a coupon of around 30bps [0.3%].
A large pile of bonds is maturing, all with significantly higher coupon payments than are available today. They will be replaced with near-zero or below-zero yielding bonds to produce a significant loss of income for those investors, unless they seek refuge in the relatively attractive longer-term yields available in the US market.
Thus, these NIRP refugees in Europe and Japan are piling into the US market, gobbling up longer-term Treasury securities, driving up their prices, and thereby pushing down yields, which "has likely contributed to a rapidly flattening yield curve in the US," Fitch said.
The Fed continues with its gradual rate hikes, which impacts short-term rates. It has also gingerly commenced its QE unwind, which should push up longer-term yields, but Fitch says, "demand from yield-hungry investors overseas" has so far overwhelmed the Fed's QE unwind.
With short-term yields rising and longer-term yields stuck at low levels, the yield curve has flattened, and the spread between the two-year and the 10-year yield has narrowed to levels not seen since before the Financial Crisis. And this phenomenon is occurring "despite the fact that US GDP growth has exhibited strong momentum and outperformance in 2017, similar to the Eurozone," Fitch says.
So neither Fitch nor Yellen see the flattening yield curve as an ominous sign of anything other than exasperated NIRP refugees looking for a somewhat less gruesome alternative. And folks hoping the Fed will use the flattening yield curve as an excuse to back off from further rate hikes will likely be disappointed.
And at the same press conference, Yellen was repeatedly badgered about bitcoin. Read…  Yellen Shrugs Off Bitcoin as "Full-Blown Financial Stability Risk." In Other Words, No Fed Bailout when Prices "Fluctuate"
Enjoy reading WOLF STREET and want to support it? You can donate. I appreciate it immensely. Click on the beer and iced-tea mug to find out how:

Would you like to be notified via email when WOLF STREET publishes a new article? Sign up here.