How exposed are over-indebted household to rising interest rates?
Household debt in Canada rose to a new record of C$2.11 trillion in the third quarter 2017, up 5.2% from a year ago and up 10.7% from two years ago, Statistics Canada said on Thursday in its quarterly report on national balance sheets. Mortgages accounted for 65.6% of the total. Canada's infamous household-debt-to-disposable income ratio, one of the highest in the world, rose to a breath-taking record of 173.3%.
The ratio means that households, on average, owed C$1.73 for every dollar of after-tax income earned. This chart shows how the indebtedness in relationship to after-tax income has soared since 2001, when Canada's housing boom took off in earnest: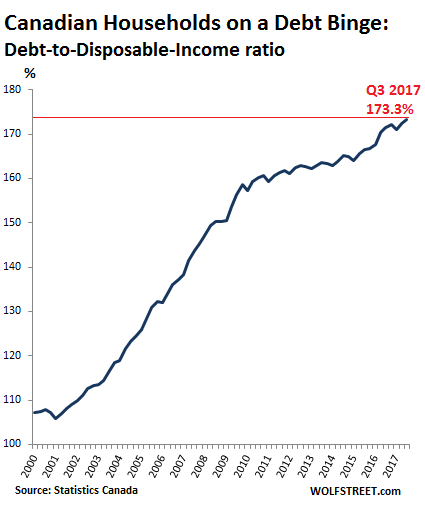 While US households "deleveraged" somewhat during the Great Recession, mostly by defaulting on their debts when housing crashed and jobs vanished, Canadian households barely took a breather as there was no housing bust in Canada. Hence the consistently rising and record-breaking debt-to-disposable income ratio above.
Disposable income in 2016 got hit by "a significant downward revision," based on new data received from Canada's tax collection agency, Statistics Canada said. This resulted "in an upwards shift to this ratio."
The debt-to-disposable-income ratio of 173%, scary as it is, is just a national average. But it's not normally the top of the income categories that get in trouble. It's the lower categories.
In a separate report also released on Thursday on the distribution of income and assets, Statistics Canada added to this debate:
Economy-wide debt-to-asset and debt-to-disposable-income ratios can mask the financial risk associated with increasing debt for a given group of Canadian households.

In 2016, the national average debt-to-disposable-income ratio was 172.1%. Decomposing this by household disposable income quintile reveals that the debt-to-disposable-income ratio for the bottom income earning households was 333.4%, while the debt-to-disposable-income ratio for the top was 128.3%.
This chart shows the debt-to-disposable-income ratio by income quintile. Households in the bottom 20% income category (red column) are far more at risk than top-earning households. Also note that in the second and third quintiles, where many mortgages are taken out, the debt-to-disposable income is approaching 200%: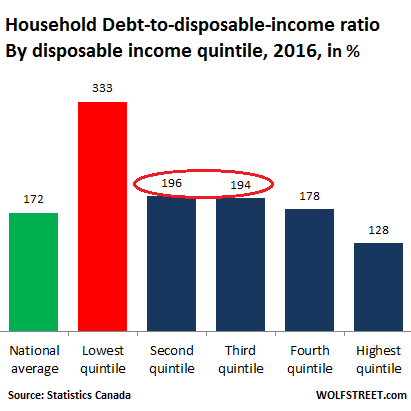 In terms of a housing bust, the average homeowner gets through it just fine. It's the most vulnerable homeowners that get in trouble. If only 10% of all homeowners default, it translates into a national mortgage crisis of the kind the US saw during the housing bust.
This comes as the value of residential real estate owned by households declined by $3.0 billion "due to weakening housing resale prices," Statistics Canada said, adding. "This was the first quarterly decline since the first quarter of 2009."
With home prices no longer guaranteed to soar, and with debt at record levels and growing, households are immensely exposed to higher rates. Variable-rate mortgages dominate in Canada. Many mortgages adjust nearly instantly to higher rates. Others might have fixed rates for up to five years, and then they adjust. Every quarter-point increase in interest rates puts more strain on homeowners.
When home prices soar reliably, the additional interest costs have little impact overall as troubled homeowners can always sell the home, and since its price has increased, pay off the mortgage. But when prices decline — as they did in Q3 for the first time since 2009 — the entire equation changes.
The Bank of Canada has raised rates twice this year by a quarter point each time – tiny baby steps. And it might raise rates more next year. But even these tiny baby steps push up mortgage costs for Canadian households. And the Bank of Canada is already getting very cold feet, in face of the mountain of interest-rate-sensitive household debt. Now the Bank of Canada and government authorities are trying to walk a fine line to contain the housing bubble without accidentally causing it to implode, with fallout hitting the rest of the housing-dependent Canadian economy.
But the risk appetite in housing continues as the housing & debt bubble ascends to the next level of risk. Read… Canadian Homeowners Take Out HELOCs to Fund Subprime Buyers Unable to get a Mortgage
Enjoy reading WOLF STREET and want to support it? You can donate. I appreciate it immensely. Click on the beer and iced-tea mug to find out how:

Would you like to be notified via email when WOLF STREET publishes a new article? Sign up here.