But many mid-tier markets are red-hot.
In San Francisco, the most expensive major rental market in the US, the median asking rent in November for one-bedroom apartments, at $3,390, is up 1.8% year-over-year, but is down 7.6% from the peak in October 2015. The median asking rent for two-bedroom apartments, at $4,380, fell 2.7% year-over-year, and is down 12.4% from the peak in October 2015.
In New York City, the median asking rent for one-bedroom apartments dropped 3.3% year-over-year to $2,900. For two-bedrooms, it dropped 1.2% to $3,360. Since the peak in March 2016, asking rents have dropped respectively 13.9% and 15.6%.
Oakland used to be red-hot as it attracted San Francisco's housing refugees. But in November, one-bedroom and two-bedroom rents have dropped respectively 6.4% to $2,060 and 7.1% to $2,500. Both are down 15% from their peaks in April 2016.
In Honolulu, one-bedroom asking rents were flat year-over-year, and two bedroom rents were down 11% year-over-year. But from their respective peaks in early 2015, rents have now plunged by 20.2% and 28.5%. These are starting to be some serious declines.
The data is based on asking rents in multifamily apartment buildings, gleaned from "over one million active listings" that Zumper aggregated in its National Rent Report. Single-family houses or condos for rent are not included. Also not included are incentives, such as "one month free" or "two months free," which effectively slash the rent for the first year by 8% or 17%.
The data includes asking rents from new construction, which other rent reports may not include. In many cities across the US – including in San Francisco, New York City, and Seattle (more in a moment) – there has been a boom in construction of high-rise apartment and condo buildings. These units are now showing up in large numbers on the rental market. Most of them are high-end, and landlords might price them aggressively to fill them.
In Chicago, the median asking rent for a one-bedroom apartment dropped 15.9% year-over-year to $1,530, and for a two-bedroom 11.4% to $2,180. They've now crashed from their peaks in September 2015 by 25.4% and 17.7% respectively.
In this table below of the 12 most expensive major rental markets, the shaded area indicates peak rents and the changes since then. Note the number of double-digit declines from their prior records: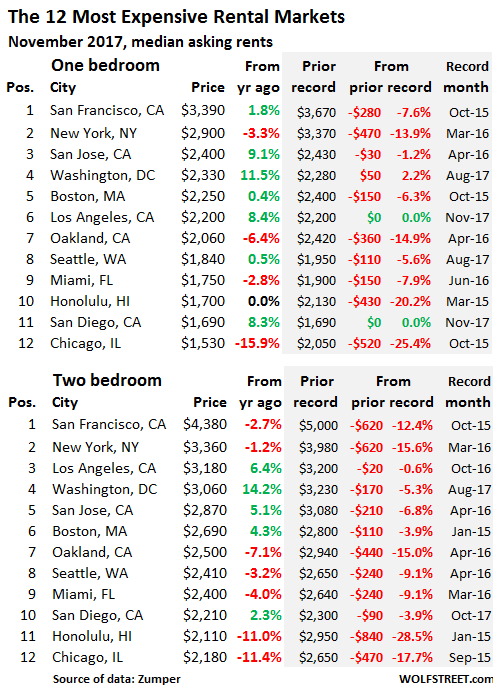 In Seattle rents have been booming for years. But now asking rents are coming under serious pressure, possibly due to new units flooding the market as a result of an apartment- and condo-tower construction boom that has already become legendary. These landlords are likely feeling pressure to get their units rented out. But suddenly there's a lot of competition. Zumper's data includes asking rents from new construction. That might be one of the reasons for the decline in rents, with one-bedrooms down 5.6% from their peak in August 2017, and two-bedrooms down 9.1% from their peak in April 2016.
However, some other cities on the top 12 list saw large year-over-year rent increases, particularly Washington DC, where rents rose in the double digits from a year ago.
But rents are booming in some "mid-tier" markets – "mid-tier" in terms of the magnitude of the rent. Here are some with double-digit year-over-year rent increases (one-bedroom and two-bedroom apartments):
Denver, CO (+15.6% and +13.1%)
Houston, TX (15.6% and 14.7%), likely boosted by demand following the destruction of some housing stock during the hurricane.
Baltimore, MD (15.7% and 9.4%)
Sacramento, CA (+15.0% and +15.4%)
Orlando, FL (+15.0% and 8.3%)
Gilbert, AZ (+13.4% and 11.5%)
Tampa, FL (15.8% and 13.9%)
Or even Toledo, OH (+14.6% and 14.5%)
But not all "mid-tier" markets are still seeing rising rents. In some of them, the tide has turned sharply, including Minneapolis, MN (-12.3% and -5.5%) and Lincoln, NE (-15.3% and -12.8%).
In other mid-tier markets, rents are down more or less mildly, including Portland, OR (-1.5% and 3.8%); Madison, WI (-1.6% and -9.1%); Austin, TX (-3.4% and -5.3%).
So depending on where people live, their rents might be soaring. When rent is $1,000 a month, and the renter earns $2,000 a month after taxes, a 15% rent increase is painful and likely pushes the personal inflation rate into the double digits. It also causes the renter to cut spending on other items.
But even in a city where rents are on the decline, renters tend to have a hard time negotiating a lower rent at lease renewal unless they're willing to move to a different apartment and boldly use that willingness as a negotiating tactic.
Below is Zumper's list of the top 100 most expensive rental markets and price movements. Check out your city (click to enlarge).
The Case-Shiller National Home Price Index jumped 6.2% year-over-year. By comparison, disposable income, not adjusted for inflation, rose only 2.9%. This disconnect, year after year, adds up after a while. Read… The US Cities with the Biggest Housing Bubbles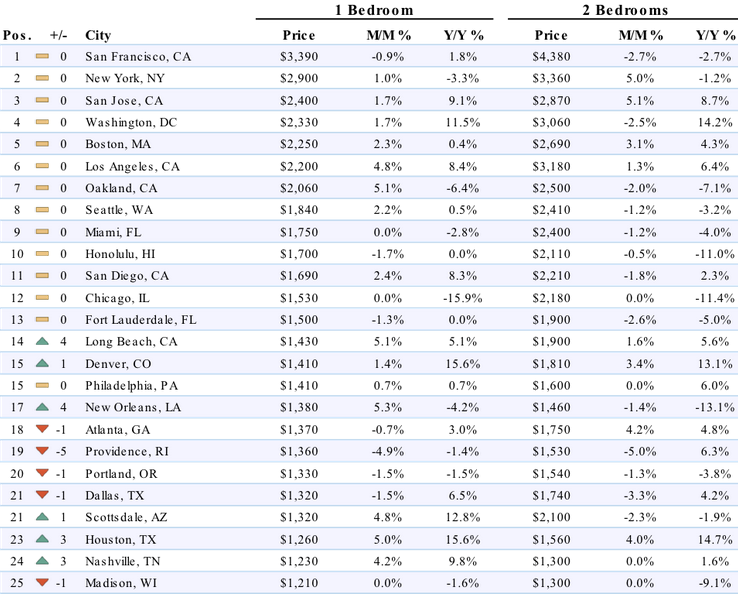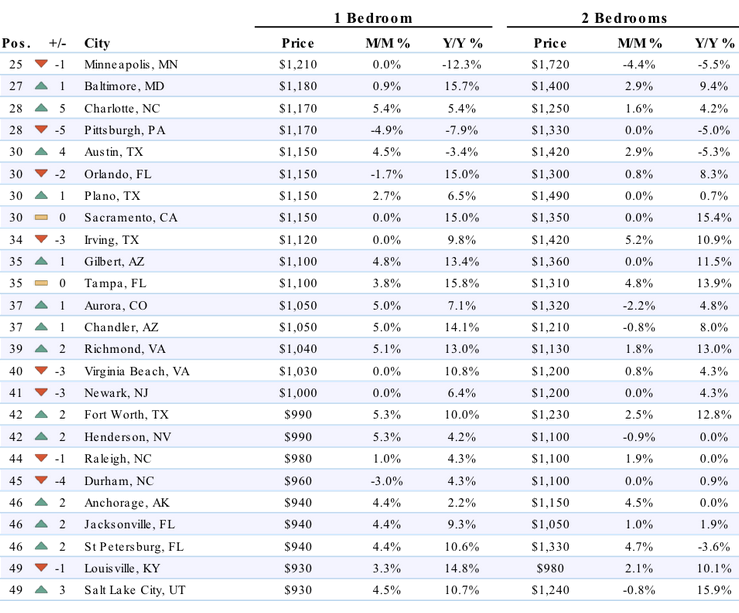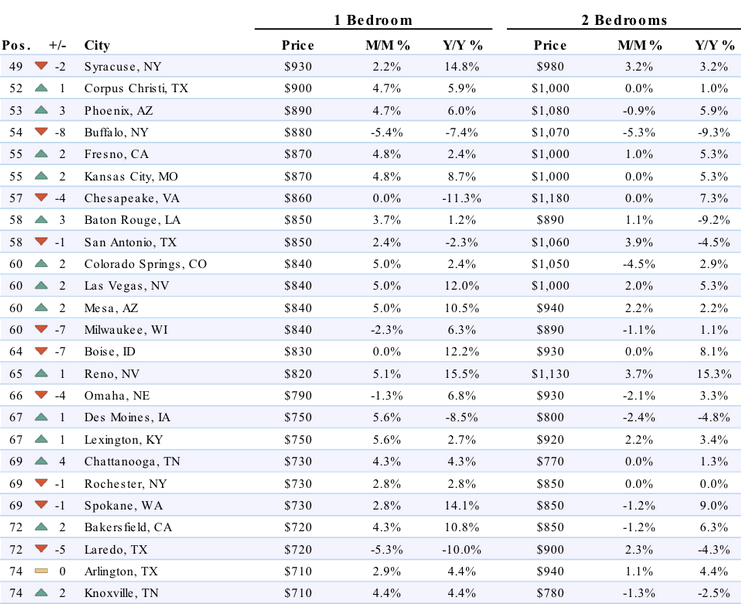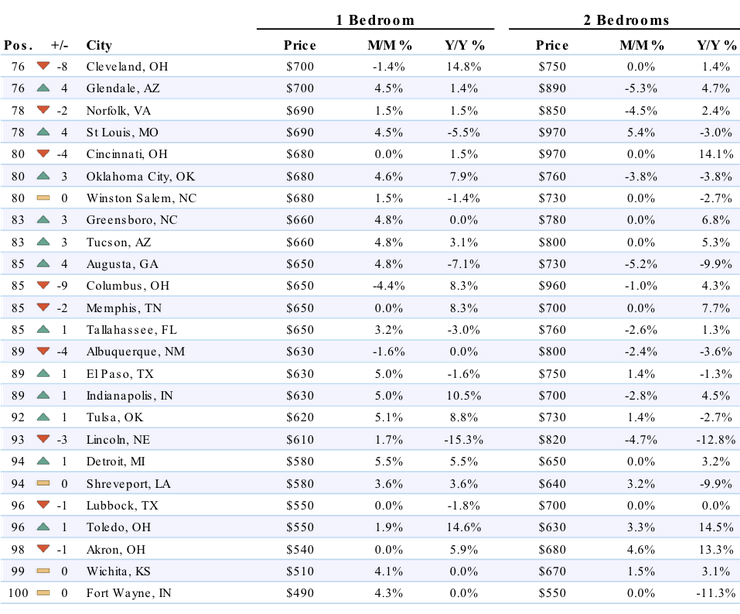 Enjoy reading WOLF STREET and want to support it? You can donate. I appreciate it immensely. Click on the beer and iced-tea mug to find out how:

Would you like to be notified via email when WOLF STREET publishes a new article? Sign up here.