Housing bubble, affordability crisis "pushed the market to a tipping point."
Pending home sales in California fell in August from a year ago, the second month in a row of year-over-year declines, according to the California Association of Realtors, with the Pending Home Sales Index dropping 3.5% from a year ago, after having dropped 2.6% in July:
"As August marks the end of the peak home-buying season, the housing market is showing signs of slowing," it said. Real estate agents "reported fewer floor calls, listing appointments, and client presentations."
Pending home sales are notoriously volatile, but the pattern has now become well-established in the San Francisco Bay Area where pending homes sales have been plunging in the double digits year-over-year. And now Southern California is gravitating toward a similar pattern.
The drop-offs are large, and are becoming consistent. This turns pending home sales from an otherwise iffy observation into a worrisome indicator that home sales over the next few months will slow substantially compared to last year.
The biggest problem was the greater Bay Area, with pending home sales plunging 11.6% year-over-year, after having plunged 11.5% in July. It was the 11th month in a row of year-over-year declines. The counties of San Francisco, San Mateo, Santa Clara, Sacramento, and Santa Cruz all saw double-digit declines. Silicon Valley stretches across San Mateo and Santa Clara.
Pending home sales also began curdling more severely in Southern California, falling 3.8% year-over-year, after having inched up 1.4% in July. Only Orange and San Bernardino booked gains. In Los Angeles, pending home sales inched down 1.7%, after still having been in positive territory in July. In San Diego, pending home sales plunged 12.7%, after a 5.8% drop in July.
This chart show the year-over-year changes in pending home sales in August for the major counties and regions. In the list, there are only two counties in the black, were pending home sales increased – down from five counties in July!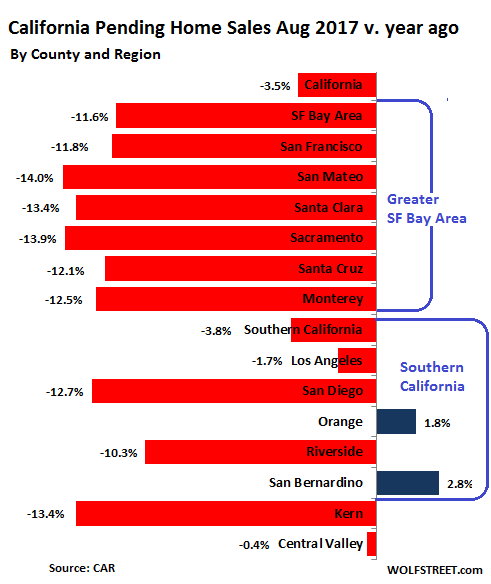 Here are the biggest concerns brokers cited:
Lack of available homes for sale: 35% of real estate agents cited this as top concern, up from 19% a year ago.
Declining housing affordability/high interest rates: 27%. Confusingly, mortgage rates are still hovering near historic lows, with the 30-year conforming rate still below 4%. Affordability is the combination of home price, mortgage rates, and income. Incomes have come up, but not nearly enough, as home prices have soared. So affordability is dismal, particularly in the Bay Area.
Inflated home prices/housing bubble: 23%. This is in the same category as the point above, all based on soaring housing costs that many buyers can no longer afford. When potential buyers fall by the wayside, sooner or later, sales will take a hit.
Slowdown in economic growth, lending and financing, and policy and regulations accounted for the remaining biggest concerns.
The report added that "continued housing inventory issues and affordability constraints may have pushed the market to a tipping point, suggesting the pace of growth will begin to slow in the fall."
Some more nuggets:
31% sold above asking price in August. The average premium paid for those homes rose two points to 12%.
37% sold below asking price in August, at an average discount of 12%, unchanged from a year ago. This is an interesting number because much of the real-estate media hype focuses on homes that sold above asking and ignore the larger number of homes that sold below asking.
23% cut listing prices in August in order to get someone to bite.
Multiple offers: The portion of homes that received multiple offers dropped to 60%, from 62% last year. The number of offers edged down to 2.7 on average. The portion of homes receiving three or more offers dropped to 38% in August, down from 42% a year ago.
So how ludicrously high are home prices in the Bay Area compared to Southern California, where prices are already very high? (Data via the California Association of Realtors' August report):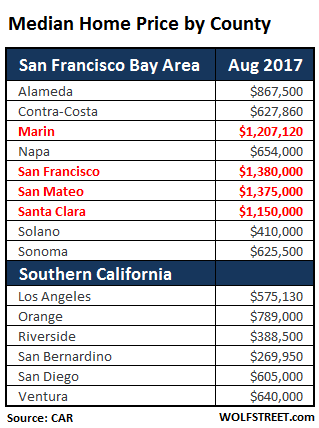 Even in a market with many high-paying jobs, such as the Bay Area, there are limits as to what kinds of prices this market can bear. The sky is not the limit. The first thing to react is sales volume – and within that category, pending home sales that will translate into actual sales over the next few months when most of these deals close. And it's not a propitious signal.
Mortgage lenders are complaining about falling demand for mortgages and rising competitive pressures, but they've re-discovered a fix. Read…  Lenders Loosen Mortgage Standards, as Demand Falls
Enjoy reading WOLF STREET and want to support it? You can donate. I appreciate it immensely. Click on the beer and iced-tea mug to find out how:

Would you like to be notified via email when WOLF STREET publishes a new article? Sign up here.