Bay Area housing affordability nightmare hits home, so to speak.
What happens in a large urban market when a young couple with a household income that is far above median cannot afford to buy even a modest home? What happens to that local economy? That's what everyone wants to know, because this is precisely the fate San Francisco, Silicon Valley, and surrounding Bay Area counties are contemplating.
The Housing Affordability Index (HAI), released by the California Association of Realtors (CAR), has some bad news for these people – and possibly for the trends in the local economy and the housing market.
The median price – 50% cost more, 50% cost less – in San Francisco of a single-family house hit $1.45 million in Q2, according to CAR. This does not include condos, whose prices are somewhat less deadly. It puts San Francisco in second place in the Bay Area, behind San Mateo County, which comprises the northern part of Silicon Valley. Santa Clara County, in fourth place, comprises the southern part of Silicon Valley. In third place is Marin County, just north of the Golden Gate Bridge: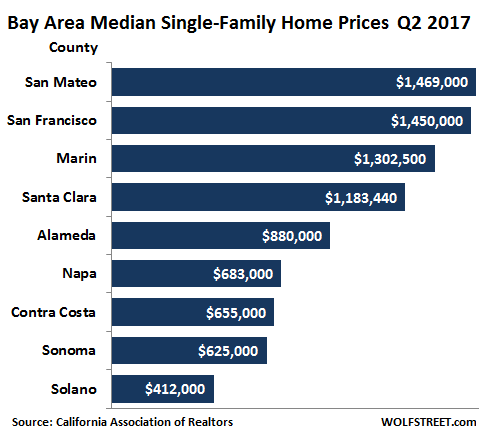 The HAI measures affordability based on this median price of a single-family house (not condo) by county. It figures mortgage payments based on a composite of national effective fixed and adjustable mortgage rates to finance 80% of the price of the home.
The remaining 20% would be that elusive down-payment – elusive because for a median home in the counties of San Francisco or San Mateo, that down-payment would be nearly $300,000. If you live in an expensive city, it's devilishly hard to save $300,000. So generally, forget that 20% down-payment. Maybe go for a 3% down-payment ($43,000). In other words, realistically, the payments are going to be much higher and affordability even lower.
After assuming the existence of that 20% down-payment, the HAI then figures the monthly burden of owning that home: the mortgage payment, property taxes, and insurance. It does not include the tax effects of the mortgage interest deduction.
Given historically low mortgage rates – 30-year fixed-rate mortgages are still quoted under 4% – and that elusive 20% down-payment, the minimum qualifying household income needed to buy a median home in the counties of San Mateo and San Francisco would be nearly $300,000 per year: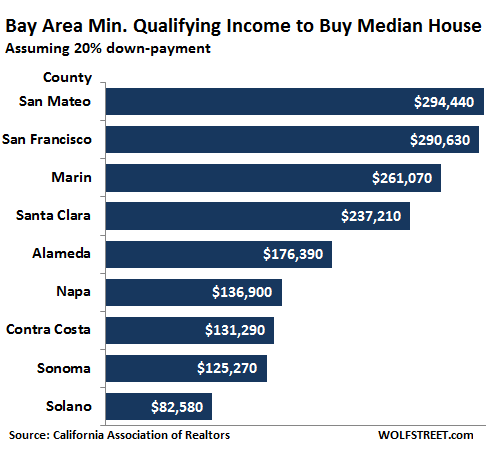 The report also points out that these minimum qualifying income levels have about doubled for most of these counties since Q1 2012.
So here are the percentages of households in each county that can afford to buy a median home, despite historically low mortgage rates and that elusive 20% down-payment: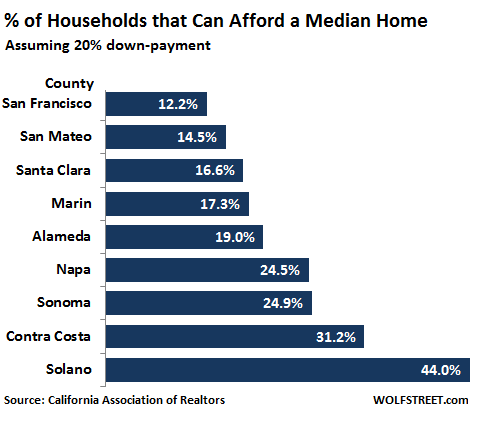 This poses an absurd situation: that for example in San Francisco, only 12% of the households can afford to buy a median home. Median means 50% are higher, 50% are lower. In a balanced housing market, about half of the households have the minimum qualifying income to buy a median home. But if only 12% can buy that median home, who is going to buy the remaining homes?
Granted, people can always move down into cheaper digs. And that's been happening. But there are limits. At some point you're at the bottom rung of the housing ladder and there is no place to move down to. And people making over $200,000 a year don't necessarily want to live in the only dump they can afford.
And that too is happening. There is a lot of anecdotal evidence — and some of it is starting to show up in the data. Everyone knows people like that. I know a young couple with a newborn. They live in a one-bedroom condo in San Francisco but want to move to a larger place that gives them some space for the family to grow. Their household income is more than double the median income in San Francisco. They looked in San Francisco but cannot afford a space that is large enough and decent enough. So they're looking outside San Francisco. And they'll pack up and leave. There are a lot of people like them. Many people are leaving the Bay Area altogether.
Companies are in a similar boat. Some like Charles Schwab, have kept their headquarters in San Francisco but have reduced their footprint over the years, moving as many jobs as possible to cheaper states. In November 2016, Charles Schwab said it was planning to move another 5,000 jobs to its campus in North Texas. At the time, Glenn Cooper, a senior VP of corporate real estate for Charles Schwab, told the Dallas Business Journal, "We are channeling all of our growth now to here." Until that move, its largest campus outside California was in Colorado, which now too is getting expensive.
Other Bay Area companies are moving their headquarters altogether. So far, these have been mostly smaller companies, such as Varo Money, a fintech startup, which in July said it would move its headquarters to Salt Lake City, citing high home prices, among other reasons.
The costs of housing in the Bay Area have risen to such a level that it's expensive and difficult to lure professionals to the Bay Area even as the exodus picks up speed. And these developments have started to show up in employment growth. Since 2010, San Francisco and Silicon Valley were powerful job-creation machines, producing enormous employment gains. But this is now coming to an end. Read…  These Job Trends in Silicon Valley, San Francisco Bay Area Will Hit Real Estate, the Economy, Municipal Budgets & Hype
Enjoy reading WOLF STREET and want to support it? You can donate. I appreciate it immensely. Click on the beer and iced-tea mug to find out how:

Would you like to be notified via email when WOLF STREET publishes a new article? Sign up here.