This baby is going down the tubes at an ever faster speed.
Sears Holdings, after warning in March that "substantial doubt exists" about its ability to continue operating as a "going concern," rubbed salt in those doubts in its second-quarter earnings report.
Quarterly revenue plunged 23% year-over-year to $4.37 billion.
It says $770 million of that $1.33-billion plunge was a result of the endless series of store closings with which Sears is trying to keep itself out of bankruptcy for as long as possible.
In its fiscal year 2017, it already closed about 180 stores and expects to shutter an additional 150 stores in the third quarter. Those closings had been announced previously. But in its earnings release, it announced the closing of 28 more Kmart stores "later this year." Liquidation sales will begin as early as August 31, it said.
The rest of the plunge was caused by same-store sales (sales at stores open longer than one year) which dropped 11.5%. "Softness in store traffic" the company called it. But the trend is falling off a cliff: In Q2 2016, same-store sales had dropped "only" 5.2%. Now they're plunging at more than double that rate. Despite the ceaseless corporate rhetoric of operational improvements, this baby is going down the tubes at an ever faster speed.
How does that $4.37 billion in revenues stack up? They're down by nearly two-thirds from Q2 2007. This is what the accelerating revenue shrinkage looks like: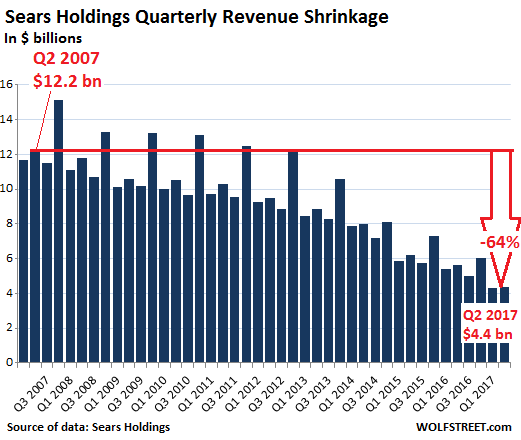 In the press release, Sears CEO and hedge-fund owner Eddie Lampert made another bad joke at shareholder expense, when he was quoted as saying:
"We are making progress on the strategic priorities we outlined earlier this year and remain focused on returning our Company to profitability. The comprehensive restructuring of our operations is delivering cost efficiencies and helping drive improvements to our operating performance."
So let's see…
Over the past three years, the momentum of the revenue decline has accelerated sharply. Q2 revenues have plummeted from $8.0 billion in 2014 to $4.37 billion in 2017. A decline of $3.6 billion, or 45% in three years. This chart shows Q2 revenues from 2014 to 2017, with the trend line (purple) extended until it hits zero. This is the same track that Q1 revenues are on. As I'd postulated three months ago, at this rate, revenues of the once largest retailer in the US will be zero in three years, or by 2020: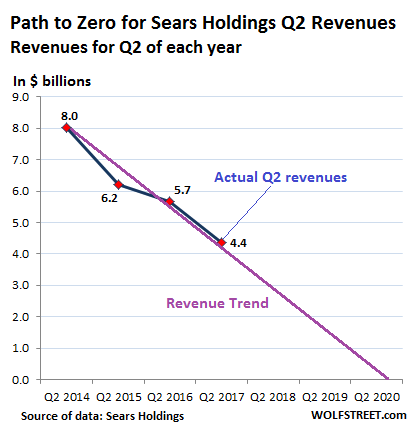 Zero is the inevitable result of a hedge-fund strategy of asset-stripping and cost-cutting at a retailer that had already been struggling before the takeover, and that now finds itself embroiled without effective online strategy in the American brick-and-mortar retail meltdown.
But revenues won't drop to zero. Sears won't last that long. A bankruptcy filing in the near future is becoming inevitable as creditors and vendors are getting very edgy. Some vendors have now stopped supplying Sears, according to Reuters, fearing to be left holding the bag in a bankruptcy and unwilling to pay the high costs of insurance on their Sears receivables.
And nearly everything got worse. Gross margin on merchandise dropped from 18.1% a year ago to 17.0%. In dollars, total gross margin plunged 23%.
But selling and administrative expenses fell only 7.8%. It was not nearly enough to make up for the plunge in gross margin. A big retailer cannot cut itself to health; it can only cut itself to death.
But Lampert added bravely:
"We have also continued to achieve significant progress in our restructuring program announced earlier this year, with over $1.0 billion in annualized cost savings actioned to date. Actions taken to date to realize $1.25 billion in annualized cost savings have included simplification of the organizational structure of Sears Holdings, streamlining of operations, reducing unprofitable categories and the closure of under-performing stores."
All this cost-cutting and inventory-slashing is glaringly obvious to the few souls still wandering into a Sears or Kmart store. And yet, the company still lost $251 million in the quarter.
To keep this death spiral going for a little while longer, Sears sold its Craftsman brand to Stanley Black & Decker for $900 million. It also was able to raise about $460 million this year from real-estate deals. And it is still finding entities, including Lampert's own hedge fund, that lend to the company, but these credit facilities are secured by properties that Sears still owns, and in a bankruptcy, these creditors are likely to walk away with what's left of the banged-up crown jewels.
How long can Sears hold out? In fiscal 2016, it lost $2.2 billion, after losing $1.3 billion the year before. It has reached the phase where it's burning the furniture to heat the house.
In America's brick-and-mortar retail land, PE firms win again. But in bankruptcy court, stiffed creditors are not amused. Read…  Brick & Mortar Retail Meltdown Fueled by Asset Stripping. Details Emerge in Bankruptcy Courts
Enjoy reading WOLF STREET and want to support it? You can donate. I appreciate it immensely. Click on the beer and iced-tea mug to find out how:

Would you like to be notified via email when WOLF STREET publishes a new article? Sign up here.