The ingenious strategy of cost-cutting and store-closing your way out of trouble: Pretty soon, it leads to zero.
Sears reported first quarter earnings today. "Earnings" has been a bad joke with Sears, which has lost money every one of the past six years, $10 billion in total.
First things first. Revenues plunged 20% year-over-year to $4.3 billion. Some of that plunge was caused by the endless series of store closings with which Sears is trying to keep itself out of bankruptcy for as long as possible. And some of it was caused by same-store sales which plunged 12% at the surviving stores. That was about twice the decline a year ago. So the downfall is picking up critical momentum.
How bad is $4.3 billion in revenues? It was another modern-era low. It was down 20.3% year-over-year. It was down 27% from Q1 two years ago. It was down 45% from Q1 three years ago, and so on. It was down 63% from Q1 2007. This is what the accelerating revenue shrinkage looks like: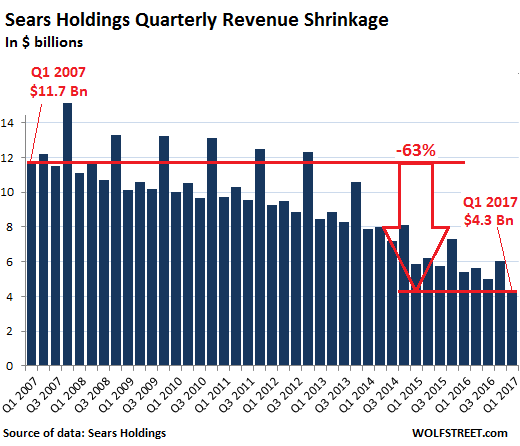 From Q1 2007 to Q1 2017, revenues plunged by $7.4 billion. But just over the past three years, Q1 revenues have plummeted by 3.6 billion. At this accelerating pace, revenues of the once largest retailer in the US will be zero in three more years, or by fiscal Q1 2020, to be reported, theoretically, in May that year: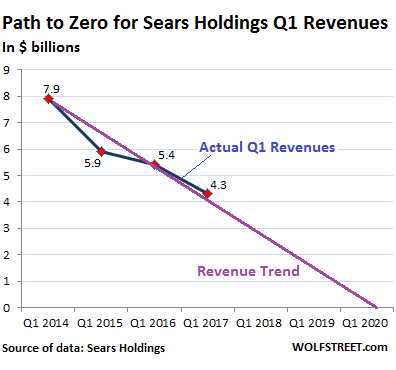 These are the results of the ingenious strategy of cost-cutting and store-closing your way out of trouble. Pretty soon, it leads to zero.
Of course, it won't get that far. A bankruptcy filing at some point in the near future is becoming inevitable as creditors are getting very nervous.
Hedge fund manager and Sears Holdings CEO Eddie Lampert said in the press release that "this was certainly a challenging quarter," buy "it was also one that clearly demonstrated our commitment to return Sears Holdings to solid financial footing. We recognize that we need to accelerate our efforts to improve our operational performance."
So more cost-cutting, store-closing, and revenue-shrinking to get to zero faster.
Headlines were full of Sears' profit of $244 million. But without the "significant items noted in our Adjusted Earnings Per Share tables," Sears said – namely gains from the sale of assets – it "would have reported a net loss of $230 million."
Cost cutting is now key. Sears proudly pointed out that it "delivered significant progress on our strategic restructuring program, with $700 million in annualized cost savings already actioned to date, and announced incremental actions to increase our annualized cost savings target to $1.25 billion from $1.0 billion."
So Sears is struggling to cut a little over $1 billion in costs this year. But revenues have plunged at an average rate of $4.7 billion per year for the past three years. In other words, as revenues head toward zero, cost cuts are lagging behind.
In March, Sears warned it might not be able to continue as a going concern. When revenues get trimmed to zero, it's devilishly hard for a retailer to keep going. But unperturbed, during Sears' annual shareholder meeting two weeks ago, Lampert blamed Sears' problems on the media. "A decade of negative headlines," the presentation said on page 4. You can't make this up.
A few days after he got through blaming the media, Lambert lashed out at suppliers that are getting exceedingly nervous. In a blogpost, he accused them of "trying to take advantage of negative rumors about Sears to make themselves a better deal – a deal that is unilaterally in their interest." He blasted one company in particular;
One World [which makes power tools and accessories for Sears under the Craftsman brand and is a subsidiary of Techtronic Industries in China] has informed us of their intention to take the very aggressive step of filing a lawsuit against us as they seek to embarrass us in the media to force us to let them out of their contract.
Sears then filed a lawsuit against One World.
As this percolated across the internet, Sears' shares plunged 11%. When a company is listing, its suppliers – who are often unsecured creditors – are trying to pull away in order to not get sucked down with it. That alone can cause the company to keel over entirely. Sears is in a very precarious position.
But today, folks who bet on the daily ups and downs of Sears shares before a bankruptcy filing might mostly wiped them out, were ecstatic initially, and shares surged 27% to $9.85 before giving up much of the gains and settling at $8.48, up 13.5% for the day. A good day for day-traders. Another bad day for Sears.
Sears, once the biggest mail-order retailer out there, missed out on the internet, as online sales are clobbering brick-and-mortar retailers, including Sears. And so this happens, with a tinge of bitter irony and perhaps desperation. Read…  Brick-and-Mortar Meltdown No Problem: Online Retail Startups Shift into Brick-and-Mortar
Enjoy reading WOLF STREET and want to support it? You can donate. I appreciate it immensely. Click on the beer and iced-tea mug to find out how:

Would you like to be notified via email when WOLF STREET publishes a new article? Sign up here.