London home prices are already tanking, as demand sags.
The symbiotic sectors of construction and real estate have been a vital engine of economic growth in the United Kingdom for decades, but that could be about to come to an end. In the words of Paul Smith, the chief executive of the UK's largest independent lettings and real estate agency, Haart, "unaffordability in the UK's property market is now reaching crisis point." If drastic measures are not taken to tame prices, the UK could lose its place as a property owning democracy, he warns.
The latest figures published by the Office for National Statistics (ONS) reveal that the average cost of a home jumped by £10,000 in June from a year earlier, to £223,000. In the last eight years prices have surged by almost 50%. Its National House Price Index is now 18% higher than during the peak of the prior housing bubble (September 2007). This chart is for the UK overall. But home prices in London have now turned the other way.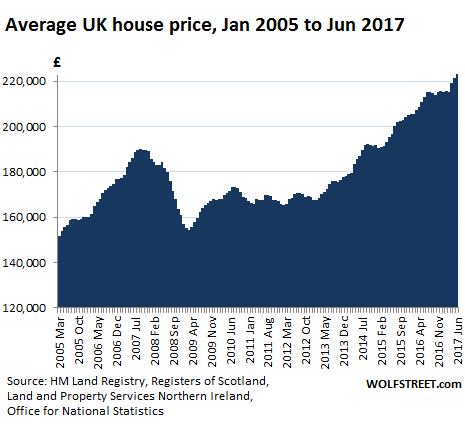 Demand is already sagging. In the first six months of 2017 alone, first-time buyer registrations dropped by almost 20% across Haart branches. It seems that a trend that began in London is now going nationwide.
For well over a decade soaring property prices have priced most Londoners out of the market. The number of homeowners in London in the 25 to 29 age bracket has dropped more than 50% since 1990. Foreign buyers have virtually cornered the market, acquiring as much as three-quarters of all new-build housing in the capital in recent years.
But even foreign buyers have begun to pull back from London's property market. In April this year values in the prime central London market were already 13% below their 2014 peak, according to Lucian Cook, head of residential research at Savills. Latest figures from the ONS suggest that things may be even worse, as average property prices in London plunged 20% in the first six months of 2017, making it the worst performing region across the country.
Now, property prices beyond London's gilded streets appear to be catching up with the trend. According to the UK's biggest estate agency group, Countrywide, prices will rise just 1.5% across the UK as a whole in 2017, down from 5% in 2016. Growth is expected to slow in areas such as the north of England, the Midlands, London and the south.
The main factors driving this trend include changes to UK stamp duty as well as international buyers' increased exposure to capital gains tax and inheritance tax, leading to more reluctance in taking advantage of the weaker sterling. A recent survey by the Royal Institute of Chartered Surveyors found house price indicators at their weakest point since 2013.
There is a silver lining for the sector, though: the new builds market which, underpinned by low borrowing rates and lavish government subsidies, continues to grow at a fair clip. But even here, the shadows are looming.
The practice of selling homes with a leasehold and the government's Help-to-Buy scheme, by which taxpayers help developers sell new-build homes to first-time buyers, are both under the spotlight. But fallout from the UK's leasehold scandal is beginning to take a financial toll on some of the companies most implicated in it.
In the second half of the 20th century, most houses in the UK were built as freeholds, whereby a buyer would take ownership of the home itself as well as the land it sits on. Then, at the turn of the century, developers and landlords identified a lucrative new revenue stream: selling houses and flats under leasehold agreements, then selling the freeholds to the land to other investors, who can earn up to 10% of the purchase price annually.
It was a good deal for all involved, until the homeowners and the wider British public began realizing just how abusive the scheme has become. The average charge now stands at £371 a year on new-builds and £327 on other properties, according to research by Direct Line for Business. Sometimes it can be a lot higher.
As many as 100,000 UK households are now trapped in unsellable leasehold properties with sharply escalating ground rents. In recent weeks, the UK's biggest selling tabloid newspaper, The Sun, joined the backlash, attacking the "fat-cat" CEOs of builders that have racked up huge profits by selling freeholds on new houses to investment firms without properly informing the new homeowners. Many of the senior executives are living in substantial houses built by the companies they manage — all of them freehold!
In the face of growing public pressure, the UK government has vowed that it will outlaw leaseholds on new-build houses while drastically restricting ground rents for apartments to a "peppercorn" value, thus wiping out their financial appeal for speculative buyers. Even before that happens, lenders such as Nationwide and Santander have already announced they are not going to lend on "toxic" leasehold properties. Others, such as Barclays, will not lend on leasehold houses at all.
If the government follows through on its pledge to outlaw leaseholds, without leaving a trail of gaping loopholes for developers and investors to exploit as it did in a 1987 law ostensibly aimed at protecting homeowner, developers and investors are almost certain to lose an important source of revenue, just at a time that the UK's property market is showing signs of strain.
Sliding prices are good news for aspiring homeowners that might eventually get the chance they've been waiting for to buy their first house. But for the UK economy, which has grown both rich and dependent on the false promise of ever-rising house prices fueled by ever-larger amounts of debt, the current trends are most definitely not its friend. By Don Quijones.
Even "significant economic damage" is a "price worth paying" for many Britons. Businesses are not so sure. Read…  Support for Hard Brexit in the UK Hardens
Enjoy reading WOLF STREET and want to support it? You can donate. I appreciate it immensely. Click on the beer and iced-tea mug to find out how:

Would you like to be notified via email when WOLF STREET publishes a new article? Sign up here.