It's a Great Time to Sell and a Bad Time to Buy, they think.
Americans have been gung-ho in recent years about the housing market, bidding up prices with gusto as they went. The election helped. By February, the Fannie Mae Home Purchase Sentiment Index (HPSI) had shot up to 88.3, up 5.6 points year-over-year, and the highest ever in the data series going back to 2011. But since then, some dark clouds have appeared, and other dark clouds have been out there for a while – by some measures the darkest in the data series.
The index itself still looks benign: In May, it fell 0.5 points to 86.2, down 2.1 points from its February peak, but still up 0.9 points year-over-year: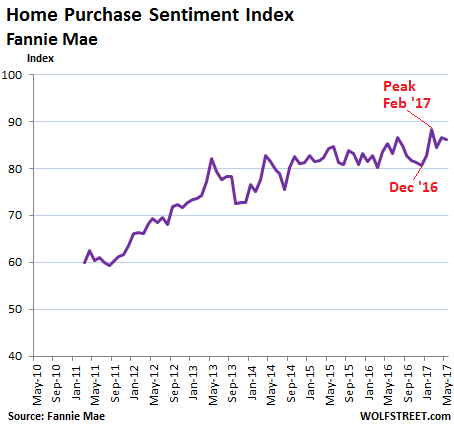 But here are the clouds, according to Doug Duncan, senior VP and chief economist at Fannie Mae:
"High home prices have led many consumers to give us the first clear indication we've seen in the National Housing Survey's seven-year history that they think it's now a seller's market."
It's seller's market, suddenly.
But these people have a problem if they try to sell, according to Duncan: "Many potential sellers are unwilling or unable to put their homes on the market, perhaps due in part to concerns over finding an affordable replacement home."
So they're stuck because home prices have soared, and if they would like to sell to profit from the high prices, they might not because they can't afford the high price and the mortgage payment of the home they'd have to buy. Welcome to the pleasures of Housing Bubble 2.
So a Bad Time to buy.
Fannie Mae's survey, "the most detailed consumer attitudinal survey of its kind," as it says, threw some very untoward data points into the mix:
Americans who say it is a bad time to buy surged 6 points from April to 33%, the highest ever in the data series.
Americans who say it is a good time to buy fell 2 points from April to 60%, tying for the lowest level in the data series.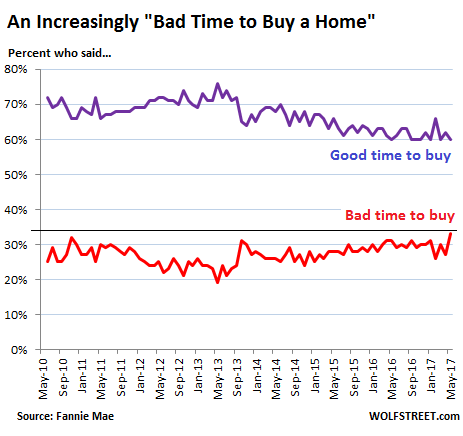 But it's a Great Time to sell.
Americans who say it is a good time to sell increased by 4 points to 61%, a new record in the survey high.
Americans who say it is a bad time to sell dropped to 29%, another new survey low.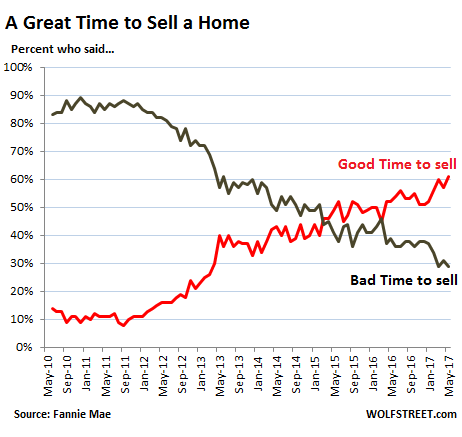 But Americans remain conflicted: Those who think home prices will rise over the next 12 months fell 5 points to 48%, with only 8% thinking they will fall. At the same time, 56% say that mortgage rates will rise, though rising mortgage rates will pressure home prices that have been re-inflated to, and in many cities far beyond the levels of the prior housing bubble peak.
The results show that Americans, aware of how far housing prices have surged, are losing their appetite for buying a home at these prices, and they're building up an appetite for selling. This is not propitious for the market.
If they were investors in the housing market, rather than homeowners, they could sell easily enough. But since they're homeowners who live in their homes, for them, selling their home means having to buy something else or renting, and suddenly they realize they're stuck and they cannot sell, even it is a great time to sell, because they cannot afford to buy precisely because it's a bad time to buy, unless they move to a much cheaper city, and that's not always possible.
That's the quandary homeowners are facing as homes have become a global asset class that the Big Money chases as if it were stocks or bonds. But the Big Money doesn't have to live in those homes; people do.
Minneapolis Fed President Neel Kashkari was the latest Fed official to claim that "spotting bubbles is hard," that the Fed cannot see them, and that if it could see them, it shouldn't do anything to stop them. So here are some visual aids to help the Fed spot the housing bubble. Read… Dear Fed, It's Not "Really Hard to Spot Bubbles"
Enjoy reading WOLF STREET and want to support it? You can donate. I appreciate it immensely. Click on the beer and iced-tea mug to find out how:

Would you like to be notified via email when WOLF STREET publishes a new article? Sign up here.